Billy Joe Shaver Isn't Dead Yet
Play
Story continues below
Subscribe to the podcast
Billy Joe Shaver is the greatest country music songwriter alive. But you don't know his name. His songs have been covered by Johnny Cash, Elvis Presley, Emmylou Harris, Bob Dylan and, most famously, Waylon Jennings. Today, Shaver is 78 years old and still making music and performing live.
"A lot of people think I'm on something because I'm always jumping around and happy," says Shaver. "I'm just whistling by the graveyard man. If I get down and think about stuff I'll start crying. And I don't want to do that. I'll just stay high all the time, I'll make myself that way."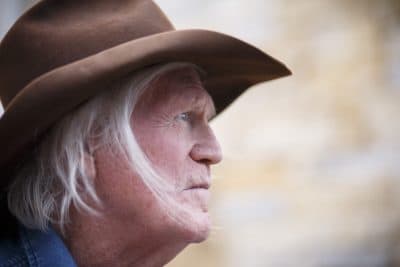 Geoff Edgers joins Billy Joe Shaver on the road to learn what still drives the man who invented outlaw country music. Listen to the podcast to hear Billy Joe Shaver on his quest to be inducted into the Country Music Hall of Fame, his memories of Waylon Jennings, and the time he shot a man in the face.
(Photo by Michael Stravato/For the Washington Post)