After Three Tours In Iraq, Soldier Decides To Stay
15:53
Play
This article is more than 8 years old.
Connecticut native Andrew Slater, 34, served three tours of duty during the Iraq War and two more in Afghanistan, where he was wounded by an improvised explosive device, an IED.
In fact he was fighting in Afghanistan when the U.S. invaded Iraq 10 years ago this week. A few months later he found himself in a different war.
Slater came home from Iraq in 2007 after a final brief tour he had volunteered for. He went to graduate school and today he writes fiction and teaches English composition - not in the U.S. but in Iraq.
His students are Iraqis who are attending the American University of Iraq in Sulaimani.
"When I was in Iraq [as a soldier] I was very close to the Iraqis I worked with," Slater told Here & Now's Robin Young, as part of our coverage of the 10th anniversary of the start of the war in 2003. "I have an aversion to the memories and the experience, not to the people. I kind of feel drawn to the people here, and even as much as we really suffered during the fighting, I always felt like they had the worst of it. They were the ones who had to live in fear probably more than we did."
Slater's fiction appears in the anthology "Fire and Forget: Short Stories From the Long War" (see excerpt below).
More than 4,480 American troops were killed during the war in Iraq. Some of them were Andrew Slater's friends, soldiers he served with. He told us one of his best friends, Ben Tiffner, was among them.
When we said goodbye to Andrew, I wanted to know more about Ben Tiffner. Here's what I found:
Tiffner was from West Virginia and in 1996 he was nominated to the U.S. Military Academy by Senator Robert Byrd, one of the 23 U.S. senators who would later vote against the Iraq War in 2002.
Tiffner graduated from West Point in 2000 and was assigned to an infantry regiment at Fort Lewis in Washington state. He served as an infantry platoon leader and was in Iraq for his first tour in 2003 and 2004.
On his second tour, Tiffner was killed by an IED in Baghdad in 2007. He had spoken to his parents only few hours before he died, asking them to pray for the men who served under him.
Benjamin David Tiffner, who was 31 when he was killed, is buried at Arlington National Cemetery, Section 60, grave number 8724.
____Book Excerpt: 'Fire and Forget'
Short stories edited by Roy Scranton and Matt Gallagher____
Excerpt of the story "New Me" by Andrew Slater
I joined the Army after my girlfriend Renee drowned because I felt that some people in my hometown would be unable to not blame me. Something would have seemed wrong with the world if they didn't. The Army was a way for me to leave Elberton for good without seeming like I was making a big spectacle out of it. Renee's dad called me up about a week after the funeral to ask me why I didn't go in after her. His voice was calm on the phone when he said it. It sounded like he was reading the question off a piece of paper he was holding with both hands. I think he'd been trying to not say it for a while.
By the time I realized she must be down river I couldn't see her at all. I had just got back to the riverbank from my car with a pair of foam water noodles and a CD player. I had been scrounging around in the back seat of my Corolla trying to find a CD, something I wanted her to hear. I stood there staring at the flat top of the river, unblemished blue-brown between the cat tails, a foot or two higher than normal with the past week's rain, but the water was quiet that morning. There was a clear, quiet sky. I never made sense of it.
She picked that spot of the river because it was on her bus route in fifth grade, before her parents got divorced and she moved into an apartment with her mom. It was our tenth date, and she used to put her hand on my arm and lean in to tell me some thought that had struck her in a way that meant a great deal to me. The spot she picked was a sunny bend of the river below the pastures, miles of flat grazing land in all directions dotted by round, browning bales, and she had always wanted the bus to break down there so all the kids could go swimming and miss school. Some fishermen found her on a sandbar a few miles down, and the paper put "All-State Swimmer" on her obituary, like that wasn't adding insult to injury.
* * *
Nine years later, I was finally discharged from the brain injury clinic at Walter Reed. Before I was leaving, I had a final, obligatory meeting with my overworked neurologist that was more of an informal send-off than a working session. I had told him that I originally enlisted because my favorite uncle served as a Seabee in Vietnam, which was only partially true, because he wasn't my favorite. The neurologist arrived at our meeting wearing a referee uniform that was a size too small because he was on his way to his daughter's soccer game, and he said that all the parents had to share the same uniform.
We met at a picnic table in a courtyard I had never been to before. He said he enjoyed the cherry trees there, but I found the people and noise around us a bit distracting. I had forgotten the question I wanted to ask him, which was maybe not a question as much as it was a list of things that still did not seem to make sense. Instead, I just started describing my latest dream.
"So this time we were driving across the Atlantic Ocean in our gun trucks, all the way back," I said.
"You mean, over a bridge across the Atlantic or something?" he asked. "I should mention this would be a great starting point for your new therapist when you get to your new home in Virginia, but you might find it more helpful to focus on your daily life with him. Or her, of course."
"No, it wasn't a bridge. We were driving over the ice. The whole Atlantic was frozen over. There was this flat sheet of ice we were driving on, and you could feel it vibrate because of the waves underneath the ice. We were driving real slow since the traction was bad, even with chains on our tires. As far as you could see it was just ice. And then there were these shantytowns we were driving past on the ice, which had palm tree chimneys whose roots reached under the ice, and you can see them stretching down. Our trucks were airtight so they stunk like diesel."
"This is with the no-mouth people again?" he asked. "You should actually take comfort in the fact that your short-term memory is retaining your dreams so vividly. That's probably ­encouraging."
"No, I never see any people this time," I told him. "But the reason we're afraid of the bombs is not because they will kill us directly, but because we'll fall through the ice. My truck hits this bomb—I hear a bang and there's water spray and bubbles everywhere—and the back end of my truck falls through a hole in the ice. I look out through the windshield and I see the bottom of the ice above me as we're sinking into the sea. I can see the bottoms of the tires of the other trucks making impressions on the ice. There's a depth gauge in the truck for some reason, and I watch it cross the redline. The hole we fell through is bright and it keeps getting smaller and smaller and the air keeps getting tighter and tighter in the truck. Then crunch, I wake up with a headache."
"I think we should stay focused, Aaron. Let's talk about your sleep quality. Your new doctor can put you back on the Ambien for short periods of time, if that's what it takes. That seemed to help you before."
"I was actually hoping there was something different than Ambien. I still had bad dreams on Ambien, but I couldn't wake up out of them," I said.
"What kind of different? What are you looking for?"
"Well," I said, "I was hoping there was something that lets you sleep without dreams for a while. Like a dark and quiet place in your head you can go to all night. Something like that."
"Are you taking your clonazepam before you go to sleep?"
"Yeah," I said. "As much as I'm allowed to. It kind of wears off before morning. Around two-ish. I was thinking maybe I could take mefloquine again, those malaria pills. They always gave me wild dreams. Maybe that would just clear all the dream problems out at once. Mix things up a little."
He didn't say anything, but I saw him underline something on the clipboard more strongly. Just then his cell phone rang.
"Well, good luck," he said. "I have to take this."
And he walked off to answer it after shaking my hand, heading in the direction of the hospital. When he did not return, I realized about thirty minutes later that our meeting was over.
Excerpted from Andrew Slater's story "New Me," published in the book FIRE AND FORGET: SHORT STORIES FROM THE LONG WAR, edited by Roy Scranton and Matt Gallagher. Copyright © 2013. Reprinted with permission of Da Capo Press.
Guest:
Andrew Slater, writer and English teacher at the American University of Iraq in Sulaimani. He served three tours of duty during the Iraq War and two more in Afghanistan.
This segment aired on March 22, 2013.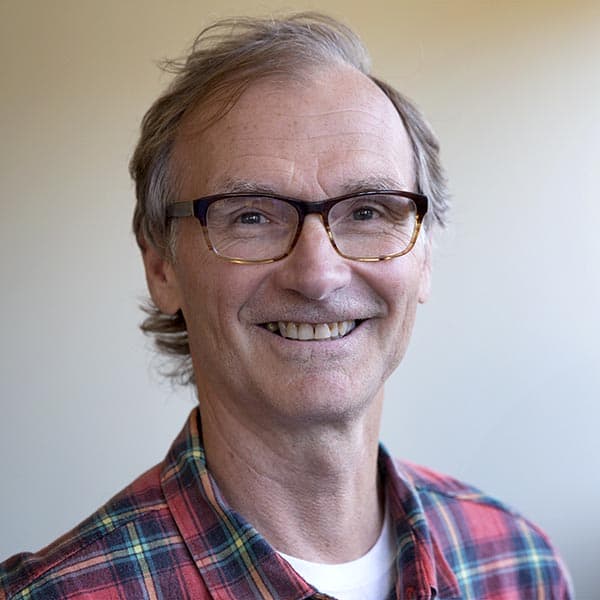 Alex Ashlock Producer, Here & Now
Alex Ashlock has been a producer for Here & Now since 2005. He started his WBUR career as senior producer of Morning Edition in 1998.