Preventing Hockey Injuries: Could An Orange Line Help?
15:20
Play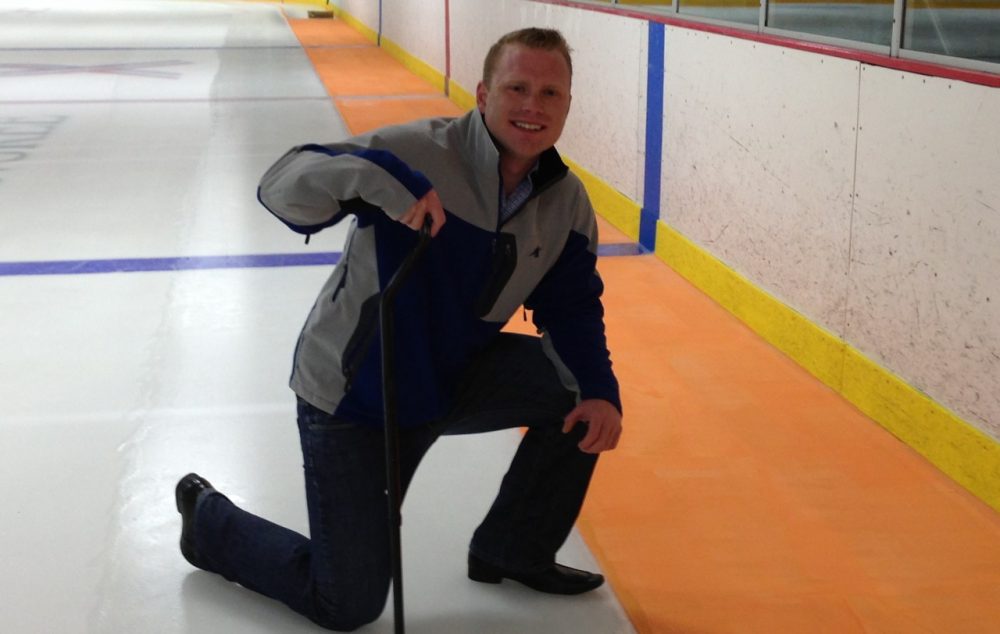 This article is more than 6 years old.
In hockey, the fastest-paced sport of the four major league sports, players fly across the ice in pursuit of a small black puck.
Thomas Smith, a former amateur hockey player, wants to make the game safer for players by creating a visual warning that would alert players they are getting close to the boards.
He calls it the "Look-Up Line" — a 40-inch-wide bright orange line that surrounds the perimeter of the rink.
Smith was inspired to create the Look-Up Line because of a spinal cord injury he sustained when he crashed headfirst into the boards during a junior hockey tournament before college.
He recovered after months of rehabilitation, and played hockey again. However, he sustained another spinal injury when he crashed into the boards a second time.
"October 1, 2009, was a tough day because it was in a practice," Smith told Here & Now's Robin Young. "It was a Thursday and I was skating around the net, and I lost my edge. It's literally happened to me 10,000 times."
After the second accident, Smith was in a wheelchair for 27 months. He walks with two canes now.
"It really took me about a year to go back into a hockey rink comfortably," he said. "Literally [I] walk in and [I'm] almost sick."
Smith says most other sports warn players that they are about to hit a solid object, but hockey gives no warning.
The line has been used on the ice at Frozen Fenway, an annual event at Fenway Park in Boston, in which the ballpark is transformed into an ice rink for high school and college hockey games.
"The biggest feedback that we've gotten is that players know where they are in space when chasing after another player," he said. "They are telling us that they have depth perception in space and to know, 'If I hit a player inside that line, I can do serious bodily harm.'"
Smith is hopeful that the Look-Up Line will be adopted in professional and amateur hockey.
"I believe we have an opportunity to take a preventative approach rather than wait until someone gets killed or another person gets paralyzed, or another person has to give up hockey because of a head injury," Smith said. "We really think we have something special here."
Guest
This segment aired on January 6, 2014.