A Look At Working Women In Saudi Arabia
08:59
Play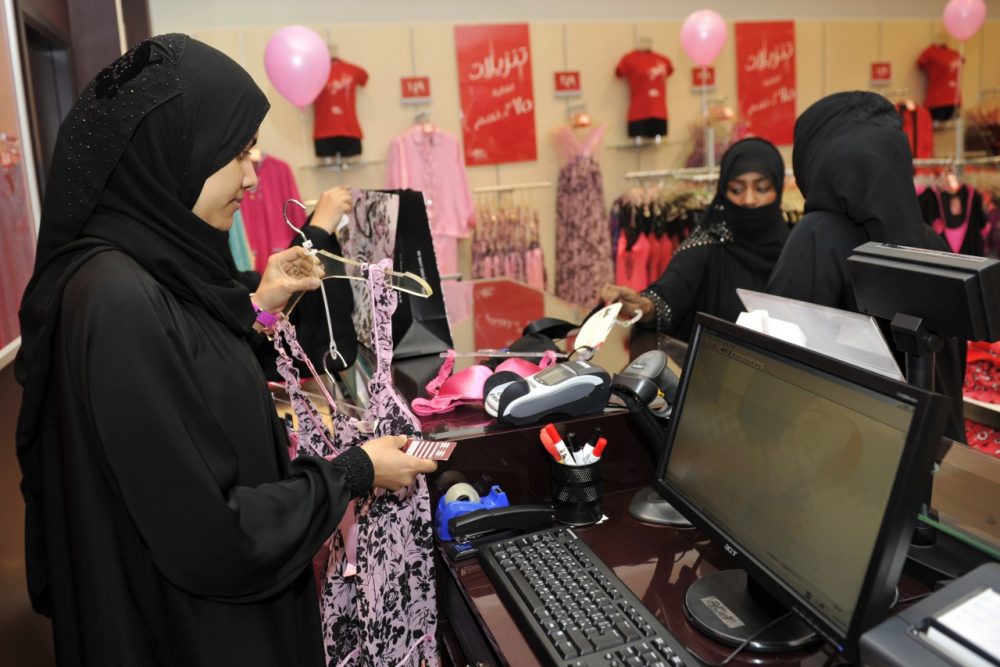 This article is more than 8 years old.
In Saudi Arabia, there have long been a group of elite women who have been able to work in specific jobs — as doctors or teachers. But retail was closed off to them, until a 2011 decree from King Abdullah, allowing women to work in lingerie shops.
Katherine Zoepf visited Saudi Arabia to understand what it means to have women in the Saudi workforce. It's the subject of her recent article in The New Yorker, "Shopgirls: The Art Of Selling Lingerie."
She joins Here & Now's Meghna Chakrabarti to discuss what she learned.
Interview Highlights: Katherine Zoepf
On keeping men and women separate at work
"The stores that have both male and female employees are required to have partitions at least five feet high that female employees can duck behind so they don't accidentally come into contact with male coworkers. And sometimes it looked like the stores were giant mazes. There were giant mazes around these departments that employed women."
On jobs as a form of social liberation
"The women told me that just by being in contact with women outside their family, they had been able to share ideas. Divorced women told me that they had come into contact with other divorced women, and realized that divorced women actually did have the right to see their children.
"One woman told me that she had threatened her ex-husband's family with court if they didn't allow her to see her children, and because she was earning money, they knew she could follow through on that. And they began allowing her to see her kids again."
On whether working will empower women
"There's a lot of dispute about that. A lot of the saleswomen I spoke to did see this as a kind of empowerment beyond simple financial empowerment. They said that they had become more interested in the right to drive, for example, or end the guardianship system.
"But other women felt that working wasn't really going to change things. I spoke to even some Saudi feminists who felt that until there were major structural changes in Saudi society, tens of thousands of women working wasn't really going to have an effect. So I think it's an open question now, and it's being actively debated."
Guest
This segment aired on January 7, 2014.