Fallout Continues Over U.S. Diplomat's Comments
07:22
Play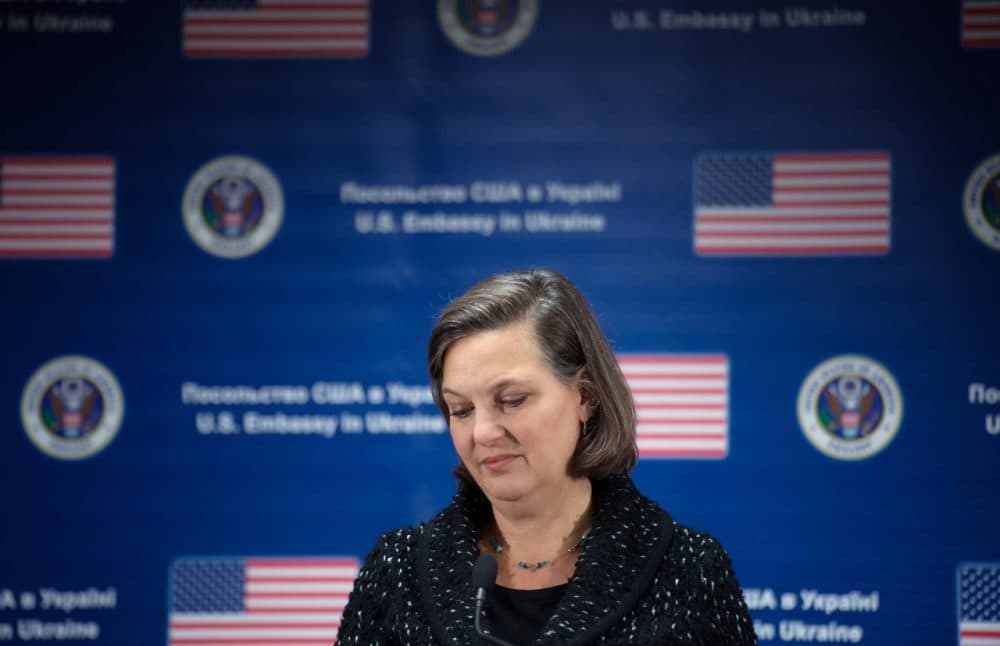 This article is more than 6 years old.
U.S. Assistant Secretary of State Victoria Nuland has apologized for saying "f*** the E.U." during what she thought was a private phone conversation with the U.S. ambassador to Ukraine. German leader Angela Merkel condemned Nuland's comments as totally unacceptable.
The flap has added to the tension in Ukraine, where anti-government demonstrators have been protesting against President Viktor Yanukovych since he rejected closer ties with the E.U. and accepted a huge loan from Russia.
Stephen Sestanovich knows both diplomacy and Victoria Nuland. He worked on Russia and Ukraine at the State Department in both the Clinton and Reagan administrations. He joins Here & Now's Robin Young to discuss the implications of the embarrassing leak of American policy.
Interview Highlights: Stephen Sestanovich
On Nuland's leaked comments
"I think it's probably good for people to realize that State Department diplomats know how to curse. Victoria Nuland is an extremely accomplished American diplomat. But the real issue isn't her colorful speech, it's what's going on behind the scenes to resolve an extremely dangerous crisis."
"There is gonna be some pious public language saying, 'Oh, this is really unacceptable, this is regrettable,' and Ambassador Nuland herself has had to apologize, and that's appropriate. You know, what you say in private is fine, as long as it doesn't become public, and once it does, you have to apologize for it."
On what the E.U. means to Ukrainians
"There's no question that the E.U. represents a kind of powerful magnet for a lot of Ukrainians, that they see that as their future as a way of becoming a normal country. The issue, of course, is whether the E.U. can help to make that happen, and Victoria Nuland was expressing some skepticism about how effective the E.U. was. Oddly enough, she was talking about getting the U.N. more involved, and American diplomats don't generally think that's the way to go, trying to solve a problem. The real issue is — well, there are two related questions: putting together a new government in Ukraine that can launch reform, and putting together a financial package that can help that government succeed. Outside of Ukraine, there's a lot of pushing and shoving going on as to who's gonna influence those two processes: the Russians on the one side, the Americans and the Europeans on the other. And what Ambassador Nuland was talking to her colleague in Ukraine about was how to nudge the Ukrainians toward an outcome — put a new government that would make that reform worth investing in for the U.S. and Europe."
On U.S. involvement in Ukraine
"It's a really tender subject if it can be represented that the United States is picking Ukraine's government. Really, what I hear — the conversation, they're talking about, sort of which will be the best result. They're not exaggerating their ability to actually produce this result, although a lot of Ukrainians, certainly a lot of the protesters, want a more engaged American and European role. They want more pressure on the government to, for example, grant amnesty to demonstrators. They want the U.S. and Europe to impose sanctions on the Ukrainian government who've been involved in the repression. One of the things that has kept this crisis going is not just the issue of the Ukrainian economy or its future relationship to Europe, but the extreme brutality of the government in dealing with protesters. This has enraged public opinion and enraged the crowds."
Guest
This segment aired on February 7, 2014.