How A Hard Winter Affects The Economy
06:27
Play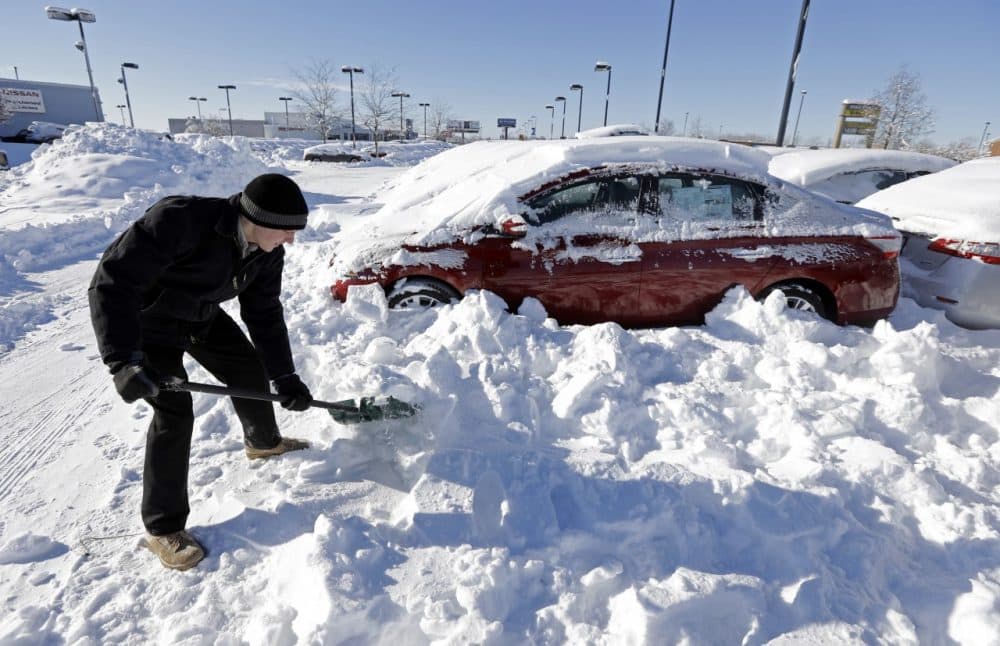 This article is more than 6 years old.
A second month of disappointing job numbers comes on top of a drop in car sales and weakening growth in manufacturing. How much is winter weather to blame?
Of six major economic reports out in February, three have come in below expectations and all have pointed to the weather as a factor. The numbers have the Federal Reserve Bank worried. The latest Fed notes cited weather 21 times, the most in any winter month since 2011.
Evan Gold of Planalytics, which provides weather-related intelligence to businesses including Wal-Mart and Dunkin Donuts, discusses the economic impact of the weather with Here & Now's Robin Young.
Interview Highlights: Evan Gold
On the impact the harsh winter has had on the economy
"It has been pretty significant, just based on not only the amount of storms that have happened, which are above normal, but certainly the population centers. So major markets of the eastern two-thirds of the U.S. have been significantly impacted, which is not only impacting consumer-based products, but heating. And it's been all of the reports, January manufacturing reports for metal and petroleum and plastics. It's pretty widespread."
Who benefits — and who doesn't — from bad weather
"There are certainly some winners and losers. Certainly on the winners side, anybody who's selling online goods, because customers are stuck at home, so what do they do? They turn to the web, assuming they have power, and order goods. On demand for cable companies, restaurant deliveries, and then everyone who's selling need-based products, so convenience stores, grocery stores, home centers, to go get the bread, milk, ice melt, rock salt, et cetera. On the loser's side, certainly mall-based stores, anything that is discretionary purchasing, entertainment centers, movie theaters, certainly sit-down restaurants see an impact, simply based on the fact that customers aren't going out and the traffic decreases pretty significantly."
How weather impacts spending habits
"The amount that people are spending right now to heat their homes, you know, [is] anywhere from 25, 50 percent more this January than a typical January. When those heating bills come to you 30 days from now, and they have to pay them, that will have an impact on spending in February as well."
"With all the wintry weather that's been happening, certainly there's going to be some pent-up demand. But when you think about March, you know, all your traditional home good products and seasonal apparel should do very, very well this year, not only because of the pent-up demand, but for many markets that were simply colder last year and less favorable in March, we would expect, you know, a favorable start to spring for a lot of those seasonal categories."
Guest
This segment aired on February 7, 2014.