At 99, Anti-Trans Fats Scientist Eats An Egg Daily
Resume
Back in 1957, Fred Kummerow, a nutrition scientist at the University of Illinois, was analyzing the arteries of people who had died of heart attacks.
Kummerow started analyzing the fat in the diseased arteries and soon became a pioneer in the study of heart disease and trans-fats — artificial fats used in processed foods.
At 99 years old, Dr. Kummerow is still conducting research — and eating an egg every day. He joins Here & Now's Jeremy Hobson to discuss his research and what he sees as the unfair vilification of cholesterol.
Interview Highlights: Dr. Fred Kummerow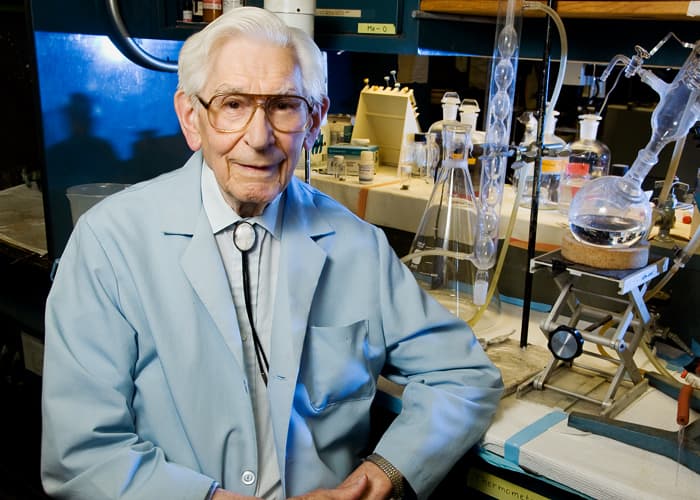 On why trans fats are dangerous to health
"Trans fat was put in the diet in 1910, and it was in the diet until 1965, when I was a member of the American Heart Association committee on fats. And when these fats were eaten by people, they didn't develop any prostacyclin. Prostacyclin is a component in the blood that prevents the clotting of blood. So if you don't have any prostacyclin, you can't clot your blood. And a lot of those people ate a diet of sudden death. That's one reason for asking the FDA to ban trans fat, and that's now in process."
On why he disagrees that cholesterol is dangerous to heart health
"It's perfectly normal to think that, because when you feed cholesterol to a rabbit, it gets atherosclerosis -- that is, the arteries look just like arteries — almost like the arteries of the people who had heart disease. And I had found, in a study I did with — I had about 12 M.D./Ph.D.s from Japan, and we did a complete analysis of what happens in the arteries of pigs, and we started off from even before they're born until after they were born. And then we had different ages of pigs, and by the time they were three years old, they had exactly the same kind of structure in their coronary arteries as people who had died of heart disease. I got their arteries and they looked at them at the electron microscope level, and they found no differences in their structure. So I knew cholesterol in the diet was not necessary to produce the same kind of change in the coronary arteries of pigs that are present also in the coronary arteries of people."
On why he eats an egg every day
"The egg contains all of the amino acids that you need. Now, amino acids are present in different foods, but most all of them are present in animal fat, like cheese, beef, pork, eggs, chicken and fish. They are complete amino acids. So if you eat those kind of foods, you will have all of the amino acids that you need to build what is called endothelin cells, and they carry all the functions in the body that cause life."
Guest
This segment aired on May 12, 2014.