Walmart Associate: 'Give The Workers Dignity And Respect That We Deserve'
Play
This article is more than 8 years old.
Charmaine Givens-Thomas stood up at the Walmart shareholders' meeting and decried the company's treatment of its workers.
Givens-Thomas is a sales associate who has worked at Walmart for eight years. She makes $23,000 a year and has trouble paying rent and putting food on the table. She says Walmart should pay its employees a living wage.
She joins Here & Now's Jeremy Hobson to discuss the issues she and fellow Walmart employees face.
Interview Highlights: Charmaine-Givens Thomas
On the changes she'd like to see at Walmart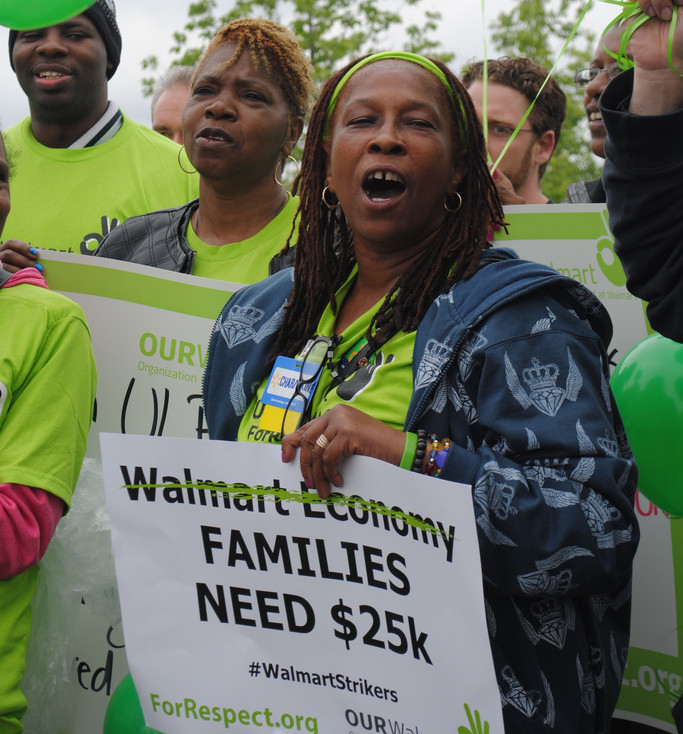 "I would like Walmart to respect the associates. I would like them to end their retaliation when we speak out. I would like for them to change the direction of the company to give the workers dignity and respect that we deserve. I mean we are honest, working American people. A majority of us are single mothers, struggling to survive at Walmart, and it's not a good thing."
On why she hasn't gotten a job elsewhere
"This is a struggling economy. Jobs are not that readily available. I've been looking for jobs for quite a while, but the economy is still sluggish. You know, a booming economy has not came back from the recession. So those jobs, the middle-class jobs that were taken away due to businesses closing and moving out of the country, have not been replaced. And Walmart is the biggest retailer in the world, so they're creating — they're building new stores, they're creating jobs in all the communities, and in a lot of communities, that's all the jobs that are available."
On what she would tell the executives of Walmart
"We make huge profits for Walmart, and what we're asking for is not and would not be a huge burden on them, because if they put more money in our pockets, then we're already shoppers at Walmart. It would help the whole economy, and it would make the associates less stressful. I mean, they would be, I'm sure, happier, motivated associates. So I would ask them to consider the associates in the plans going forward in the future, and do right by the associates."
Guest
Charmaine Givens-Thomas, Walmart sales associate and member of OUR Walmart, the Organization United for Respect at Walmart.
This segment aired on June 10, 2014.