Early Intervention For Toddlers With Autism Showing Signs Of Success
08:33
Play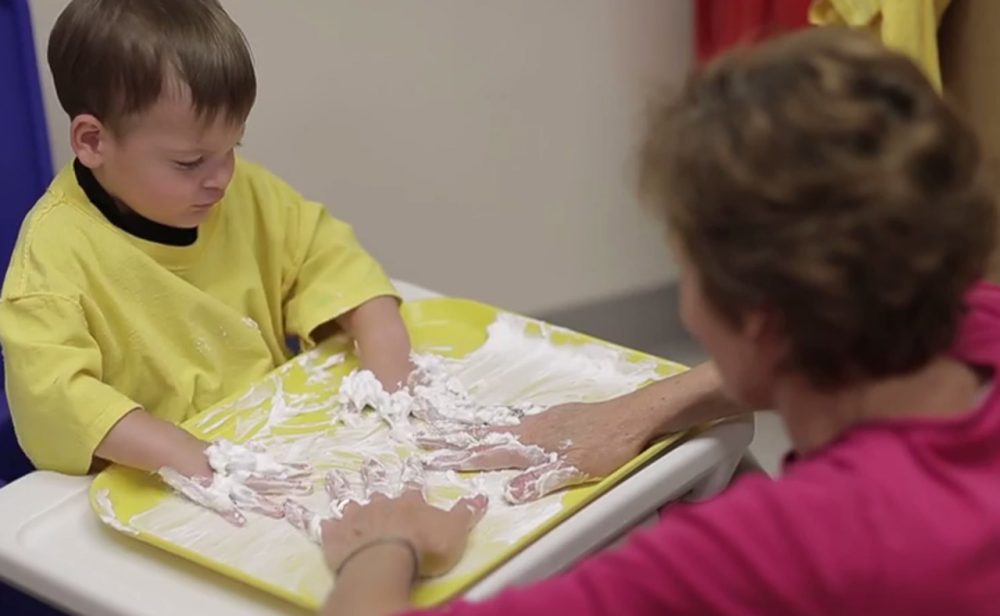 This article is more than 6 years old.
One in 88 kids are diagnosed with some form of autism, but most children are not diagnosed until age four or later.
[sidebar title="Possible 'Red Flags'" width="630" align="right"]
Not respond to their name by 12 months of age
Not point at objects to show interest (point at an airplane flying over) by 14 months
Not play "pretend" games (pretend to "feed" a doll) by 18 months
Avoid eye contact and want to be alone
Have trouble understanding other people's feelings or talking about their own feelings
Have delayed speech and language skills
via CDC
[/sidebar]
Now doctors say toddlers as young as 12 months can be diagnosed with the disorder and that early treatment can actually help reverse the condition.
Mercy Children's Hospital in St. Louis is expanding its early intervention program. The program is based on the Early Start Denver Model.
Kate Wright has two sons who have been diagnosed with autism and noticed some "red flags" with her son, William, early on.
"One of the earliest indications to me was the idea that I really had to work to get him to pay attention to me," Wright told Here & Now's Jeremy Hobson. "It just wasn't normal — to sit on the floor and practically beg him to look at me, to clap with me, to sing a song with me, just to get a glimpse."
William recently finished the program at Mercy, and Wright's other son is in the program. Wright says that once her son started the therapy, she saw a significant change.
"Magic," Wright said. "It's the only explanation I can give you, it was absolutely life changing."
Dr. John Mantovani, the founding medical director of the Mercy Kids Therapy and Development Center says early intervention is key because neurobiological connections are plastic.
"We have this opportunity in the first years of life and going forward to be able to mold those connections, building the bridges for learning, social interaction, communication, interest, play skills," Mantovani said. "All of the things that we expect children to do naturally, in one way or another, children on the spectrum have to be shown, taught, encouraged, and experienced from a different perspective."
Guests
Dr. John Mantovani, founding medical director of the Mercy Kids Therapy and Development Center at Mercy Children's Hospital in St. Louis.
Kate Wright, mother of two sons with autism who have received therapy at Mercy Children's Hospital in St. Louis.
This segment aired on October 14, 2014.