Hunters Work To Repair Old Guzzlers In California
10:33
Play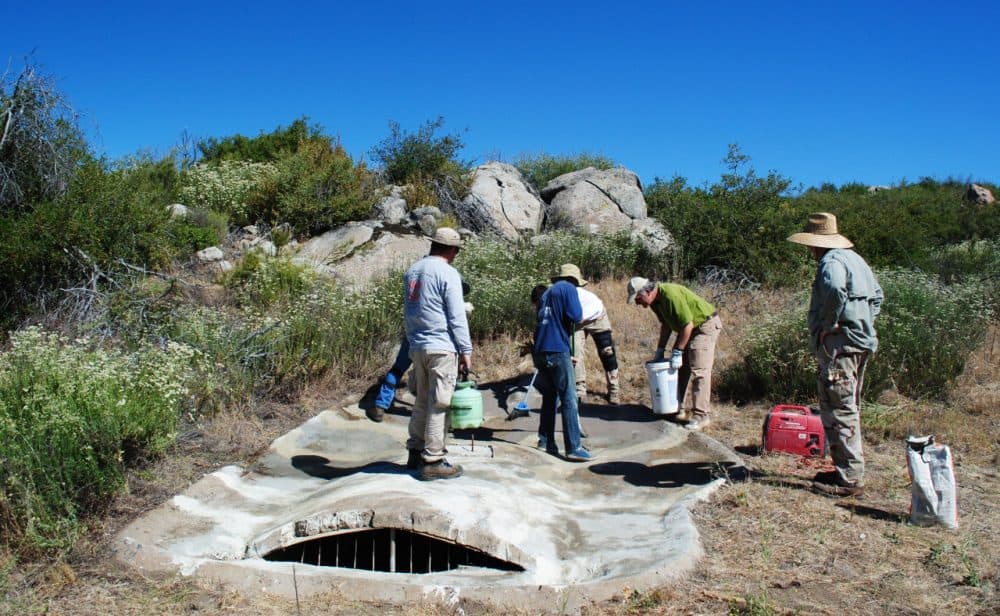 This article is more than 5 years old.
A San Diego hunting group is raising the old debate about hunters and whether or not they really care about the animals they hunt.
Here & Now's Robin Young spent last Saturday with a group of men who had volunteered to repair an old guzzler on state land near Ramona, northeast of San Diego.
The guzzlers were built decades ago to collect rainwater for animals. They're cisterns made of concrete, and the one these men worked on was badly deteriorated, with cracks in the concrete above and below the ground.
How Guzzlers Work
Guzzlers collect rainwater as it falls on an outer concrete apron, which guides the water into the cistern below.
"When it rains, the water falls on the apron and it just runs down and fills that cistern. And then there's like a 25 degree slope or ramp to the bottom of that cistern so that animals can go down through that opening and walk down to the water," said Quail Forever member David Preddy, "There's no moving parts, so the simplicity is actually kind of exquisite."
These men are quail hunters. They say they will never hunt near a guzzler, where animals are vulnerable, and they may never get to hunt on this particular parcel of land.
"Nobody loves the wildlife more than the ethical hunter, and that's why I do this."

David Preddy
So why did they do it?
A Labor Of Love
"Nobody loves the wildlife more than the ethical hunter, and that's why I do this," said Preddy, who called himself a conservationist "along the lines of Teddy Roosevelt."
"I don't know that you'd call this fun, this is definitely work, but it's an act of love is basically what it is."
But Preddy and the rest of the group aren't just making the repairs so they'll have more animals to hunt.
"This water source benefits all wildlife, not just game animals, so the argument that it's only here to help out the hunting community is actually false," said Jason Price, an environmental scientist with the California Department of Fish and Wildlife.
Controversy Surrounding Ethical Hunting
There are some hunters who take advantage of the guzzlers, however, which attract animals and leave them completely exposed while they drink.
"Some of the people are self-identified as hunters, but they don't meet the specifications that we use for hunters," said Jack Brandford, chairman of Quail Forever San Diego. "They'll come here and prop themselves on the guzzler, and everything that comes, they'll take care of it. That's unsporting, it's counterproductive, and they'll do it until there's no more animals in the area."
While some animal rights groups have been critical of hunters and their impact on the ecosystem, Brandford said it's often the hunters who do the most to help.
"This small group of people has done more this last year than most of these national anti- organizations have done to preserve wildlife period," he said. "They'd almost rather see them die of thirst than have people like us go out and preserve or provide water sources."
Brandford hasn't hunted quail in over two years. But given the importance of the work he and Quail Forever are doing, that's alright with him.
"It's a sensation of having accomplished something," he said. "You can nibble at different definitions, but it's like putting something back, putting back more than you take out."
See more photos from Robin Young's visit
Guests
This segment aired on June 4, 2015.