Ed Helms Takes Music Seriously With 'The Lonesome Trio'
12:33
Play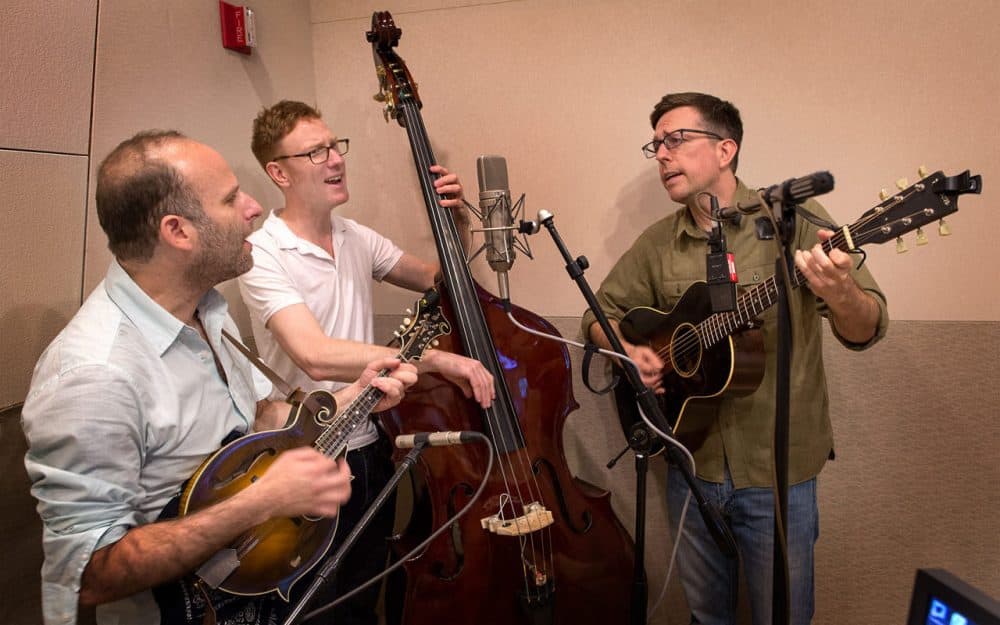 This article is more than 5 years old.
Ed Helms might be best known for his roles in comedies like "The Office" and "The Hangover" movies. But he's also an active musician, playing guitar and banjo, and singing and writing songs. Helms and his friends Ian Riggs and Jacob Tilove have been playing together since their Oberlin College days.
Their music is, as Helms tells Here & Now's Robin Young, "sort of bluegrass, a little bit of folk and lovelorn country." Now The Lonesome Trio, as they call themselves, are touring, and on Tuesday, they release their self-titled debut album.
The trio was a musical outlier at Oberlin, Helms said, where there wasn't much of a folk or bluegrass scene to speak of.
"We were there in the late '90s, and there were a lot of rock bands and we even played in some rock bands," he said. "Ian was in the conservatory for jazz bass studies. And there was phenomenal music everywhere at Oberlin, that's part of its identity. But there was kind of a void in the bluegrass or folk area."
The group came together in Helms' sophomore year, when he was roommates with Tilove.
"It's really an earnest music show. That said, it's also pretty lighthearted and fun."

Ed Helms
"Then we roped in Ian because he was a great jazz bass player," he said. "That was a loose collective. There were a lot of people in and out of that group."
Helms said that while the group's shows don't lean heavily on comedy, its music isn't short on fun.
"We've been pretty straightforward about the presentation of our show," Helms said. "It's really an earnest music show. That said, it's also pretty lighthearted and fun. Some of the music is — it's not comedy music at all — but there are some sort of sly, cheeky songs, and those are fun."
Ironically, Helms said, it's usually Tilove who's behind the group's more comedic songs.
"This is a joke between us, but the music I write is much more maudlin," he said. "Jake, on the other hand, writes these sort of upbeat, funnier tunes."
Helms made headlines last month for his valedictory speech at the University of Virginia, which included comments about Rolling Stone's retracted story "A Rape on Campus" and its subsequent impact on the university. He said, "It has been said that a rolling stone gathers no moss. I would add that sometimes a rolling stone also gathers no verifiable facts or even the tiniest morsels of journalistic integrity."
"I'd given a couple of commencement speeches before, and I try to have some comedy in there but say something meaningful at the same time," Helms said. "In this case, it just felt like if I didn't address what this student body had been through, and what this UVA community had been through, then I was sort of backing out or just not really doing my job."
Helms' band mates supported the comments, with one caveat.
"I was proud of Ed for commenting on that, but I wish that he had done it after Rolling Stone reviewed the album," Riggs joked.
So what about people who come to a Lonesome Trio show expecting to see Andy Bernard from "The Office" or Dr. Stu Price from "The Hangover"?
"I think if you came in expecting a comedy show, you would leave having not seen a comedy show, but hopefully feeling excited about the music show that you saw," Helms said.
Songs In This Segment
Earl Scruggs, "Foggy Mountain Breakdown" performed by Ed Helms
Jacob Tilove, "Pigeon's Foot" performed by The Lonesome Trio
Ed Helms, "Let it Ride" performed by The Lonesome Trio
Ed Helms, "Whiskey Drink" performed by The Lonesome Trio
Jacob Tilove, "Appalachia Apologia" performed by The Lonesome Trio
Avis Burgeson, Christiansen, Harry Dixon Loes "This Little Light of Mine" performed by Ed Helms and The UVA Hullabahoos
Ian Riggs, "River in the Gutter" performed by Ed Helms
Guests
This segment aired on June 11, 2015.