Clorox CEO Goes Beyond Bleach
10:56
Play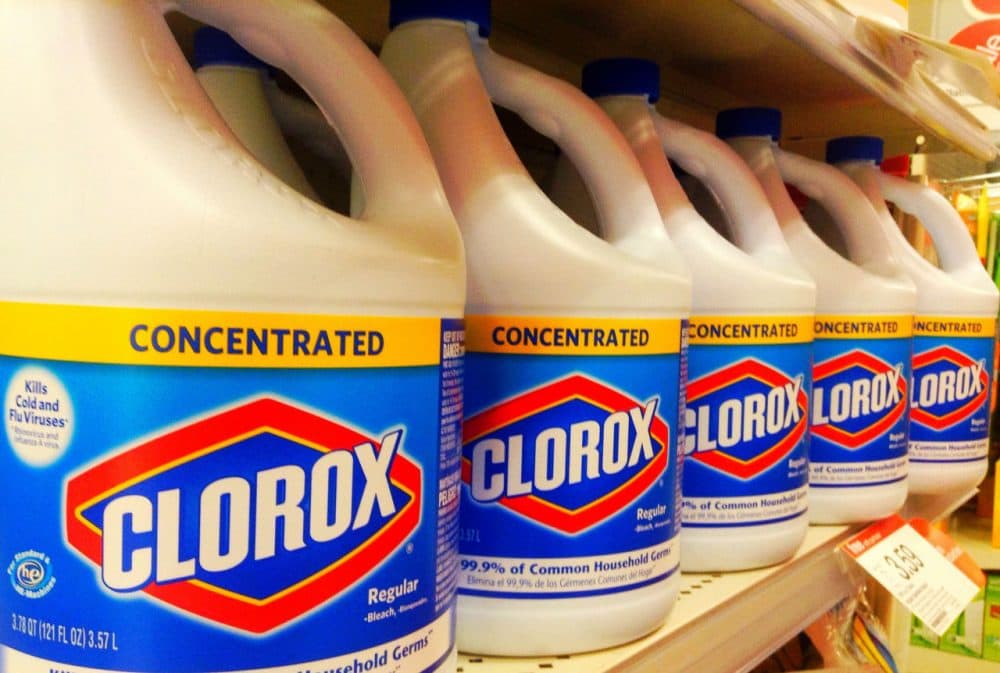 This article is more than 5 years old.
In this week's installment of Here & Now's View From The Top series, host Jeremy Hobson speaks with Benno Dorer, CEO of Clorox. He took the helm last year.
Doror discusses the wide range of products that Clorox now makes, from salad dressings to kitty litter. He says that bleach is still an integral part of the business and he thinks that it is catching on with young people.
4 Clorox Facts From CEO Benno Dorer
It's more than just bleach.
"Today, Clorox is more than just bleach," said Benno Dorer. There are a myriad of brands associated with Clorox, including Pine-Sol, Liquid-Plumbr, Glad, Kingsford, KC Masterpiece, Scoop-away, Fresh Step, Brita, Burt's Bees, and more. And as it moves into its 102 year, from a company that began with five people partnering to make bleach from the marshes of the San Francisco Bay, Clorox has grown to a manufacturer of 7,700 employees working globally.
But bleach is still a major product.
"Bleach remains relevant today," said Dorer, "it is a safe and effective disinfectant." However, Dorer said he's certainly aware of the misconceptions that exist around bleach and the company has recently focused on educating people about the cleaning product's benefits. "At the end of the day, bleach starts with water and with common table salt, and at the end of the cleaning process, it's broken down back into water and table salt," said Dorer.
Over the last sixth months, Dorer said Clorox's bleach has seen an increase in younger consumers. He said this growth is a result of educating people about the product and appealing to younger people online to open the door for two-way conversations with buyers. "I expect bleach to continue to grow," said Dorer.
It helps in disasters. 
"It plays very important role in people's lives today, especially in public health and especially during times of disaster," said Dorer. Bleach is often used to disinfect contaminated water.
That emoji tweet wasn't meant to be racist.
The company recently apologized over a misunderstanding about a tweet regarding new racially diverse emojis. Clorox tweeted, "New emojis are alright but where's the bleach." This led to an uproar on social media because many viewed the message as racist. Dorer explained the company meant the tweet to express disappointment that the new emoji roster lacked a bleach bottle character. "Instead of 'where's the bleach,' it should have said 'where's the bleach bottle,'" Dorer said. "This was especially painful for the whole company, but for me personally because of how committed we are to diversity and inclusion at Clorox. In fact, we have a very diverse set of employees that exceeds the U.S. census and we have many employee resource groups that create a culture of inclusion that we're very proud of. And since 2006, we've received a 100 percent score on our human rights campaign given the programs we have for LGBT employees."
Guest
This segment aired on July 14, 2015.