The Challenges Of Recruiting For The U.S. Army
11:02
Play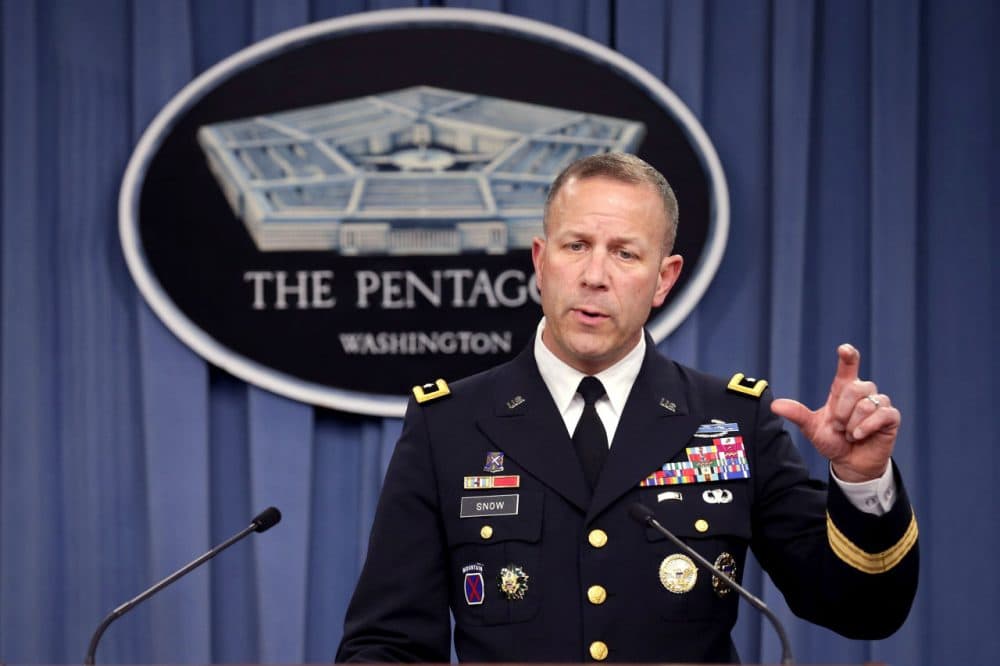 This article is more than 5 years old.
Earlier this summer, the Army fell behind in meeting its recruiting goals, but now says it should meet or exceed those goals by the end of September - the end of the fiscal year. Still, the Army faces a challenge because when the economy is good, it's tougher to recruit new soldiers. Here & Now's Robin Young talks with Maj. Gen. Jeffrey Snow, the head of U.S. Army Recruiting Command.
Interview Highlights: Maj. Gen. Jeffrey Snow
On perceptions stagnating Army recruitment
"There is no question that the impact of the wars in Iraq and Afghanistan have had an impact on our force. And you're absolutely right - for those soldiers who have been wounded in harm's way, we absolutely have an obligation as an army and as a nation to take care of them. I get concerned about this though because I think there's a perception by some mothers and fathers that they may think that just because they support their son coming to the Army, that's going to mean that they're going to come home in a diminished capacity, and quite frankly, Robin, I just don't think that's an accurate statement. That possibly exists, but the vast majority of our young men and women, they come in, they blossom, and they serve in the military and go on to do bigger and better things. I get a little concerned that those figures, that are really designed to make sure we don't forget about our fallen and our wounded, may be hurting our youth and our ability to recruit today."
On common disqualifications for Army hopefuls
"In seven out of 10 cases - so 71 percent - there's an education, medical or physical limitation that prevents an individual from coming into the military. Quite frankly, part of that, that I find this amazing, obesity accounts for about 31 percent of those disqualifications. That's something that as a nation, we really ought to take a hard look at."
On the Chattanooga shooting
"I do think there's things we need to do to enhance the protection of our facilities. I fully support that. My personal opinion is that I don't know that we need to arm recruiters. I get concerned about the impact it has on our ability to maintain those linkages to the communities. Obviously we go in and out of schools a lot. My concern is that there's going to be some individuals that see somebody outside one of our recruitment centers with a weapon and it may cause them to think twice about coming in and speaking to one of our great recruiters."
On why he's chosen a career in the Army
"I fell in love with the mission. I do think that our efforts make a difference. And although people do tend to talk and see in terms of war, and that is a part of what we do, I would argue in my experiences, whether it was in Kosovo or Iraq, really what you'll find is that most of us stay in because we protect people, we improve their quality of life, we give children the opportunity to go to school, we support getting them access to medical care. There's that part of it. It's the mission that I love and I do think that we make a difference in the security of our country. The second part is that I fell in love with the people. Generally these are people who came in with values similar to my own. They've got a desire to participate in something that's bigger than them. I have fallen in love with the people who have chosen this particular lifestyle, which is one of public service and making a difference."
Guest
This segment aired on August 17, 2015.