Sen. Claire McCaskill's Life In Politics
Play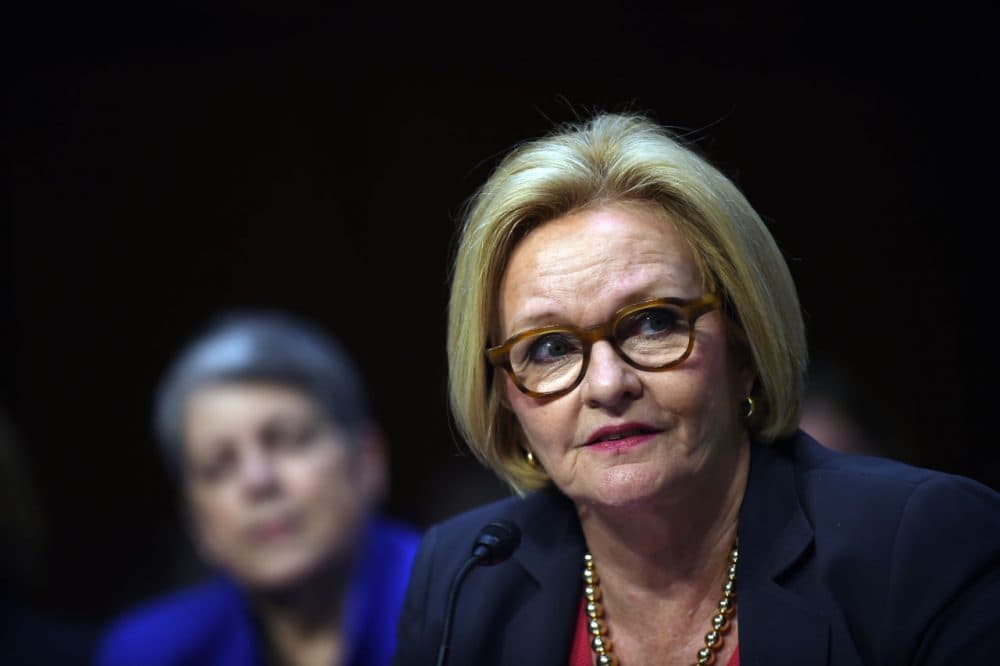 This article is more than 7 years old.
In 2007, Claire McCaskill became the first woman elected to the U.S. Senate from the state of Missouri. She's serving in her second term now, after winning reelection in 2012.
McCaskill first ran for office in 1982 and she's faced a great deal of sexism along the way. She writes about her career in her new book "Plenty Ladylike: A Memoir" (excerpt below) and joined Here & Now's Jeremy Hobson to talk about it.
Interview Highlights: Sen. Claire McCaskill
Has it gotten any easier for a woman to run for office since 1982?
"I think it's gotten easier. I certainly have not encountered the kind of sexism I talk about in the book with a great deal of candor when I first began holding elected offices as a single young woman in my twenties. I don't see the kind of sexism in the Senate that I certainly encountered in the Missouri legislature. On the other hand, in some ways it's gotten tougher because I think women are put off by how nasty and how money driven political campaigns have become. So I'm hoping that young women will look at this book and see a path to public service that embraces strategy, embraces ambition, embraces being aggressive because we need more women to travel what can sometimes be a difficult path, but a very rewarding path."
On endorsing Barack Obama over Hillary Clinton in 2012
"Most of my women supporters were very involved and supportive of Hillary Clinton and I
knew that when I endorsed Barack Obama it would cause a backlash from many of those longtime supporters and friends and I was worried about that, frankly. And my daughter - kids have a way of bringing you to ground, as I explained in the book - she got in my face and said, you know, 'Look in the mirror. You've been telling us all our lives that we've made sacrifices so that we could make a difference and now the only reason you're not endorsing Barack Obama is that you're worried about your own political skin' and she was right. So I called the then-senator, my friend, the next day and said I'm all in."
On Hillary Clinton's potential in the 2016 presidential race
"I think she is head and shoulders about the field. I love Bernie [Sanders] and I think he's talking about things we need to talk about and I think it's good that he's in the race. And therefore Hillary Clinton is going to have to fight for the nomination and earn the nomination and frankly I think she'll be a strong and stable president that can appeal to independent voters in a way that perhaps Bernie will not."
On legalizing marijuana
"I think the jury's out. I'm taking a close look at Colorado, the good and the bad. I believe alcohol causes an awful lot of pain and I talk about some people I love in the book and their use of alcohol and what that has done in terms of costs to our society - alcohol addiction. I frankly, probably, if I could switch out legal alcohol versus legal pot, pot might be better than having alcohol legal, in terms of the damages it does. On the other hand, adding another substance, I just want to be careful. I want to make sure that we're thoughtful about this. I think for medical use, I have no problem with the documented evidence that is in existence about how it can be of assistance to people with certain medical problems. But I want to look carefully at it to see if in fact legalization is the right way to go."
On her ex-husband's murder and navigating tragedy
"I was fairly steeped in the incredible pain of crime because I had spent so much time in the courtroom as a prosecutor. Crime with victims, parents of murdered children. I've seen up close in the ugliest way imaginable - in ways I can never forget - how crime is very harmful to people. When it happened in our family it was hard because I now had to try to soothe the path for my three children whose father had been murdered. And it was tough, I was just beginning the Senate campaign, it was a complicated time because I had remarried, and so that added another layer of complication. And I tried to be really honest about this in the book because I think everyone needs to realize that everybody has moments in their personal life that are really difficult to navigate and I hope the way that I've treated these subjects gives people permission to realize that even as politicians we are normal human beings with lots of bumps we have to endure."
On her initial reaction to the shooting of Michael Brown in Ferguson
"I thought like a prosecutor. I wanted to know what the physical evidence was. And while I am quick to talk about the physical evidence that indicated that the police officer was justified when he shot at Michael Brown, I am also quick to point out that it unleashed emotion in this country that we need to recognize as real about institutional biases. Criminal justice reform - I am excited that we seem to have some bipartisan support right now to move forward with some significant reform in the criminal justice system. There is a better way. There is a way that will protect public safety, that will hold perpetrators accountable. So I think we have a real chance to do something, and a lot of what happened in Ferguson and other communities has given pressure to this movement, which I think is pressure that is needed."
Book Excerpt: 'Plenty Ladylike'
By Claire McCaskill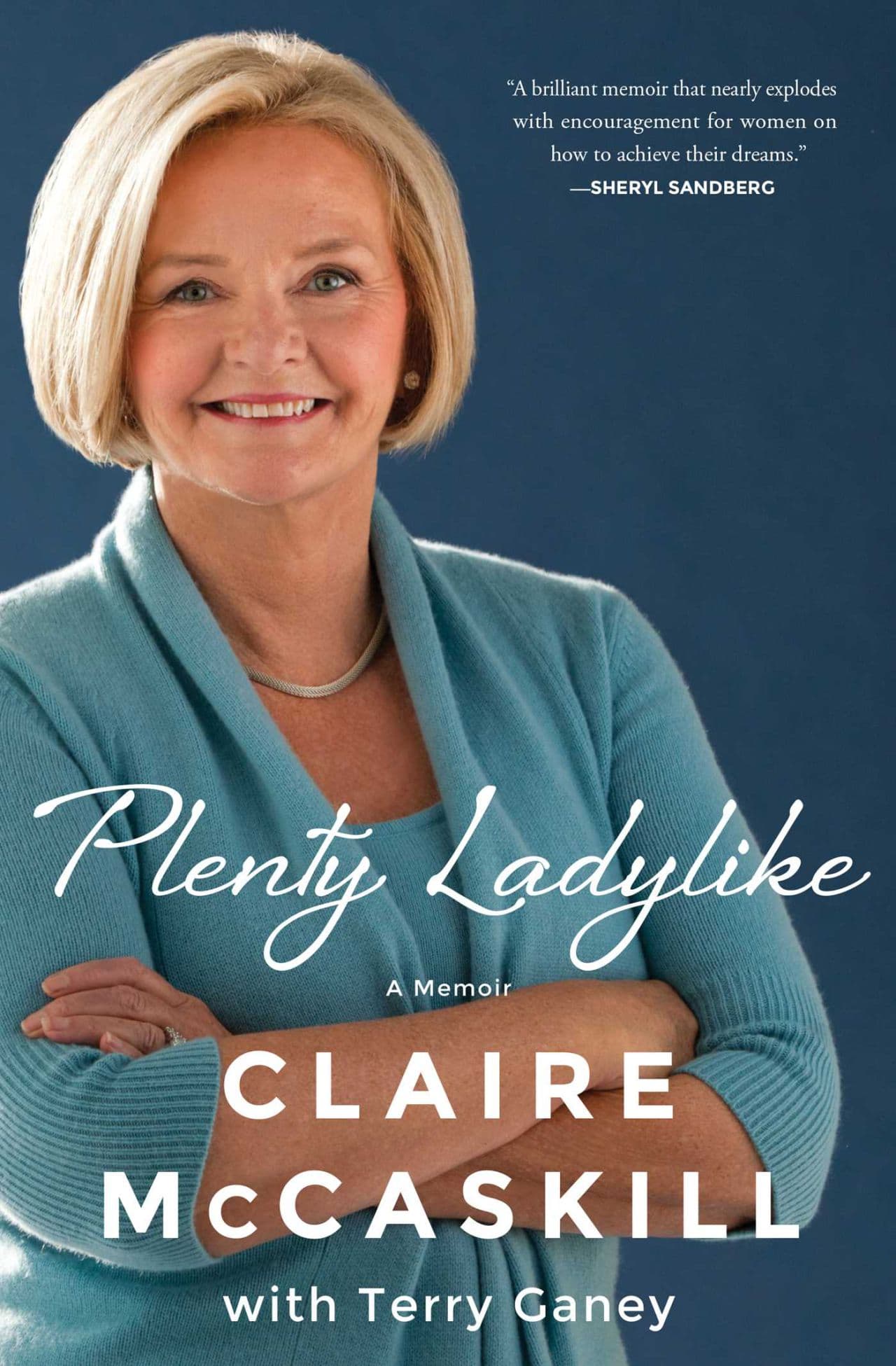 In January 1983 I was one of 163 members sworn in to the Missouri House.
How I was treated then had a lot to do with how I looked. It took a while, but I would overcome the "ditzy blonde" stereotype as the only female lawyer, though not the only woman, in the state house.
Lawyers are supposed to have an advantage, since the business of legislating is writing and passing laws. But all of the six male lawyers who were elected with me formed a clique to which I was not invited. They called themselves "the Six-pack." When my bills came up for consideration the Six-pack gave them special scrutiny: more questions and comments, more objections and proposed amendments. Once when I moved in committee for approval of one of my bills, a motion was made to table it. This was highly unusual—as my mom would say, it was as rare as hen's teeth. I couldn't understand what was happening.
Doug Harpool, another attorney, finally came to my office early one morning and said, "You need to know what is going on. They are plotting against you." He had first noticed their unified effort to use the Civil and Criminal Justice Committee we all served on to slow down my legislation. At first he thought it reflected the attorneys' deep-seated philosophical positions, but then he suspected that it had less to do with the bill itself than who was sponsoring it. "After a while, I began to sense that there was jealousy developing about Claire and her success," Harpool said later. "I felt like some of them were intentionally ganging up on her to hold her back. She was a fighter, and I think sometimes they liked to make her fight."
I cried about this later, but at the time I didn't let anybody know how upset I was. When I look back on it now, I realize how silly and immature they seemed. But at the time it was hurtful. Still, I didn't let the Six-pack get in the way of what I was trying to do.
There were ongoing sexual relationships among some members and staff of the Missouri Legislature, often involving married people. But the only man in Jefferson City I had a relationship with while I was a legislator was Harry Hill, a fellow legislator who was also single. Still, people spread rumors and made up stories. There were remarks made to me and about me. Harpool recalled, "These guys would always joke that Claire was sleeping with everybody. They had no basis for any of it. Any woman who was successful, they'd accuse of having slept with somebody."
Sometimes I ignored it, sometimes I responded, sometimes I cried, and sometimes I tried to turn it into a joke. I had to figure out how to remain friendly and collegial so I could be a successful legislator, but I also had to learn how to avoid being marginalized and treated like a sex object.
Once I had to ask Bob Griffin, the Speaker of the House, for help and advice on how to get my first bill out of committee. He was on the dais and laughingly said, "Well, did you bring your knee pads?" I knew he was joking; the problem was that he didn't realize it was an offensive joke. And that was many times the essence of the problem: Men in Jefferson City did not understand or comprehend how offensive their humor could be.
I wouldn't have traded my six years in the Missouri General Assembly for anything. I learned so much—about compromise, about the process of government, about how to make allies and how to lay the groundwork and reach out to the right groups. I learned a lot about campaigning too, because I always had an opponent.
But even more important, I realized that speaking truth to power can be survivable and even a lot of fun. I did distinguish myself by being willing to stand up to Bob Griffin, Dick and Bill Webster, Tony Ribaudo, and others. I found that if you are informed and work hard, you can earn credibility. I went from being the young blonde with all the hair to being someone whom the senior members approached when they had questions about criminal legislation.
Recently, even members of the Six-pack have come around, asking me for help in getting federal appointments. And I call all of them friends.
Excerpted from PLENTY LADYLIKE by Claire McCaskill with Terry Ganey. Copyright © 2015 by Claire McCaskill. Reprinted by permission of Simon & Schuster, Inc, NY.
Guest
This segment aired on August 17, 2015.