Cranberry Recipes: Sauce, Butter, Syrup And Scones
Play
This article is more than 7 years old.
Now that Thanksgiving is a little over a week away, Here & Now resident chef Kathy Gunst is thinking cranberries.
She shares recipes for not only the traditional sauce (which Kathy makes with orange, ginger, pineapple and pecans) but also a maple-cranberry syrup that can be mixed into a holiday drink, cranberry-ginger buttermilk scones and a cranberry maple butter that can be used in sweet or savory dishes.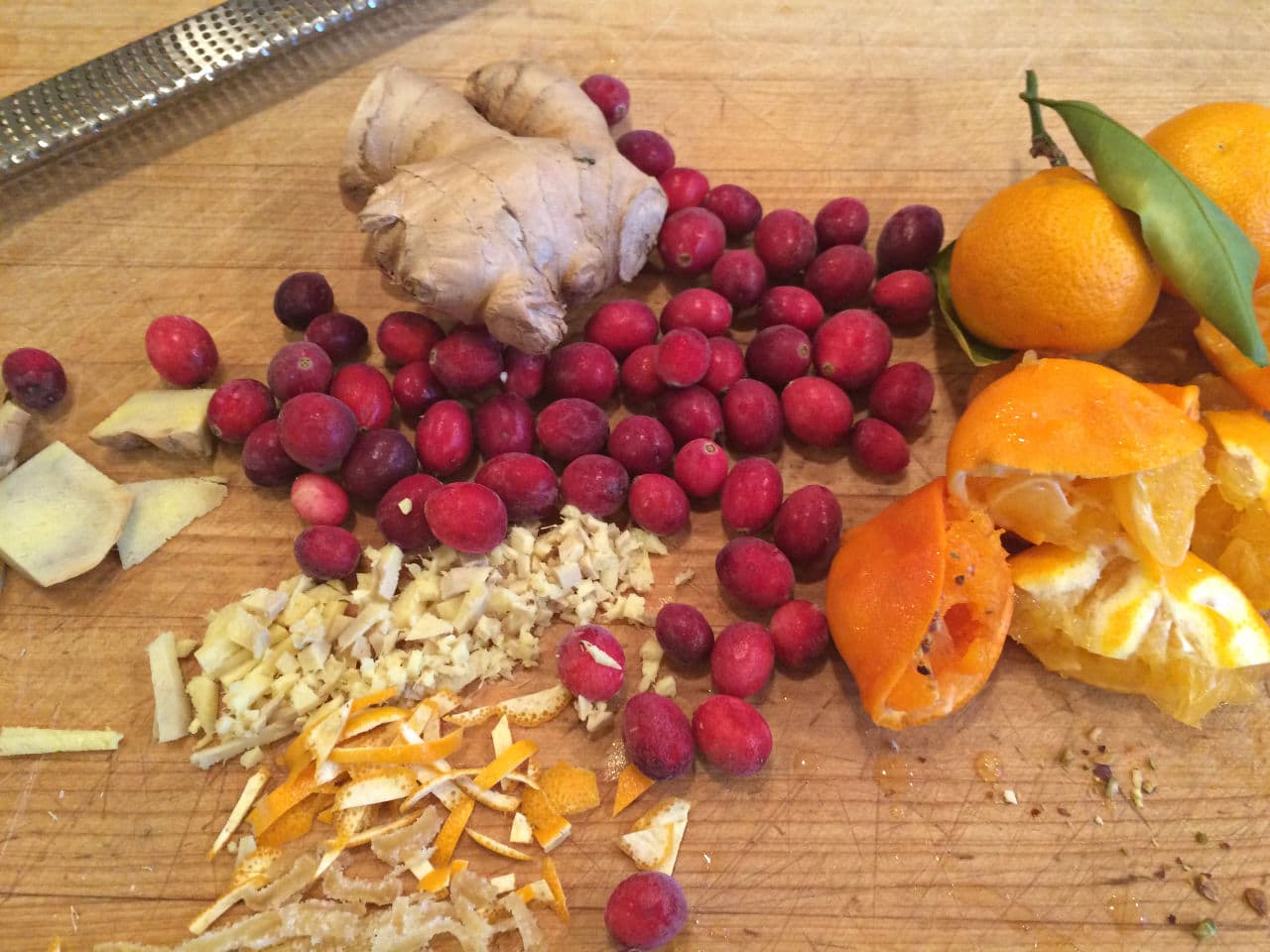 Kathy tells hosts Jeremy Hobson and Indira Lakshmanan that cranberries are rich in vitamins and are good fresh or frozen.
See more recipes from Kathy Gunst
Cranberry-Maple Syrup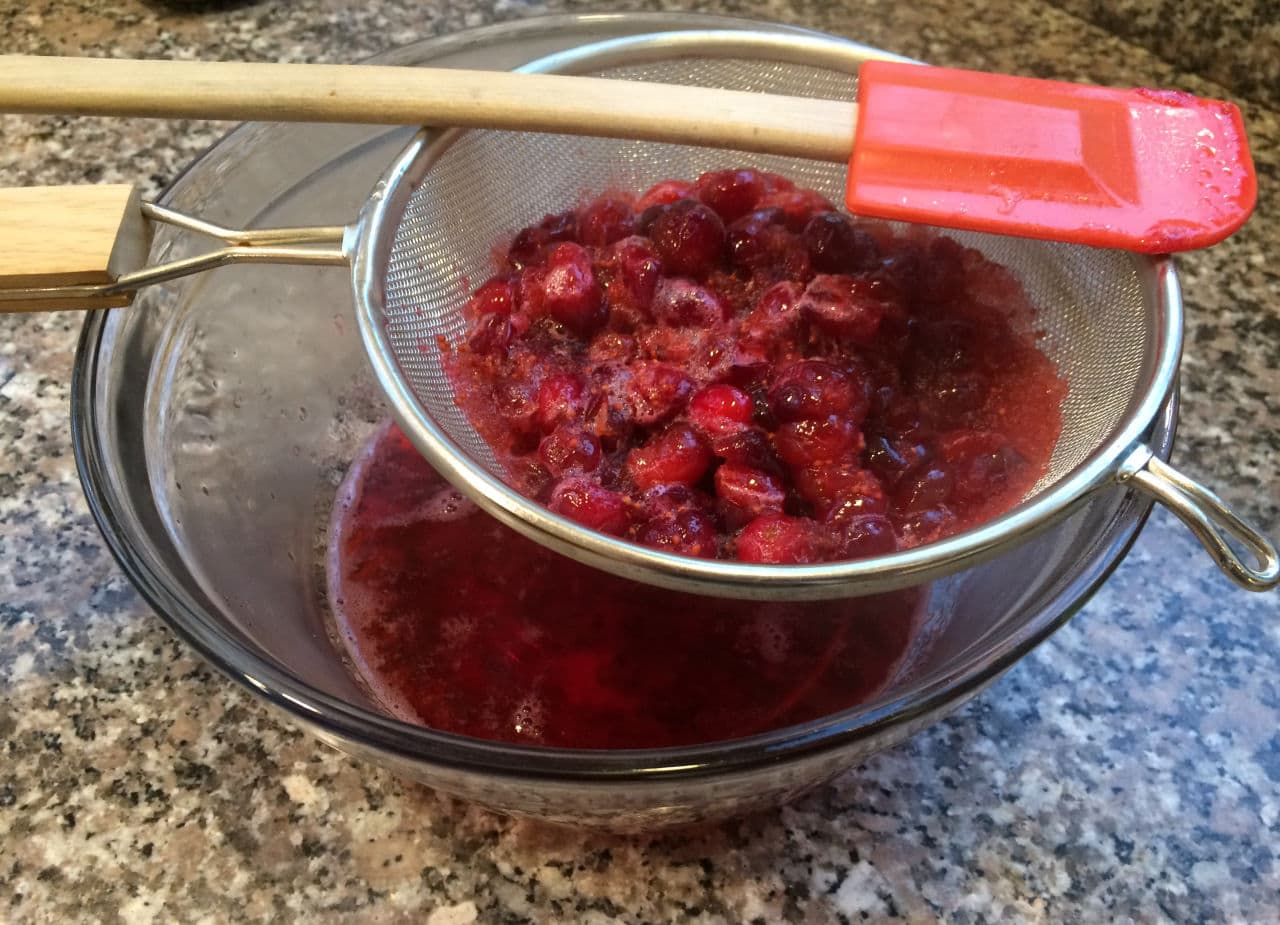 Kathy's Note: Add a few tablespoons of this cranberry syrup to flavor seltzer, rum or vodka drinks, or even holiday punch. For a hot drink, add a few tablespoons into a mug and top with boiling water to make homemade cranberry tea.
Makes about 1 cup.
Ingredients:
2 cups water
1/2 cup sugar
1/3 cup maple syrup
7 1/2 ounces fresh cranberries OR 2 1/2 cups frozen (but not thawed)
Instructions:
In a medium saucepan, mix the water, sugar, and maple syrup and place on high heat. Bring to a boil. Reduce the heat to low and cook 10 minutes. Add the cranberries. Cook another 10 minutes or until the cranberries pop and appear soft. Remove the saucepan from the stove and let sit 15 minutes. Strain, pressing gently on the cranberries to extract all the juice.
Cranberry-Ginger-Buttermilk Scones
Kathy's Note: This is my adaptation of a recipe from "Huckleberry" by Zoe Nathan. Frozen cranberries, tossed with ginger and sugar, are folded into a buttermilk dough. The scones need to freeze for several hours before baking so plan your time accordingly.
Makes 9 scones.
Ingredients:
3 1/4 cups flour
1/2 cup white granulated sugar, plus 2 tablespoons
1/4 cup light brown sugar
1 tablespoon baking powder
1 teaspoon baking soda
1 teaspoon salt
2 sticks butter, well chilled and cut into small pieces
3/4 cup buttermilk
12 ounces frozen cranberries (freeze for at least 2 hours so they are frozen solid), coarsely chopped
1/2 teaspoon ground ginger
Instructions:
In a large bowl use a whisk to mix the flour, 1/2 cup of the white sugar and the brown sugar, baking powder, baking soda and salt. Add the butter and, using your fingers, work into the flour mixture until it forms pea-sized lumps. Add the buttermilk and stir.
Place the mixture on a well-floured work surface. Using the heel of your hand flatten out the dough. Work it over once or twice until the dough holds together. Pat the dough down so it's about 1/2 to 3/4 inch thick and about 11 inches long and 8 inches wide.
Toss the cranberries with the remaining 2 tablespoons sugar and the ginger. Firmly press the frozen cranberry mixture onto the dough. Roll the long side of the dough into a jelly roll log with the cranberries inside the dough. If any cranberries fall out, simply press them back into the inside of the roll. Use your fingers to lightly flatten the top of the log. Use a small, sharp knife to cut out 9 triangles and place on an ungreased cookie sheet.
Freeze for at least 2 hours, or preferably overnight.
Preheat the oven to 350 degrees. Bake on the middle shelf for around 25 minutes, or until golden brown and easily lifted off the cookie sheet.
Cranberry Maple Butter
Kathy's Note: Serve with toast, cranberry scones, or other sweet pastries, or try it on top of roast chicken, duck or salmon.
Makes about 1/2 cup.
Ingredients:
4 ounces lightly salted butter, at room temperature
2 to 3 tablespoons maple syrup*
2 ounces (about 1/2 cup) fresh or frozen (but not thawed) cranberries, coarsely chopped
*More or less depending on how sweet you like it or how tart your cranberries are.
Instructions:
In a small bowl, mix the butter and maple syrup with a spatula. Stir in the cranberries. Place butter mixture on a sheet of plastic wrap and roll into a log shape or press into a ramekin. Refrigerate until ready to use.
Guest
This segment aired on November 18, 2015.