Blue Heron: Medieval And Renaissance Music For The Ages
10:38
Play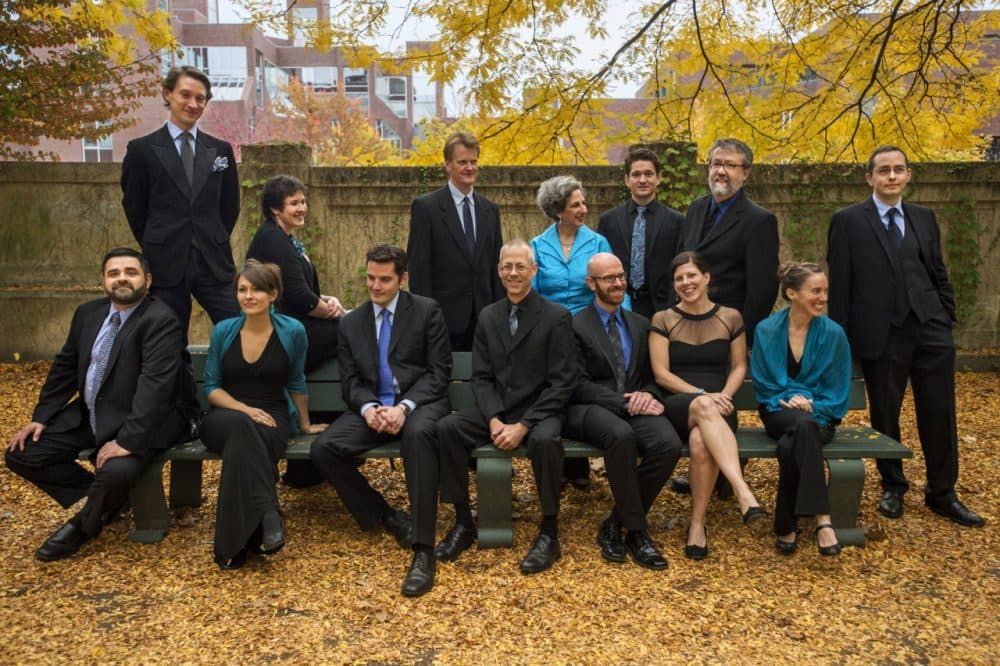 This article is more than 4 years old.
"Outstanding" and "mesmerizing" are some of the adjectives used by critics to describe the Blue Heron music ensemble. Blue Heron has been performing vocal music of the Renaissance and medieval periods for over 15 years.
Here & Now's Eric Westervelt went to the First Church in Cambridge, Congregational in Massachusetts, to sit in on a rehearsal. He speaks with music director Scott Metcalfe and baritone David McFerrin to discuss the roots and characteristics of medieval music.
They also talk about Johannes Ockeghem, the "greatest composer you never hear of" and hear selections from Blue Heron's holiday program, "Christmas in Medieval England."
Interview Highlights
Was medieval music heard by everybody or mostly nobility?
Metcalfe: "It's mostly heard by the upper reaches of society, at least the music we're doing for the concerts this week, which is Christmas music from the 15th century. Some is just plain liturgical music, we have some movements from the ordinary mass, those would have been heard by anybody in church but they're basically aimed at educated, literate audience. And the carols we're doing, a selection of half a dozen or so of these 15th century English carols, this was music probably written by educated people as well. A university crowd or clerics, that overlapping group of people."
What is it about music from this era that attracts you?
McFerrin: "I'm attracted to the community, the democracy, if I can describe it that way, of the style. Compared to other genres, all the musical lines are equally as important, and the melody is passed from one voice to the next. That builds a sense of community through the music which is special, and the personalities of the group feed of that. We have the opportunity to take solo turns, but for the most part it's all about all of us coming together to create one unified musical piece."
On the composer Johannes Ockeghem
Metcalfe: "He was a composer born in what's now Belgium towards the beginning of the 15th century. He turned into, I think, one of the greatest composers of all time. One of the absolute top, possibly top two. We've been saying he's the greatest composer you've never heard of, because even among early music fans, it's a rarity to hear his music, certainly live. It's very, very difficult technically, and musically very challenging, but incredibly rewarding for us to work on and perform, and I think for the audience it's extraordinarily exciting at this prospect to hear all the music of this master from 600 years ago who was so extraordinarily compelling. His music is intellectually and sensually engaging, like Bach - a master contrapuntist who also write great tunes, and someone who've very in touch with the divine and is extremely human. He also has a great sense of rhythm and can float you six feet off the ground. Ockeghem has all of those qualities."
McFerrin: "I like, similar to Bach, how he was a composer who used all of the tools in his compositional bag - rhythmic complexity, harmonic complexity - as mechanisms to bring out the intensity of the texts he was saying."
Do you think about the socio-political contexts of the time when performing the music?
Metcalfe:"I think for all of us it's quite interesting to develop some sense of the social context, historical context, political context, of the music that we're singing. In the big picture, it's not really so different from now. There's a lot of very, very joyful things, there's a lot of really horrible things. We're still in the same mess that we were 600 years ago, only we all have phones now. Things have not changed that much."
McFerrin: "I find the music rewarding because it does capture a sense of mystery and uncertainty and that was true when it was written, and it's also true today, whether you're Christian or not connecting to the religious text, so much of this music captures that mystery, and is very personal. I think we all connect to that as performers, and hopefully, and I think it's true that our audience finds that reward too."
Hear Two Blue Heron Songs
"Quant de vous seul" composed by Johannes Ockeghem. Voices: Martin Near, Jason McStoots and Sumner Thompson.
"Hayl Mary ful of grace" by anonymous composer. Voices: Martin Near, Gerrod Pagenkopf, Michael Barrett, Owen McIntosh, Jason McStoots and Mark Sprinkle. Harp: Scott Metcalfe.
Songs In This Segment
"Hayl Mary ful of grace" (recorded in rehearsal by Here & Now)
"Veni, Veni Emanuel" (recorded in rehearsal by Here & Now)
"Quand de vous seul" (recorded live in concert at First Church in Cambridge on October 17, 2015)
"Nowel Syng We Both Al and Som" (recorded in rehearsal by Here & Now)
"Nova, nova! Ave fit ex Eva" (recorded live in concert; from Blue Heron's album "Christmas in Medieval England")
Guests
Host
This segment aired on December 18, 2015.