Showcasing American Cheeses: Recipes And Recommendations
09:36
Play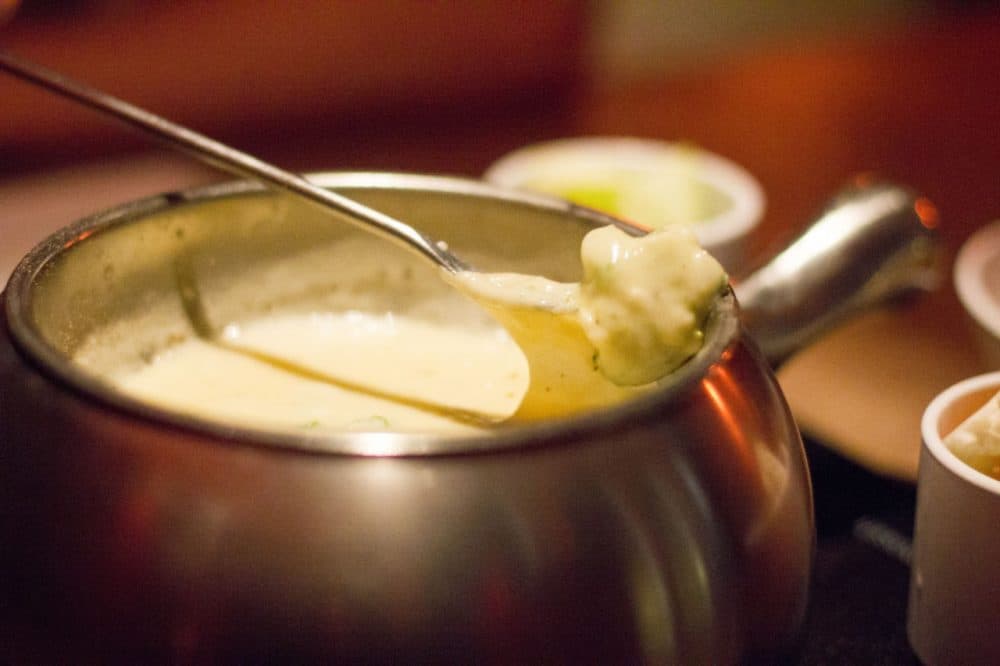 This article is more than 5 years old.
Great cheeses don't only come from Italy and France – in fact, there are some delicious ones being made here in the United States.
Ihsan Gurdal, co-owner of Formaggio Kitchen in Cambridge, Massachusetts, brought offerings from the Northeast and Wisconsin for Here & Now host Jeremy Hobson and resident chef Kathy Gunst to sample.
Gurdal also gave them a primer on how to taste cheese, how he puts together a cheese plate, and which of the cheeses would work well in a fondue. See his fondue recipe below, along with four recipes from Gunst that highlight cheese without being overly heavy:
See more recipes from Kathy Gunst here.
Cheeses Tasted In This Segment
Endive Salad With Toasted Nuts, Blue Cheese, And Pear And Apple Batons
Kathy's Note: Endive is a member of the chicory family and has crisp leaves with a sweet, somewhat nutty, mild bitter flavor. In this simple salad, the leaves are served with tangy, creamy blue cheese, toasted nuts, and juicy pear and apple slices. The salad is topped with olive oil and vinegar. Serve with warm, crusty bread.
Serves 3 to 4.
Ingredients:
1.5 ounces nuts, walnuts, almonds, pecans, pistachios, or pine nuts
4-ounce head of endive, cored and separated in leaves
3 ounces blue cheese, crumbled
1 pear, cut into thin slices and then into 1-inch thick long pieces
1 apple, cut into thin slices and then into 1-inch thick long pieces
Freshly ground black pepper and sea salt to taste
2 tablespoons white or red wine vinegar
4 tablespoons olive oil
Instructions:
Preheat the oven to 350 degrees. Place the nuts on a cookie sheet and bake on the middle shelf for about 8 minutes. Remove and coarsely chop.
Arrange the endive spears around a serving plate. Sprinkle with the blue cheese, toasted nuts, pear and apple slices. Sprinkle with pepper, salt, vinegar and oil and serve.
French Onion Soup With Double Cheese Croutes
Kathy's Note: This classic French soup is made with beef stock and a heavy blanket of sautéed onions and leeks. In classic Parisian bistro fashion, the onion soup is placed in an ovenproof bowl, topped with a slice of crusty bread and smothered with grated gruyere. I find this method a bit heavy handed, so I like to make a cheese croute to place on top (recipe below). Serve with red wine and big green salad.
Serves 8.
Ingredients:
2 1/2 tablespoons olive oil
1 1/2 tablespoons butter
4 pounds onions, yellow and red or just yellow, very thinly sliced
3 large leeks, dark green section discarded, and pale green and white sections cut in half lengthwise, washed, and then thinly sliced
Salt and freshly ground black pepper
1 1/4 cups dry red wine
1/4 cup cognac
7 cups beef stock (recipe below)
8 cheese croutes (recipe below)
1/2 packed cup chopped fresh parsley
Instructions:
In a large soup pot heat the oil and butter over very low heat. Add the onions and leeks and cook, stirring occasionally, for about 1 hour, or until the onions are buttery and soft but not brown. Season to taste with salt and pepper.
Raise the heat to high and add wine and Cognac to the onions and bring to a boil. Simmer vigorously for 3 minutes. Add the stock to the onions and bring to a boil; reduce the heat, partially cover, and simmer about one hour. The soup should be full of flavor; season to taste. If it still tastes weak or too winey raise the heat and bring to a vigorous simmer for another 10 minutes.
Serve with a sprinkling of fresh parsley and a cheese croute on top.
Double Cheese Croutes
Kathy's Note: These crisp, cheesy croutes are the perfect topping for French-Style Onion Soup, or any soup where the flavor of cheese and the crunch of toast will work. They are also delicious on salads.
Makes 8 croutes.
Ingredients:
8 1/4-inch-thick slices bread from a baguette, sourdough, ciabatta, or any loaf of crusty bread
2 tablespoons olive oil
3/4 cup grated Gruyere, Parmesan, or any one of your favorite cheese
Freshly ground black pepper
Instructions:
Place a rack as close as possible to the broiler and preheat the broiler to high.
Place the bread slices on a cookie sheet. Using a pastry brush or the back of a spoon, brush the toasts with half of the olive oil. Broil for 1 to 2 minutes, or until just beginning to turn golden brown. Remove from the broiler. Sprinkle with half of the cheese and place back in the broiler and broil for another 1 to 2 minutes or until the cheese is melted. Remove from the broiler.
Gently flip the toasts over and brush with the remaining oil. Broil for 1 to 2 minutes until golden brown. Sprinkle with the remaining cheese and place back under the broiler for another minute, or until the cheese is melted. Serve warm or at room temperature.
The croutes can be made a day ahead of time; cover and place in a tightly sealed tin or plastic bag.
Roasted Beef Stock
Kathy's Note: This is a rich, intensely flavorful stock. The bones are roasted first and then simmered with water. The stock can be frozen for several months or kept in the refrigerator for up to 4 days. The stock needs to chill for several hours or overnight in order to remove the fat that forms on top. Plan your time accordingly.
Makes about 10 cups.
Ingredients:
2 pounds beef shanks
2 1/2 lb short ribs with bones
1 tablespoon olive oil
1 1/2 tablespoons tomato paste
Salt and freshly ground black pepper to taste
1 large onion, peeled and quartered
2 medium carrots, peeled and coarsely chopped
2 large stalks celery coarsely chopped
12 cups water
1/2 packed cup chopped fresh parsley 12 cups water
1 bay leaf
6 black peppercorns or generous grinding black pepper
Instructions:
Preheat the oven to 425 degrees.
Place the beef shanks and the short ribs in a shallow large roasting pan. Spread the olive oil and tomato paste on both sides of the meat. Add salt and pepper and toss the onions, carrots and celery in the pan. Roast on the middle shelf for 15 minutes.  Flip bones over and roast another 45 minutes. The idea is not to cook the meat completely, but to brown the bones enough to give the stock a rich, deep color.
Remove the pan from the oven. Add the bones and vegetables and juices from the bottom of the pan to a large soup pot. Add the water, parsley, bay leaf, peppercorn, and a generous amount of salt. Bring to a boil over high heat, reduce the heat to a low simmer, and cook uncovered for 45 minutes. Partially cover the pot and simmer over low heat for another 1 or 1 1/2 hours, or until the stock has a rich, full flavor. Season to taste.
The stock will be quite fatty. The best way to deal with this is to chill it for several hours (or overnight) and remove the layer of chilled fat off the top with a large kitchen spoon. Reheat the stock and strain. The meat will be exceptionally tender and should be reserved. Strain the stock, reserving the meat.
Guests
This segment aired on January 21, 2016.