Volunteers For Clinton, Sanders Try To Woo Undecided Voters In S.C.
09:43
Play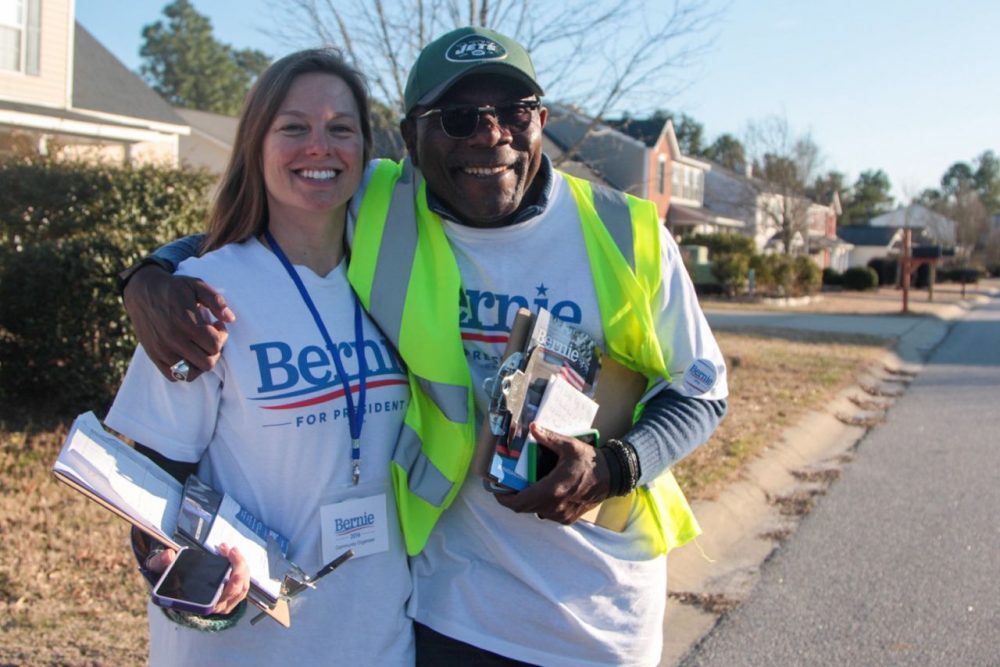 This article is more than 4 years old.
At a roadside strip mall in Columbia, South Carolina, the Clinton campaign has taken over the old Kiki's Chicken and Waffles for a phone bank.
Volunteers young and old were seated at large tables with scripts in front of them, calling supporters on their cellphones and asking them to help - or at least to vote for Clinton.
Although the majority of those on the other side of the call didn't seem interested in volunteering positions, Robert Sawyer was glad to give his time to the Clinton campaign.
"It's kind of tedious calling over and over again, but when you see it working in the big picture, like, electing the first woman president and just electing somebody into office, it's like 'wow,'" he said.
From education and incarceration to college affordability and the Affordable Care Act, Charletta Felder has a laundry list of reasons for supporting Clinton.
"Well, I'm a great supporter of her and I want to be sure that we win this election and I'm not sure that the opposition will be able to win, so that's why I'm here. Hillary embraces all of the issues that I'm concerned about so I'm just very anxious to do as much as I can, which is a little phone call, to help her win," she said.
Only 10 minutes north of the Clinton phone bank, canvassers for the Sanders campaign were going door-to-door looking for anyone willing to listen.
"For me, I believe in voting based on my core values, and I believe that [Sanders] really speaks to my core values and making sure that we're focusing on building a middle class but also recognizing that poverty and racism is rampant in our country and its time for us to address that in a very powerful, very big way, and I feel like his campaign speaks to that," said Christina Spach.
Although college campuses in New Hampshire and Iowa proved very receptive to Sanders' message, there was no obvious preference on display at Columbia College, a private women's college.
Students there seemed split between Clinton and Sanders, while some had yet to make up their minds.
"[Electability] is one of the reasons I'm still flip-flopping," said undecided voter Sarah Keene. "I like Bernie Sanders' ideas but I'm not sure he's as electable as Hillary Clinton."
The latest polls in South Carolina show Clinton with a double-digit lead over Sanders, but that lead is shrinking somewhat, which means undecided voters like Keene could make a big difference.
Reporter
This segment aired on February 19, 2016.