Canadian Island Offers Americans Refuge 'If Donald Trump Wins'
05:36
Play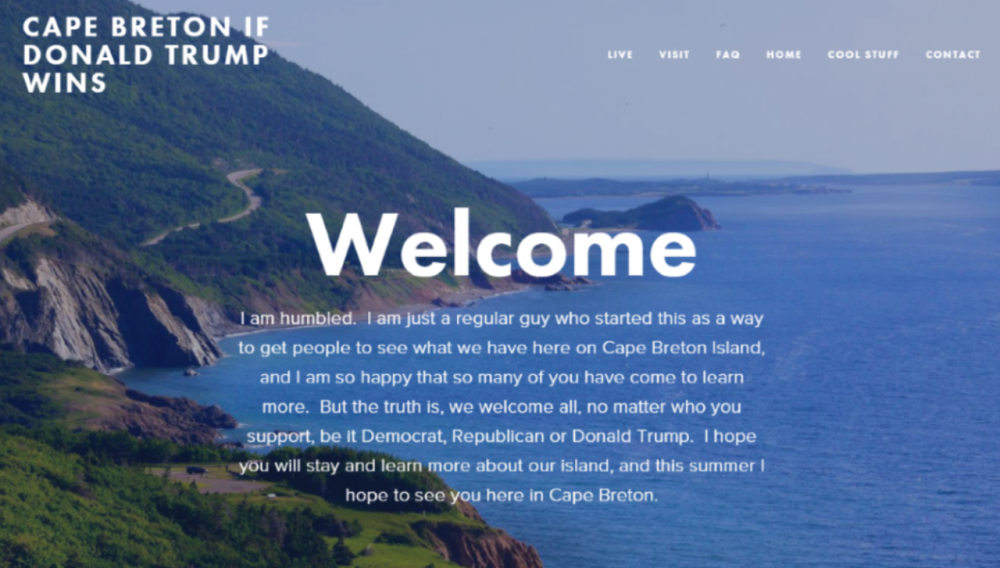 This article is more than 5 years old.
It all started as a joke. Canadian radio host Rob Calabrese, who lives and works on Cape Breton Island in Nova Scotia, threw a website together: cbiftrumpwins.com, which stands for "Cape Breton If Donald Trump Wins."
On it he said: "Hi Americans! Donald Trump may become the president of your country. If that happens, and you decide to get the hell out of there, might I suggest moving to Cape Breton Island?"
So many people responded that he changed the website to include links about immigration, housing and schools. Calabrese talks with Here & Now's Robin Young about his site and the response.
Interview Highlights: Rob Calabrese
When you started getting responses to your offer, how did you feel?
"Well, I was overjoyed at first, because I was able to handle the inquiries on my own, but then they began coming in at such a rate that it was just impossible for one person to keep up."
What were they saying to you?
"They were great, and I wish everyone in Cape Breton could read them because it would make you feel really awesome about being from here. It was, 'how does the immigration process work? What kind of job opportunities are there? What's the housing market like? What is the education system like? Can I bring my horse? What's it like to be LGBT [there]?' The full range of questions."
How many responses have there been?
"I don't know, we got to about 2,500 responses. So what we did was take the most common questions, make a very robust FAQ page, and turn the contact sheet off. Then Mary Tulle, who is the CEO of our tourism association, Destination Cape Breton, called because she was getting so much traffic because I had linked to her site. She basically said 'what can we do to help?' So she put together a team of people who started responding and forwarding the emails to the proper places."
This was originally a partisan joke website, and recently you've changed it.
"Yes, I have changed it. We follow along this campaign, my wife and I, extremely closely and find it fascinating. We can't get enough of it. We watch every debate, we watch all of the caucuses and the primaries, we listen to podcasts about American election intrigue; it's just - we're insatiable. We know the issues. I thought the opportunity lay where the things that Donald Trump, especially Donald Trump, was saying was the opposite of the way things are here. For example, a ban on Muslims. Now, we are screaming for people and we don't care about religion, so you could see the opposite thing kind of happening there."
Cape Breton is having a difficult time convincing people to come live there.
"Yes, we have a very serious population problem, an unsustainable population problem where we lose about 1,000 people a year."
On the new website, you welcome all Americans, Republican and Democrat, to take refuge at Cape Breton.
"That's right. The reason the whole thing came about was, I'm sure you've heard it in the United States, but we've heard it in Canada, usually Democrats are the ones that say 'look, if so-and-so wins the election, that's it, I'm outta here, I'm moving to Canada." This time because, it's my understanding that Mr. Trump doesn't have a lot of fans in the Democratic Party, doesn't have a lot of fans in the Republican Party as well. We know that the things he says in his campaign make people really nervous."
Some of the Americans you are hearing from are pleased that anyone wants them.
"Yes, we have our stereotypical thoughts of Americans, just the same as you guys have your stereotypical thoughts about Canadians. If anything, everyone's looking for the same thing; a safe place for their family, a place where they can be free and enjoy the friendship of their neighbors."
Name something that can really convince someone to move to Cape Breton.
"We have an incredibly rich culture. It's a Celtic culture. People speak Gaelic, there's French communities here, there's Mi'kmaq communities, which are a First Nations people and they're vibrant and they're proud. If you move to Cape Breton, you are moving into a community, and you'll be part of the community."
Guest
This segment aired on February 25, 2016.