How Chris Rock Wrangled Race At The Academy Awards
06:14
Play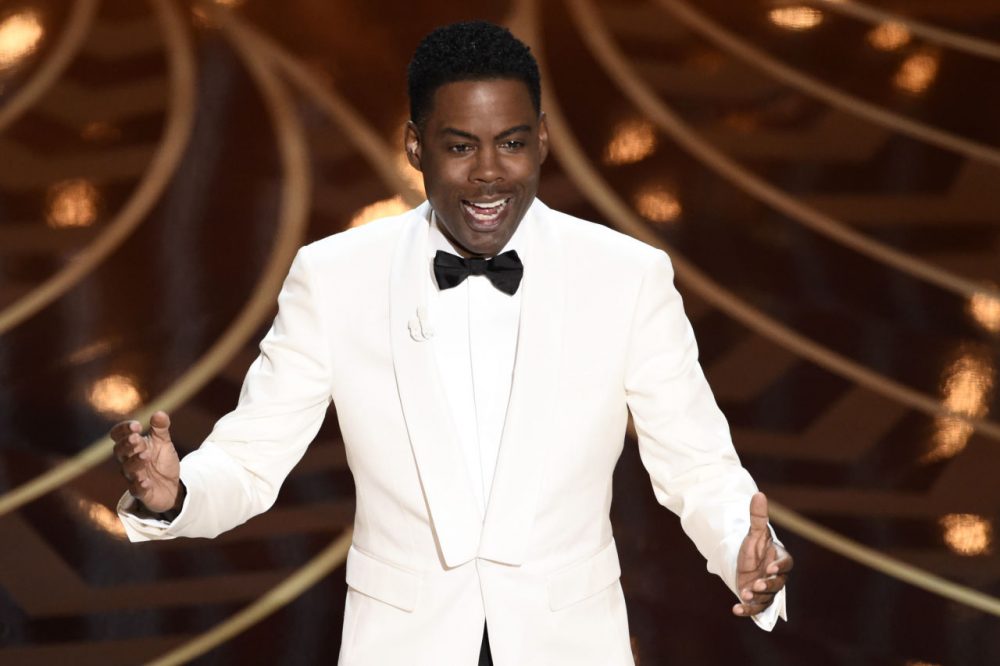 This article is more than 4 years old.
With all the controversy and protests around diversity going into last night's 88th Academy Awards, people wondered if Chris Rock would address it without losing the humor. NPR television critic Eric Deggans joins Here & Now's Robin Young with his thoughts on Chris Rock's performance at last night's Oscars.
Interview Highlights: Eric Deggans
What did you think of Chris Rock?
"There were two parts to the job that he did. Everyone sort of expected Chris to come out and talk about the Oscars So White controversy; the fact that only white people were nominated in the acting categories and that people of color, for the most part, were underrepresented in every category. He did that, but he did that in a way where he talked a lot about black people. So there were folks who felt excluded because when you look at the numbers, Hispanics are underrepresented in TV and film much worse than black people are, and of course Asians are a part of that, and other ethnicities are a part of that. Middle-Easterners, Arabs, other cultures and heritages are also underrepresented, so to turn it into just a black and white issue, to some, felt exclusionary in itself, but in that framework he did a great job of talking about those issues."
You alluded to another incident in which he did try to make a reference to people of other ethnicities.
"Right, well there was a joke - you know they always try to make a joke out of introducing the accountants who keep track of all of the votes. So there was a moment when he supposedly introduced the accountants that turned on a stereotype that involved Asians."
Chris Rock welcomed " Ming Zhu, Bao Ling and David Moskowitz" to the stage, and out came two Asian kids and, we think it was a girl, but not a David Moskowitz.
"Yeah, it was a little harder to see whether she was Asian because she was wearing glasses. There were definitely two Asian kids there and so, it turns on that stereotype of Asians being good at math. You know, there were people on social media who were upset about that, and it's a good point that if you're arguing that the Academy Awards are lessened by a lack of diversity, you can't have the humor exclude certain kinds of people of color as well. So even though Chris had some great humor centered on this issue, he also seemed a little tone deaf when it came to talking about people of color who were not black."
On the skits that inserted black actors into scenes from the nominated movies
"That's a version of a joke that a lot of people have told, in reference to the Oscars So White controversy. Of course one reason people say that non-white people didn't get nominated for any acting categories is because they didn't have the roles to begin with. So, you know, the joke is that they'll make a movie about a white woman who makes a mop, but a black person has to be like Martin Luther King Jr. to star in a movie. So yeah, that was a great way of taking that joke and kind of turning it on its head, and also adding on other things. We also saw Chris Rock inserted into 'The Martian' and it was a great way of making a point that people have made before, but make it in a kind of new and effective way, and making it with people who were actually at the ceremony. I mean Whoopi Goldberg was actually at the Oscars and was a presenter, so there was a sense that Hollywood was kind of tweaking itself in a way."
Was it a kind of make-up night?
"Well, you know, I think you kind of have these media institutions, and the Academy itself, trying to add as much diversity as possible in places where they can control it. The Academy can't necessarily control what all of its members will do in terms of voting, but they can control who presents, they can control who contributes to the broadcast, who is seen during the broadcast and it seemed as if they tried really hard. I mean there was an opening montage that featured a bunch of films that were talked about during the Oscars season and all of the black actors, people who probably should have been nominated to break up the streak of white folks, were in that montage, people like Will Smith and Samuel L. Jackson and Michael B. Jordan. So it was interesting to see them try to turn every aspect of the show that they could control into a showcase for diversity in order to make up for the fact that the awards weren't that diverse."
Guest
This segment aired on February 29, 2016.