Columbine, Virginia Tech Survivors On Orlando: 'They're Part Of A Club No One Wants To Belong To'
10:56
Play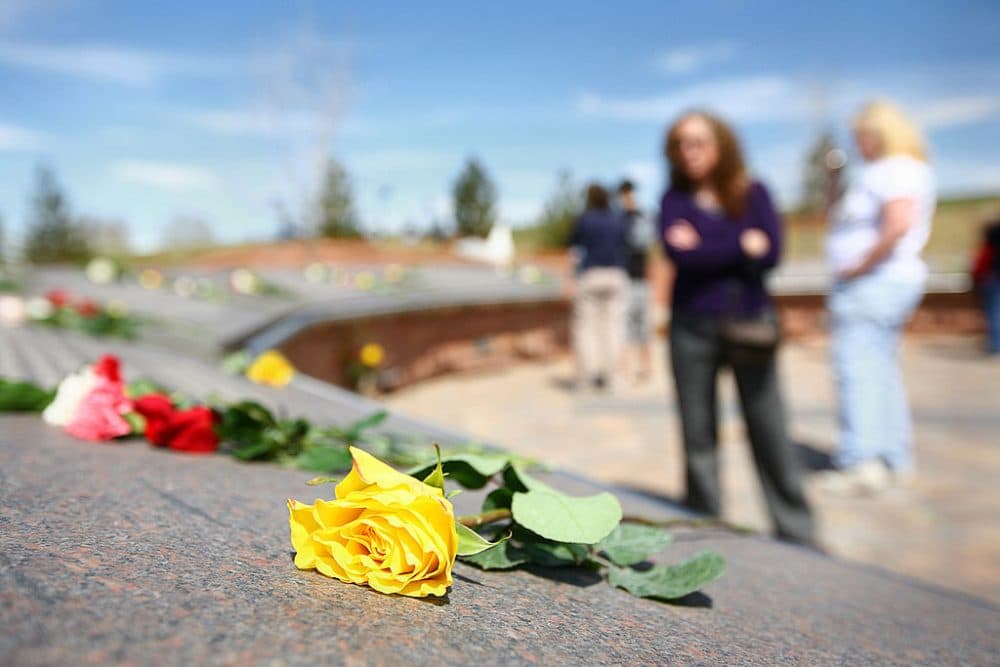 This article is more than 4 years old.
In the two weeks since the Pulse nightclub shooting in Orlando, Florida, dozens of survivors have been grappling not only with their physical injuries, but also with the loss of friends and family members, and the trauma of what they witnessed the night of the massacre.
Here & Now's Robin Young talks with survivors of two other mass shootings – Anne Marie Hochhalter at Columbine High School in 1999 and Derek O'Dell at Virginia Tech in 2007 – to discuss the aftermath of the tragedies they experienced, and what the survivors from Orlando might expect on the difficult road ahead.
Interview Highlights: Anne Marie Hochhalter & Derek O'Dell
On reactions to the Orlando shooting
Anne Marie Hochhalter: "For me, I immediately get taken back to April 20. I get memories. I get flashbacks. And then I also get really upset because the people that were impacted by the Orlando shootings are now part of a club that no one wants to belong to. I just feel for them because I know a little bit of what they're going through. I don't know exactly because the circumstances were different, but we both were impacted by a crazy person with a gun."
Derek O'Dell: "For me certainly the mental injuries are more severe than the physical ones. And every time one of these shootings happens, whether it's in a public place or a school. Certainly it brings back memories from Virginia Tech for me personally, but just like Anne Marie said, more shifts toward people becoming part of this club, unfortunately and feeling for them as they go through everything we have."
On what the Orlando survivors expect in the months and years to come
O'Dell: "I think for each individual person it's different. For Orlando, it wasn't a school, it was in a nightclub, and you're enjoying your night out, and you don't expect to see this happen. It destroys your sense of security, not only for them going forward, but also it makes you reevaluate every single place you go in your life, evaluating an escape plan and it definitely brings back memories in terms of the gunpowder and the smells and the sights and sounds from the shooting that occurred at Virginia Tech.
Also, the mental anguish that everybody feels after the shooting, both personally and all those families and survivors and victims that have been affected by this shooting. So having to deal with that again, and you know reaching out to some of the fellow survivors of Virginia Tech helps me personally in terms of helping me with my own mental anguish after each shooting occurs."
On the injuries and pain that stays with survivors
Hochhalter: "I was actually shot twice. The first bullet was the one that paralyzed me. But the second bullet, it ripped through all of my internal organs, so that's the one that was really life threatening. And I barely saw the ambulance when it pulled up, and they were prepared to move on, and so I did reach out my hand. But with a spinal cord injury from a gunshot wound, it does create, often times, a really, really large amount of nerve pain, and it is a reminder. And I mean the wheelchair is a reminder too. But the nerve pain, it just seems to be getting worse with every passing year. I just do the best I can to try to manage it. So, it's hard."
"In talking with a bunch of the families that had lost children and family members at Virginia Tech, it's amazing how much they kind of move on through watching the [survivors] move on as well."

Derek O'Dell
On being in touch with fellow Columbine survivors
Hochhalter: "We do have Facebook, and so that's almost like a school reunion. So a lot of us do keep in contact. We band together when the anniversary comes around, or when there's another shooting, because we know how it impacts us. I've reached out to a lot of people in other shootings, especially Aurora, because that was local. And I'm also here for any of the people that were impacted in Orlando. You can message me on Facebook. I'm here for you."
On advice for survivors moving forward
O'Dell: "I think it's the reality of the situation now. More people are getting to know somebody that's been affected by a mass shooting than not knowing. For me personally, having a great family and friend network. At the time, my girlfriend was at Virginia Tech, and now we're married. And having her by my side and my family and friends has helped me recover through all of this, even when these terrible tragedies happen every year, every month."
On being able to forgive the family of one of the Columbine shooters
Hochhalter: "It was only six months after, and everything was still so fresh and then I put the letter away. And then when I heard [the mother's] book come out, I had to write her and let her know. Because there were a lot of families that were very upset with her for doing this. And I wanted to let her know that not everyone felt that way. I do believe that, that bitterness is like swallowing a poison pill and expecting the other person to die. It only harms yourself."
On whether or not survivors can ever truly move on
O'Dell: "There's constantly reminders, whether it's physical wounds, or as Anne Marie's felt as worsening pain over the years. I think focusing on that you're here. So many of the people that have died in these shootings probably would trade places for you in a heartbeat. So making sure that you can focus on you're here, and that you can do everything with your life now, and try to do the best that you can in the current capacity that you're in.
So often there's survivor's guilt, knowing that you survived and others didn't. But in talking with a bunch of the families that had lost children and family members at Virginia Tech, it's amazing how much they kind of move on through watching the victims move on as well. I continue on with my life, and what I love, my passion being veterinary medicine. And being with my family. It's an important part for me."
Hochhalter: "Derek, I definitely agree with you. It was so interesting what you said about how the people who have lost their loved ones are kind of living vicariously through the survivor's lives. That actually happened in my case because I became very close with Rick and Sue Townsend. They lost their daughter Lauren in the library that day, and we have become very, very close. So there is good that can come out of it, and having a good support system is key like you said."
Guests
Anne Marie Hochhalter, survivor of the Columbine High School shootings in Littleton, Colorado.
Derek O'Dell, survivor of the Virginia Tech shootings in Blacksburg, Virginia.
This segment aired on June 29, 2016.