Rep. Marsha Blackburn Has Advice For Donald Trump: 'Listen More, Talk Less'
06:15
Play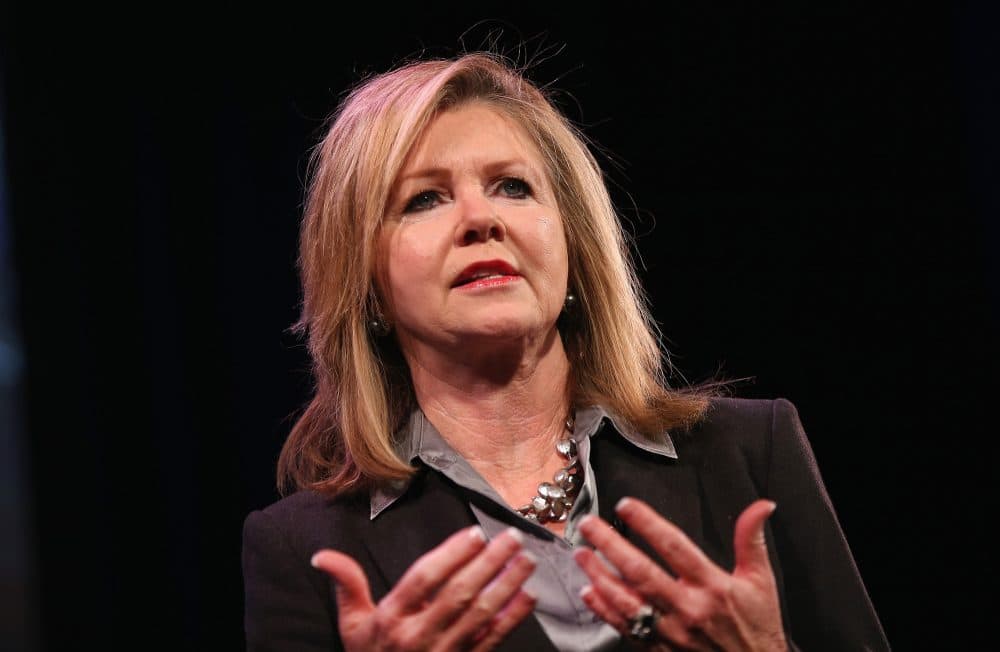 This article is more than 4 years old.
Next week Here & Now will broadcast from the Republican National Convention in Cleveland. That's where Donald Trump is expected to officially receive his party's nomination for president, but many Republicans will skip that ceremony to protest their presumptive nominee.
U.S. Rep. Marsha Blackburn, who represents Tennessee's 7th District, is not one of them. She's a Trump supporter, and will address the convention next week.
Here & Now's Jeremy Hobson asks Blackburn about the convention, Trump's prospects in the general election and how the candidate could help unify his party.
Interview Highlights: Rep. Marsha Blackburn
On politicians who aren't going to the Republican convention
"I have to tell you, I think that you have to remember when we focus on personalities we lose. When we focus on principles and people, we win — and that is what these individuals should do. I look at them, and say 'Get over yourself. Shake it off.' They need to realize this is about getting the country back on the track. Eighty-five percent of Americans think the country is on the wrong track, and it is imperative that we communicate to them why Republican principles are the best way for getting back on track."
On what she would say to Donald Trump, the presumptive nominee, on how to do that
"Listen more, talk less. Support the party platform."
On whether or not Donald Trump has moderated his tone
"I think he has moderated his tone. I think he is listening more. I think he's responding more. Just as we talked in Tennessee there are three issues that are out there. You have national security, jobs and economic security and retirement security. And with women, security issue is number one, and I can certainly understand that. First and foremost is they want to make certain their communities are secure, that our borders are secure. That they aren't having to worry about the threat of ISIS. It's the number one issue with women. Women are going to be the determining factor in this election season."
On the Clinton Foundation
"You know we've been looking at this issue of the Clinton Foundation for quite a period of time. Going back to May 2015 when a group of us, 58 of us, wrote the IRS and asked if this was a sham charity. They never even responded. We also since found out that the Clinton's have never filed a 9/11 that allows them to do work outside of the United States for this foundation. The Clinton Foundation was formed initially their IRS papers from December 23 of '97 show that they were filed to construct a library, maintain a historical site with records and engage in study and research. There is nothing that says something about foreign outreach. We are seeking answers."
On whether or not it's appropriate to call for an investigation

"Of course it's appropriate to ask for this investigation. The Iraq War, I'm not sure what your analogy is there, the Iraq War has been investigated time and time again. What we do know is that there are some concerns around the Clinton Foundation and before the election it is appropriate that these be addressed. The way grants were given to some that were friendly to the Clinton Foundation, the way they accepted foreign contributions that were made to the Clinton Foundation, the way Ms. Clinton participated in relationships with some of those foreign entities, so yes. It is appropriate that those be answered.
Listen, let me tell you something, people are tired of cronyism, they are tired of elitism, they are tired of there being one set of rules for those that are the elitist and another set of rules for everybody else."
Guest
Marsha Blackburn, U.S. representative from the 7th District of Tennessee. She tweets at @MarshaBlackburn.
This segment aired on July 13, 2016.