How Do You Talk With Young People About Police-Related Violence?
09:38
Play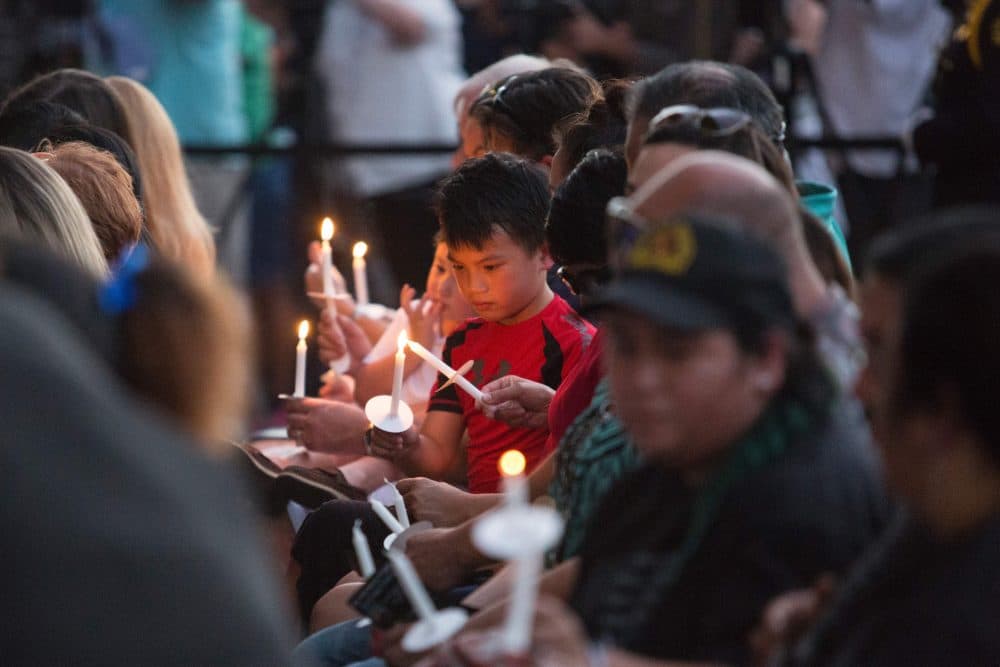 This article is more than 4 years old.
The shooting deaths of two black men by police officers last week in Baton Rouge and Minnesota led to protests across the country. In Dallas, a gunman killed five officers, and wounded seven others plus two civilians during a protest. Footage of the shootings is everywhere on social media and TV.
What do you tell children and young people about what they are seeing and hearing?
Here & Now's Robin Young speaks with Kevin Washington, president of the Association of Black Psychologists, and Camille Cooper from the Yale University Child Study Center, about talking to young people about police-related violence.
Interview Highlights: Kevin Washington & Camille Cooper
On starting "the talk" with kids
Kevin Washington: "I think one of the things that's very important for us to do is to be able to clearly articulate what are some of the challenges that we're having to talk about, and they're microaggressions — some call it bigotry, some call it they psychological duress of the enslavement legacy. And it's so challenging because you mention something about, 'Follow the rules,' 'Put your hands on the wheel,' say, 'Yes sir, no sir.' All of those things we are taught to do, which means then we're not living in a free space.
There was a recent piece released by the Unitarian Church which talks about, 'just get home safely,' which means then that parents and their children are living in a persistent zone of trauma. So as black psychologists, we're developing this optimal black parenting module series. And so we talk about teaching children about the history and legacy of what it means to be in America as black enslavement and Jim Crow laws. Then to, more importantly, try to deal with the issues of how do you move beyond those confining thoughts."
On the socialization process for African-American children
Washington: "I think that the socialization is a subtle — some would even call subconscious — process. I have a now 13-year-old daughter, I think when she was about 7, asked the question one day when she was watching television commercials, 'Daddy, how do you think all the white girls would feel if all the dolls on television were black?' So she was beginning to understand certain values about socialization.
"It's so challenging because you mention something about, 'Follow the rules,' 'Put your hands on the wheel,' say, 'Yes sir, no sir.' All of those things we are taught to do, which means then we're not living in a free space."

Kevin Washington
So we have to talk about racism, racial issues and again white supremacy concepts because they are very much a part of the fabric of this country; and how much is too much? How soon is too soon? It's a very touchy topic, but to be able to subtly talk about not only the history lesson but to talk about the historical context of this, and the cultural reality — something inside of you that is so great — that allows you to be able to overcome these things at all costs."
On the complexities surrounding discussions about race
Washington: "There are several layers to this process, and we have not done a good enough job of identifying and dealing with racial ideology and its repercussions. And so, when we say 'Black lives matter,' and somebody comes up and says, 'All lives matter.' When we say, 'We can't breathe,' someone says, 'I can breathe.' So this continuing process of not allowing the full voice of a population to be heard further exacerbates the frustration, and everybody still is hurting because no one wants to hear, because they feel blame."
On talking with young children about race
Camille Cooper: "First, it's important for young children to feel physically and psychologically safe, helping them understand that they are loved. Listen to what your child is asking you about, and answer those questions as honestly and openly as you can, without going overboard."
On what parents can do in response to the recent police-related shootings
Cooper: "They may want to limit their access to news programs that are showing these scenes over and over again. Let their children draw pictures about how they're feeling. this is a way you can see where they are emotionally. But with young children, it's most important for them to feel safe. They're very egocentric, and they're concerned about themselves."
On answering children's question about police-related killings
Cooper: "I'm very concerned with villainizing either the police or to villainize the African-American men that are being killed. I prefer to talk about, you know, it is a tragedy, and that adults are working through these issues to try to decrease the tragedies.
I think there are some things parents can do proactively through reading children's literature. They may want to make particular notice of bedtime, helping children feel safe and secure. They can draw pictures. Do more exercise — we all know exercise is good for stress — but to be proactive in those areas."
On what age African-American children should be for "the talk"
Cooper: "I think it's really on a continuum. You need to have conversations as they are developing and growing. To help children understand, some people have hesitancies, concerns, fear around people that are different, that as a family, we see different as special and unique. There's lots of rich literature that you can read to your children over time that deal with these very delicate issues."
Recommended Books From Dr. Camille Cooper
Guests
Kevin Washington, president of the Association of Black Psychologists and assistant professor of psychology at Howard University. He tweets @Mwata3. The Association of Black Psychologists tweets @TheABPsi.
Dr. Camille Cooper, director of teaching, learning and development at the Comer School Development Program at the Yale Child Study Center.
This segment aired on July 13, 2016.