How To Make Public Events Safe, Without Going Too Far
Play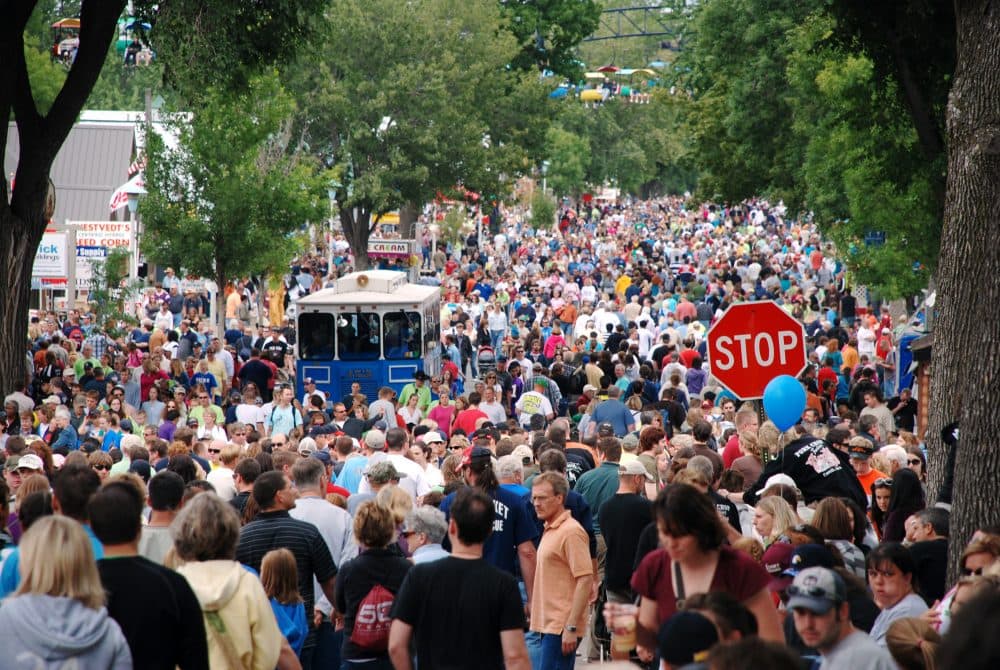 This article is more than 6 years old.
Big public events present a tough challenge for law enforcement officials. It's possible to make them safer by adding extra layers of barriers and screening, but those measures also make public spaces less inviting.
Here & Now's Peter O'Dowd talks with Daniel Linskey of the security firm Kroll about seeking a balance between security and openness.
Interview Highlights: Daniel Linskey
On strategies that could have prevented the attack in Nice
"It can as simple as a police car parked across the street, or a cement truck with sand, as you see when the president comes to town, we usually have the approach routes covered with those vehicles. Concrete barriers. There's a lot of things that could have been put in place that would have prevented vehicular traffic from interacting with that crowd."
On what experts learned from the Boston bombings
"We've had a great security plan and a strong security plan during the marathon before the bombing attack and we've made that plan stronger. We can put more checkpoints, we can put more concentric circles of security out there, more officers. We can do better training of our officers to make sure they are trained in what they need to be, whether that's bomb detection with the special trained EOD canines.
Or is it behavioral detection analysis? Where you look at peoples entering into an area for a large scale event, and you're looking at the behavior — does it look like someone who's excited to be coming to the event? Does it look like someone who's running late for meeting somebody? Or does it look like somebody who's nervous and evil in intent?"
On the role of armed soldiers being present in Nice
"We don't know how many attacks those soldiers prevented by being present, visible and interacting with the community. We don't know how many attacks were thwarted by the police working with the community to get information on individuals before they could conduct an attack. It's impossible to tell what you prevented."
On security for the upcoming political conventions, and potential weaknesses
"Everything has strengths and weaknesses and you know, any area where the presidential nominees are going to be, that's going to be a secured area. The secret service, by the time you get there, you've gone through 8, 10, 12 layers of security. They're going to have emergency action plans, that's going to be a very secure area with credential people only. The area around it — the protest zones — might not be as secured.
We had a very huge security presence during the 2004 Democratic National Convention, we were expecting large problems, we're expecting large protests, we're expecting large concerns, the city was vacant. A lot of people left, took their vacation that week. The industry around the city said it was kind of the slowest time they ever had in that period. So you don't know exactly what you're going to get. I think we're going to have some protests, definitely in Cleveland, there's definitely individuals who are out broadcasting the intent to be there protesting. Managing protest crowds are an unique challenge that's growing even more challenging every day."
On the possibility we're trying to contain the uncontainable
"We're going to have huge events, we're going to have marathons like we did in Boston, we're going to have a July Fourth celebration. Events are going to continue to go on. We need to look at what risk we have to those events and then figure out what we can do to minimize the chances of someone conducting an attack. If they do conduct an attack, how can we minimize the damage they can do?"
Guest
Daniel Linskey, managing director at Kroll. He tweets @ChiefLinskey.
This segment aired on July 15, 2016.