Kenyon College, In Rural Ohio, Considers State's Politics As Republicans Descend On Cleveland
Resume
Kenyon College, a highly-selective liberal arts college in Gambier, Ohio, is the oldest college in the state. It boasts a total enrollment of over 1,600 students, many of them politically-active and involved. As another presidential election heats up, Ohio again takes center stage.
Kenyon College itself played an outsize role in the 2004 presidential election. Plus, the state of Ohio has been home to nine U.S. presidents, including Rutherford B. Hayes, a graduate of Kenyon College. Here & Now's Alex Ashlock takes us to the college.
Hear more of Here & Now's coverage from the Republican National Convention.
Follow the Here & Now election road trip on Tumblr.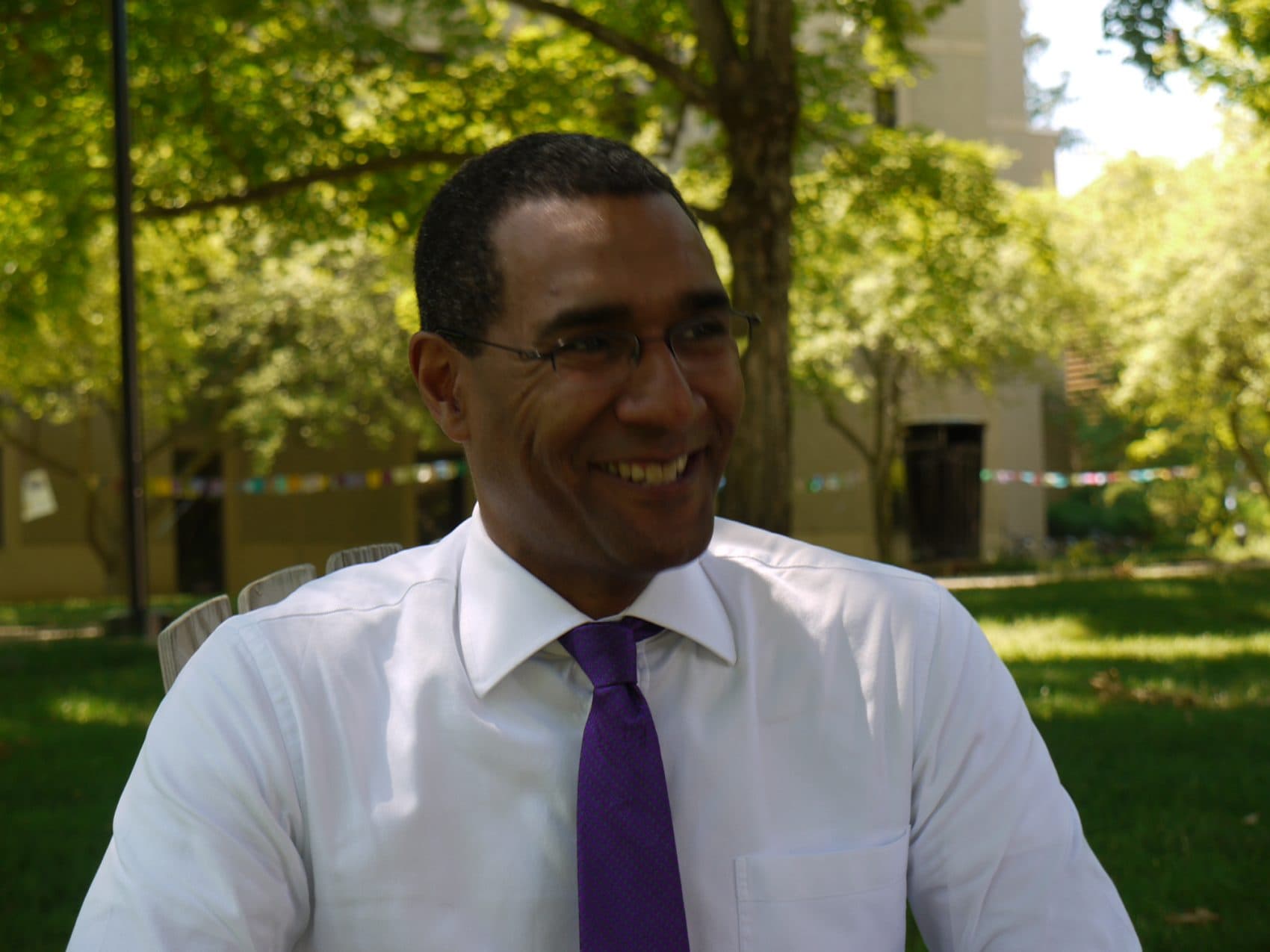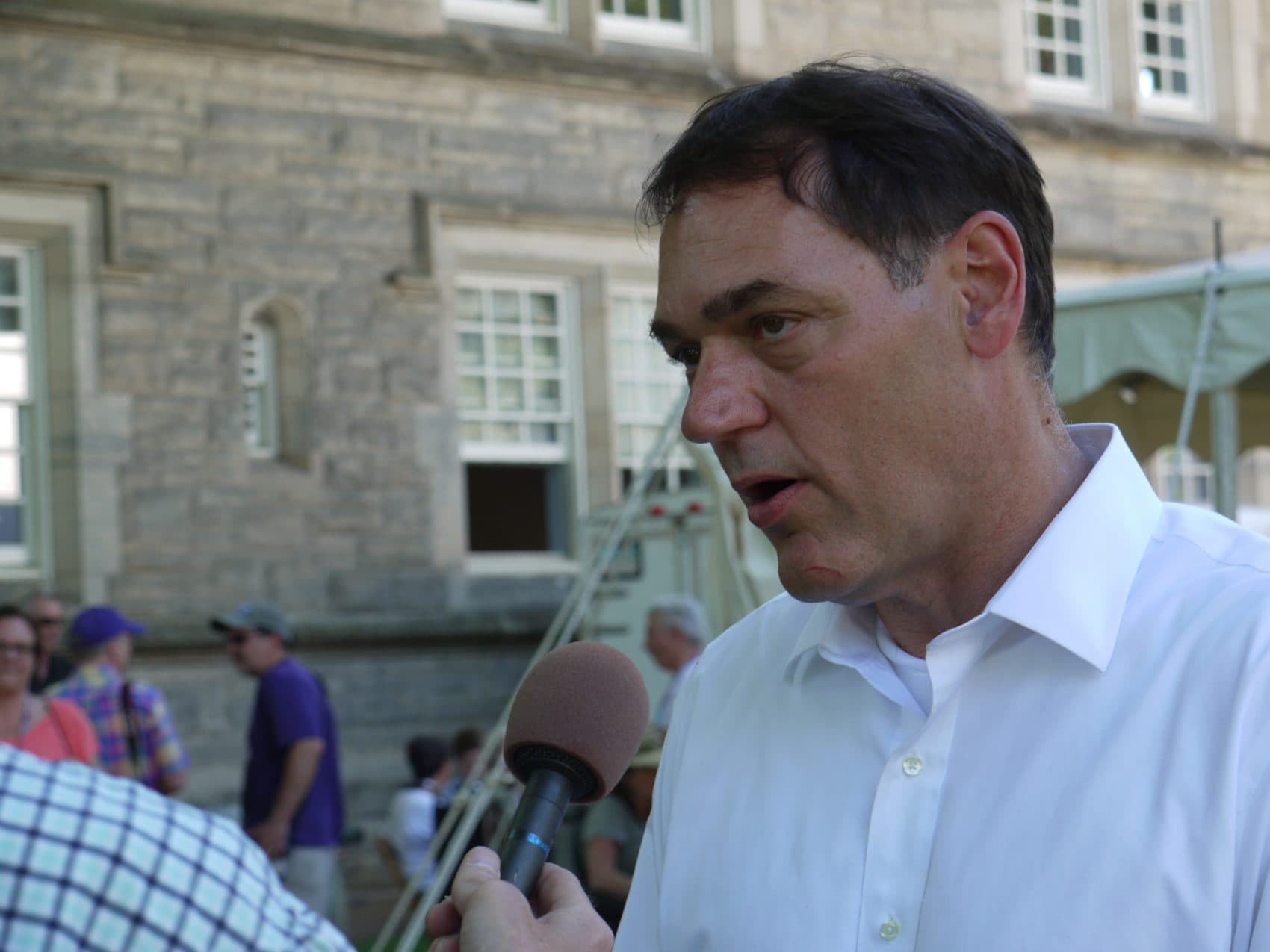 Story Transcription
Founded in 1824, Kenyon College is the oldest private college in the state of Ohio.
The bells chime every 15 minutes on this campus that's called one of the most beautiful in the country. Summers are quiet here, but on this weekend a couple of hundred graduates had returned, Kenyon classes from the 1980s who formed a facebook group. This was their second reunion.
They walked Kenyon's famous middle path again, the path that intersects the campus, and they sang the old college songs on the steps of Ross Hall.
On election night 12 years ago, Kenyon College was the scene of a national news story. Secretary of State John Kerry — then a Massachusetts senator — was trying to deny George W. Bush another term in office.
In Ohio, the race was tight, and the campus saw some of the longest voting lines in the country when one of two voting machines in the town of Gambier, where the college is located, broke down.
Students captured the frustration on video.
"Nine hours and like 40 minutes to vote. Are you kidding me? Are you kidding me?" said two women in the video.
A federal judge eventually stepped in and said paper ballots could be used, but some students refused them, fearing their votes would not be counted.
"This will be my first presidential election here on campus,but if you look back in certainly the past few years and going back to 2004 where this was in the national spotlight for students lining up. That was an interesting day," said Sean Decatur, president of Kenyon College. "The events of that day here in Gambier had a big impact on voting and election reform throughout the state."
This small campus in central Ohio will be just a part of the bigger picture of this state on election day 2016.
Ohio tends to go with the winner. The only time that didn't happen in more than 70 years was 1960, when Republican Richard Nixon won Ohio, but lost to John F. Kennedy.
"I grew up in Cleveland, so places in that area which have much more in common with the Great Lakes region to places in central and southern Ohio which feel an awful lot more like Appalachia and that region," Duncan said. "So it's just a very diverse mix. We're used to being the center of the political spotlight every four years."
Kenyon College is in Knox county, which is solidly Republican.
The GOP office in the county seat, Mount Vernon, was quiet when I walked by on a summer afternoon, but the windows prominently displayed a picture of donald trump under the slogan, "Protect America, vote Republican."
Zack Space was a star football player at Kenyon in the 1980s. He later served two terms as a Democratic congressman representing Ohio's 18th district. He's not quite sure what to make of the 2016 race in Ohio.
"We are seeing some people who are traditional labor Democrats moving over to support Trump. We're seeing people in certain parts of Ohio, eastern and southeastern Ohio--coal country--who are gravitating toward Trump in ways that might not otherwise happen to a more conventional candidate," Space said.
"But at the same time, we're seeing a strong reaction anti-Trump and, pro-Hillary action in urban and suburban areas that we might not otherwise be witnessing. So it's certainly a
difficult to predict this year," he added.
So how does a presidential candidate solve that riddle and win Ohio's 18 electoral votes this year?
Space said Knox county and other mainly rural parts of the state will be the real battleground. He's watching the big senate race between former Governor Ted Strickland and the incumbent Republican Rob Portman.
"Resources are going into that area of the state of Ohio that are unprecedented. Rob Portman is buying a lot of air time in eastern and southern Ohio," Space said. Ted Strickland is a southern Ohioan. This race in Ohio may come down to what these candidates are able to accomplish in Appalachian Ohio.
Back in 2004, most of the students who waited in those long lines to vote, cast their ballots for John Kerry. But he lost Ohio to President George W. Bush by fewer than 120,000 votes. Twelve years later, it's the same as it ever was. The result in Ohio will be critical, especially for Donald Trump.
"We're back to if Trump can't win Ohio, he can't win," said John Elliott, a long-time professor of political science at Kenyon College.
No Republican presidential candidate has ever won the White House, without winning Ohio first.
Reporter
Alex Ashlock, Here & Now reporter and producer. He tweets @aashlock.
This segment aired on July 18, 2016.