'Heat Dome' Could Cause Traffic Headaches Across The U.S.
04:45
Play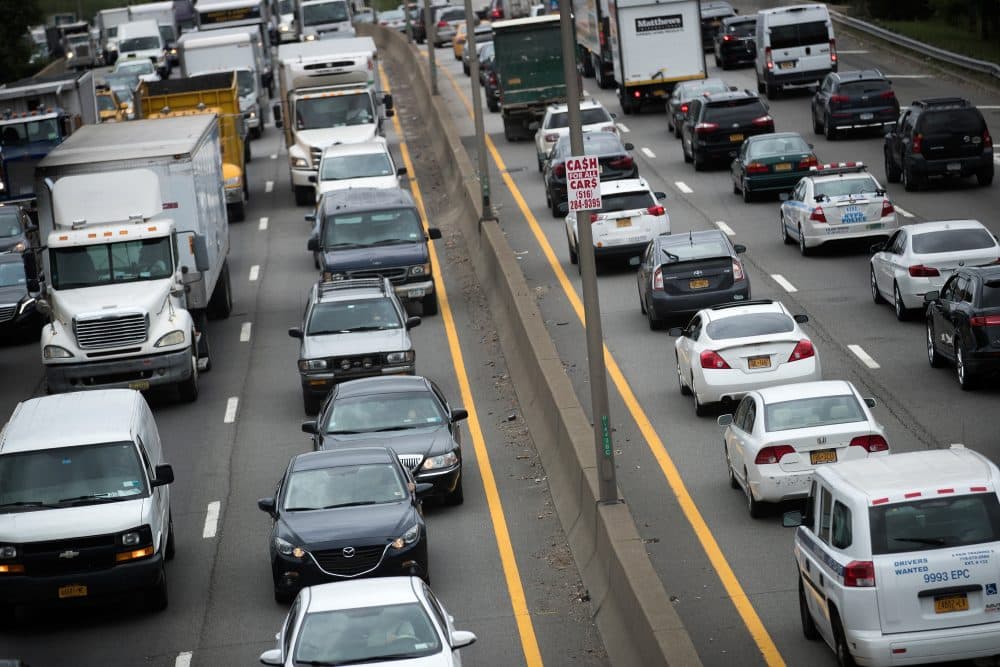 This article is more than 4 years old.
Meteorologists say a "heat dome" is to blame for the grueling triple-digit heat wave across much of the country through the weekend. And it could cause big problems for roads and rail lines.
Here & Now's Meghna Chakrabarti speaks with Jessica Grannis, adaption program manager for the Georgetown Climate Center.
Interview Highlights: Jessica Grannis
On the impact of heat on transportation networks
"Just like we as people suffer under this high heat, our infrastructure suffers too. Rail lines can buckle and cause trains to derail. Our roads thermally expand and can buckle and cause stress on our bridges. Higher temperatures make it difficult for planes to take off, and that's not to mention the impacts on commuters and outdoor workers that are out in the hot sun when we have these travel delays and they have to operate and maintain these systems."
On the concept of "urban heat islands"
"Our cities tend to be hotter because of these transportation improvements, because we have a lot of dark asphalt and buildings that means that our cities tend to be 5 degrees hotter than the more green surrounding areas."
On strategies cities are using to combat extreme heat
"A lot of cities are starting to explore, 'How do you reintegrate green into city landscapes?' including tree canopy and using things like green infrastructure and putting rain gardens into streets and using permeable pavements and permeable alleys.
A rain garden is where you just have plantings — they're around D.C. — and you can integrate them into streets with bump-outs where you have parking, or integrate them into sidewalks. A lot of rain gardens and bioswales around D.C. tend to manage stormwater, and they also have the benefit of reducing urban heat because they put more green back into the city landscape."
On how cities can use different paving materials
"Many cities are exploring with how you change pavement materials, experimenting with things like cool pavements that have lighter colors and are more durable to heat conditions. Using permeable pavements where you don't need to have high traffic on those surfaces, like on sidewalks and alleys. So there are different ways that we can design pavement systems to be more durable to heat or to have less urban heat island effect."
On examples of how cities are taking action
"For example, in Chicago and Montreal, they have underground, and Minneapolis they have underground walking paths that can both keep people warm in extreme winter conditions and keep people cool in extreme heat conditions.
You have examples that are coming online after Hurricane Sandy, where they're using micro grids in New Jersey to power transit that will keep those systems moving even in flood conditions or heat conditions that cause power outages in the larger grid that can keep the transit system operational."
Guest
Jessica Grannis, adaption program manger for the Georgetown Climate Center.
This segment aired on July 22, 2016.