Melting Ice Allows Northwest Passage Cruise — But At What Cost?
Play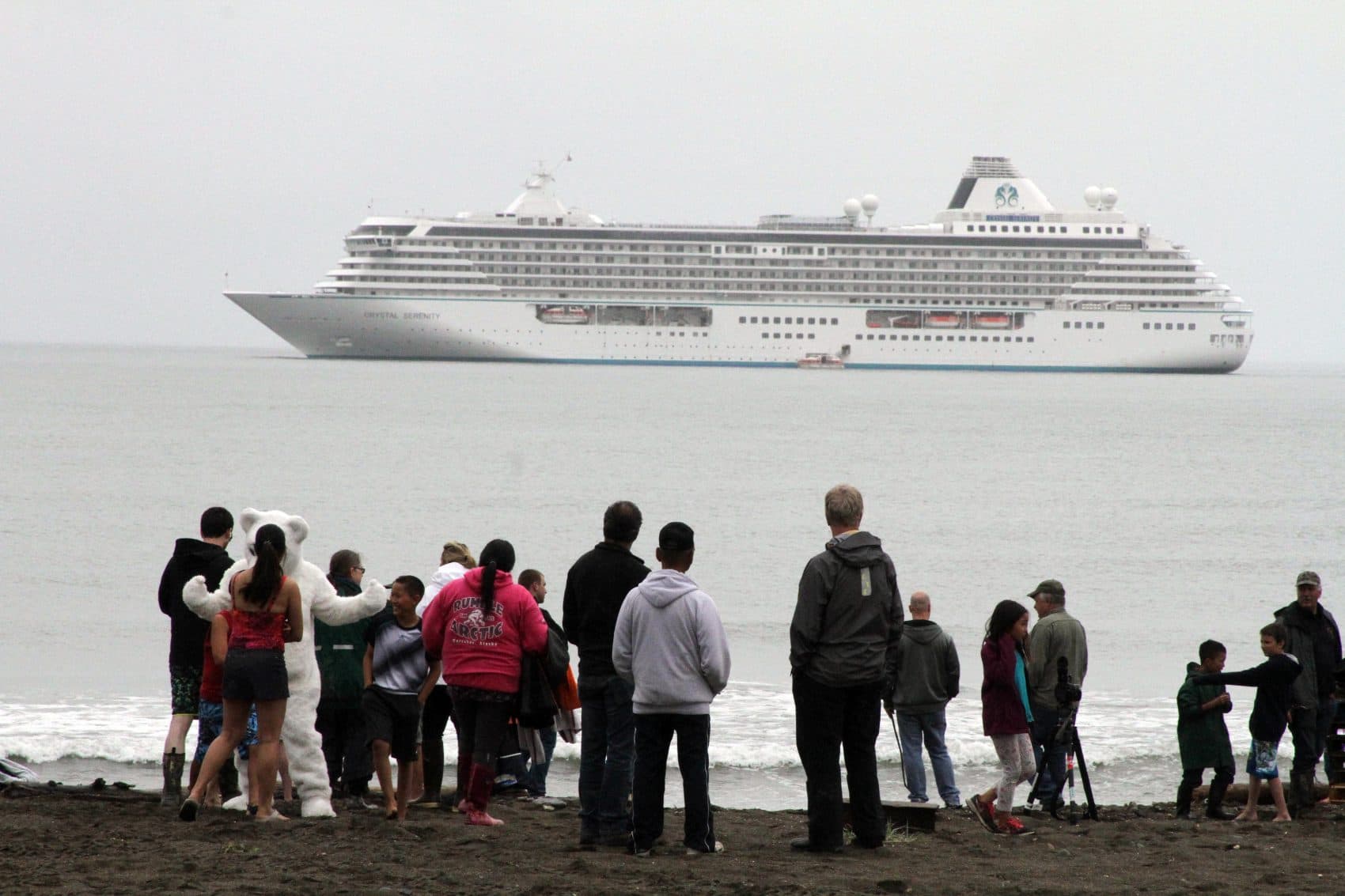 This article is more than 6 years old.
The first passenger cruise through the storied Northwest Passage arrives in New York this weekend. The trip onboard the Crystal Serenity has been billed "the ultimate expedition for the true explorer."
But critics have called it the most dangerous cruise on Earth.
They say serious issues surround every aspect of the sail, from its interactions with indigenous communities to the dangers (to passengers and ecosystems) when a 69,000-ton, 14-deck luxury cruise liner sails through largely uncharted waters.
Crystal Cruises CEO Edie Rodriguez said two years of research went into making the cruise environmentally friendly, and that "I can assure you that we have done everything possible to ensure that we do not further contribute to the problem."
University of British Columbia professor Michael Byers has been writing about the Crystal Serenity, and he joins Here & Now's Robin Young to discuss issues of law, environment and the ethics of what some are calling "extinction tourism."
Interview Highlights: Michael Byers
On the history of the passage
"Well, the Northwest Passage is ice-free in late summer because of the effects of climate change. The Arctic has always existed in a fine balance between the frozen and the unfrozen, and so a change of just a degree or two can cause a dramatic diminishment of the arctic sea ice cover. ... The Northwest Passage is a series of straits and channels that pass between Canada's 19,000 Arctic islands, and it connects the Atlantic Ocean to the Pacific Ocean as you continue through to Bering Strait and around the coast of Alaska."
On the opening of the 'last frontier'
"It was sought after by generations of explorers, hundreds of whom lost their life ... and the sea ice has historically kept most shipping away. But now that it's opening, it's almost a last frontier for tourism. I can understand how people who have seen most of the rest of the world want to see polar bears, want to see icebergs, want to see bowhead whales, beluga whales, and so there is an attraction."
On extinction tourism
"I was invited to join the first part of this cruise as a lecturer. I like to talk to people about climate change, like to people about the indigenous peoples of the region, the challenges that we face, and so it was an opportunity. But at the same time, I'm looking at this ultra-luxurious cruise ship with an immensely large carbon footprint of its own and 1,000 people who are drawn to the Arctic because they want to see it before it disappears in its current form. I simply didn't want to be part of that — that this was a form of extinction tourism as very wealthy people go to places to see things before they disappear, and by going, actually contribute to that process."
On cruise ship safety in the Northwest Passage
"Crystal Cruises is probably the most expensive and therefore well-funded cruise company in the world, and it can afford to take all possible safety precautions. And they are voluntarily using low-sulfur fuel that will reduce the impact in terms of particles of emissions that land on snow and ice and contribute to the melting. They have voluntarily chartered a support ship — British Polar Expedition ship, the Shackleton — to sail through the Northwest Passage alongside the cruise ship to provide a place of refuge in the event of an accident. I'm not worried about this particular cruise from a safety perspective. What I'm worried about is that it opens the door to dozens, possibly hundreds, of other large cruise ships in the years to come."
On the effects on Arctic wildlife
"All of this does have an impact. A lot of Arctic wildlife is very sensitive to sound. Think of beluga whales. Think of bowhead whales. Think of narwhal. They communicate with sound themselves in the water. Or think about the risk of an oil spill. A large cruise ship like this has hundreds of thousands of gallons of fuel oil on board, and these are shallow, mostly uncharted waters. There's still ice in the water, glacial ice ... some of which is small and very difficult to spot."
On the effects on indigenous peoples
"This is one of the ironies of this voyage. You have 1,000 of the wealthiest people on Earth descending on communities of some of the poorest, most disadvantaged people on Earth. They suffer from one of the highest suicide rates in the world. The suffer from endemic diseases like tuberculosis that are not common in developed countries, but here they are, in Northern Canada. They're under enormous pressure in terms of unemployment, in terms of housing. Then all of a sudden, 1,000 people who could, for all basic purposes come from another planet, descend upon them. The gap between these two groups is so large that's impossible to imagine a very positive outcome. Now these indigenous peoples, many of them will tell you that they want to have this kind of cruise ship tourism because it brings some money to their communities, and they're right — it does bring some money. But the question is whether the social upheaval is worth that small benefit, or whether there are better ways of bringing development to the Arctic."
Guest
Michael Byers, Canada research chair in global politics and international law at the University of British Columbia. He tweets @michael_byers.
This segment aired on September 12, 2016.