Navigating State Voting Laws: A Road Map To This Year's Election Cycle
05:59
Play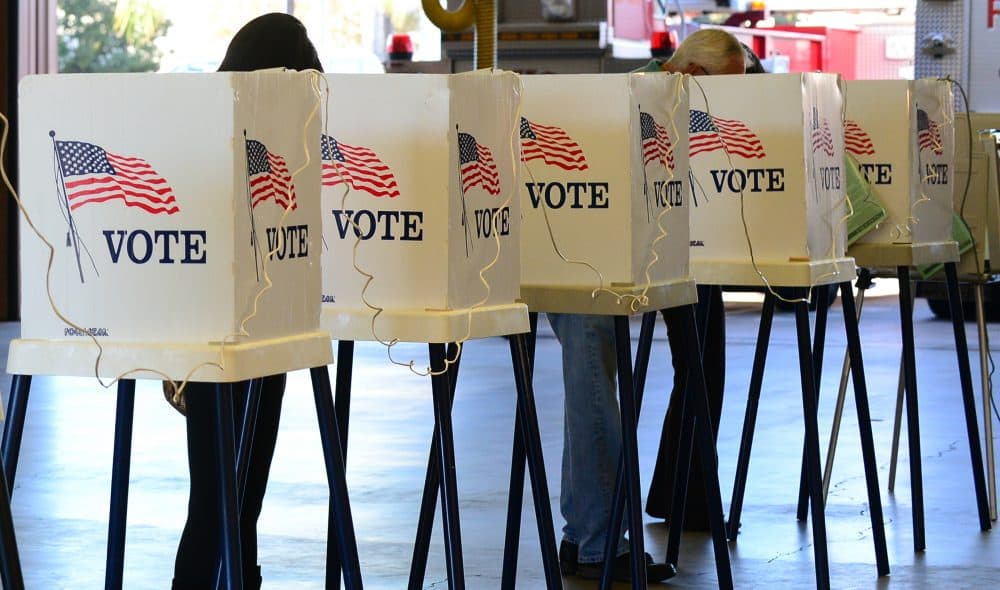 This article is more than 4 years old.
Election day is less than two months away, but the first ballots have already been sent out to voters. Last Friday, officials in North Carolina began sending out mail-in ballots to those who had requested them.
In-person early voting starts in Vermont, Minnesota and in parts of Virginia later this month. Early voting, and other measures to facilitate voting, such as same-day registration, have increased in recent years. But so have efforts to restrict access to the polls.
Ballotpedia's Sarah Rosier speaks with Here & Now's Jeremy Hobson about when Americans can — and can't — vote this election season.
Interview Highlights: Sarah Rosier
On early voting across the country
"Thirty-four states and D.C. do have no-excuses early voting, which means they can just walk into wherever their county will hold the early voting and go ahead and vote on those specific days. There are then 13 states who either have no early voting, or do have early voting, but only with a valid excuse as determined by the state board of elections. ... It could be something like traveling out of town, compensation for an elderly or disabled person. Some states have very lax rules where you can just say "Well I have to work that day," and you can go in and vote. Others are more strict, but it just depends on the state. But there are still 34 plus D.C. who have absolutely no restrictions on early voting."
On the deadline to register to vote
"Fifteen states do have same-day registration. Now one of those is Illinois, where the Illinois Policy Institute has filed a federal lawsuit trying to overturn that legislation. But, there are quite a few states where you can just go ahead and register the same day, on Nov. 8. And as far as drop-dead deadlines for the other states, we don't see those crop up until, I think, Oct. 8 is the first round of states who have those early registration deadlines. So, everybody still has time."
On state voter identification laws
"Thirty-one states enforce some sort of ID. Only 16 of those require the photo ID, so they are more common than most people think. Now North Carolina, we saw the Fourth District offer a very sharp opinion in their case, where they basically said that, I think the quote was, the North Carolina legislature used 'surgical precision' to disenfranchise voters. So, the Supreme Court of the United States decided in a 4-4 decision, just because they tied, they declined to stop enforcement of the Fourth Circuit's order. So likely the overturning of that North Carolina law will continue."
On other voting rights situations around the country
"Some ballots in some states, you're allowed to have a straight party ballot option. For example, in Detroit, you see, oftentimes, very long lines to get in, to vote in the condensed urban area. So when you would go into vote, you did have the option in Michigan of selecting either just a full Democratic ballot where you would vote for the Democratic candidates straight down, or a full Republican ballot where you would vote for the Republican candidates straight down. GOP legislators in Michigan over the summer blocked that. Now, the courts have stepped in and a federal judge ruled that the ban did disproportionately hurt black voters, so they will still have that straight ticket party option in Michigan."
Guest
Sarah Rosier, Ballotpedia federal editor. She tweets @sarah_e_rosier.
This segment aired on September 12, 2016.