Pittsburgh Mayor On Driverless Cars: 'This Is Where The World Is Going'
Play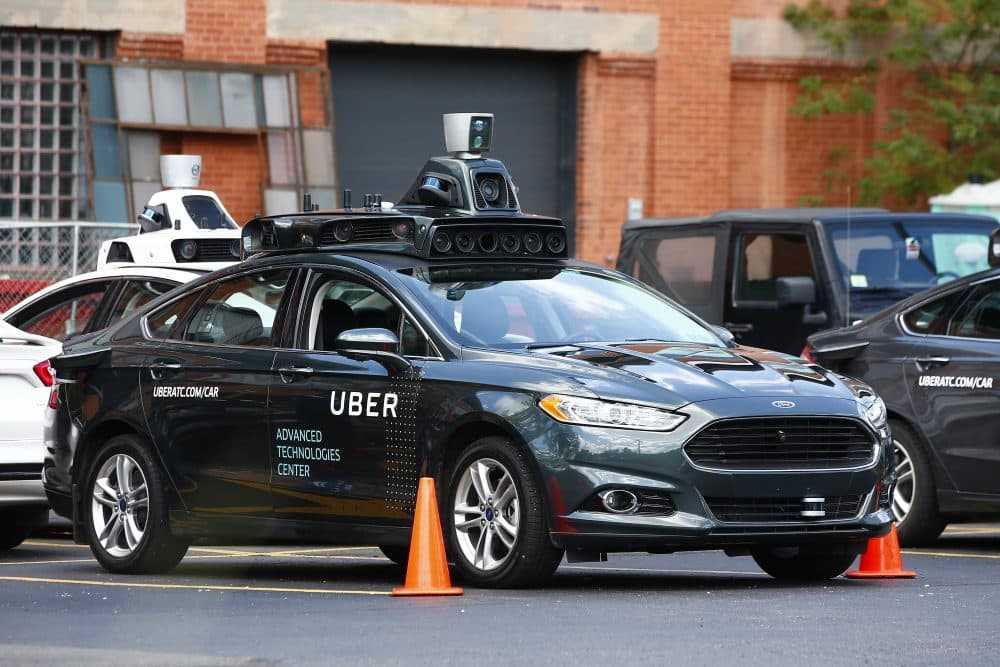 This article is more than 6 years old.
Self-driving Uber cars are hitting the streets of Pittsburgh this week.
The company has been developing the pilot program in the city for some time, and while some are excited about the idea, there are still many citizens with safety and regulatory concerns.
Here & Now's Jeremy Hobson speaks with Pittsburgh Mayor Bill Peduto -- who has worked with Uber during his time in office to allow the program to grow -- about why he believes in the self-driving future and what he says to its critics.
Interview Highlights: Bill Peduto
On the nature of the program
"Uber will be making their announcement later this week, and it will start out with several cars that will be all throughout the city. They will be expanding the program basically over the course of the year up to 100 vehicles that will be on the streets of Pittsburgh. ...
"There will be two people. There will be a person who's behind the wheel who will always have control of the vehicle. Then there will be an engineer sitting next to them who's monitoring the sensors, the vehicle itself and the driver. ...
"Their plan right now is to stay within our borders. Their vehicles will travel 25 to 30 miles per hour on roads that have speed limits of under 35 miles per hour. The goal is basically set up so it's within Pittsburgh borders."
On the program's potential benefits
"Nothing's fail-proof, but we know that 1.3 million people — 1.3 million people — are killed every year in automobile accidents, and another 5 to 8 million around the world are injured. We have to be able to start to create a safer system. And this is the beginning of a long process, and like anything that we've had tests, there's always trial and error, whether it's aviation or inoculation or autonomous vehicles. So nothing will be fail-proof, but at the same time, in the long run, we'll be able to save hundreds of thousands of lives per year."
On piloting in Pittsburgh
"Pittsburgh was poised for it. It wasn't really a question of what city gets to bring in Uber's autonomous vehicle worldwide center. It was, 'What city is already ahead?' So back in the '90s, in I think '94, Carnegie Mellon ran a minivan from Pittsburgh to Washington, D.C., and back without the person using the steering wheel. In 2007, Carnegie Mellon won the DARPA challenge having an autonomous vehicle drive from Los Angeles to New York. And the all the topography and the different challenges of different season are right here as well for a pilot program to be successful. So, add on top of that a government that's willing to work like a start-up, and it was a pretty good match."
On what the partnership means
"In a way, what they're looking for is a partner to be able to create an urban lab, and that's what Pittsburgh has been doing both with the University of Pittsburgh and Carnegie Mellon University. We've done it as well with other companies within technology and that has been transformative in having this city rise from the ashes. We went through a depression, not a recession. We lost more people out of this city than New Orleans lost after Katrina. And there was no federal bailout or anything else. We had to brush ourselves off and do the two things we know how to do in Pittsburgh: work hard and be innovative."
On the future of urban transportation
"This is where the world is going. I mean, it's not where this country is going, but autonomous vehicles are being tested in Gothenburg, Sweden. They're being tested in Singapore, and the fact is if we don't seize upon this — because this is where urban mobility is moving toward. Urban mobility is becoming shared, electric and autonomous. And over the course of the next few decades, that's really where it will go. It's not a trend — this is a paradigm shift. And if we don't do it here, it only assures it's going to be done on another continent."
Guest
Bill Peduto, mayor of Pittsburgh. He tweets @billpeduto.
This segment aired on September 13, 2016.