From Peppers To Zucchini, 3 Recipes For Stuffing Late-Summer Produce
Play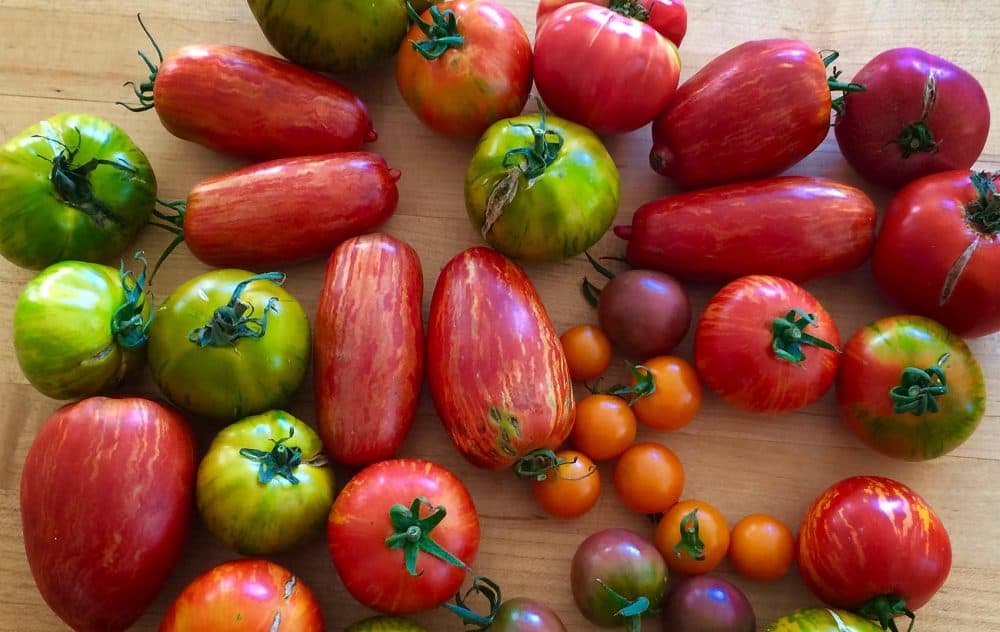 This article is more than 6 years old.
People with a plethora of tomatoes or peppers might have run out of ideas for how to use them. Here & Now resident chef Kathy Gunst has a simple suggestion — stuff them, with delicious fillings.
Kathy brings Here & Now's Jeremy Hobson recipes and samples of stuffed zucchini blossoms, stuffed peppers and stuffed eggplant.
Kathy's Stuffed Vegetable Recipes

Stuffed Eggplant With Almond And Mint Spiced Rice
You can make the filling, prepare the eggplant shells and stuff them about 12 hours before serving. Cover and refrigerate until ready to bake.
Stuffed Eggplant Ingredients
1/2 cup white or brown rice
Salt and freshly ground black pepper
1 tablespoon safflower oil
3 pounds small eggplant, ends trimmed
2 tablespoons olive oil, plus 1 1/2 tablespoons olive oil
2 cloves garlic, chopped
1 medium onion, chopped
1 teaspoon ground cinnamon
1/2 teaspoon ground cumin
1/2 teaspoon allspice
Dash of chile pepper or cayenne
1/4 cup coarsely chopped fresh mint
3 ounces almonds, chopped
2 tablespoons Greek-style yogurt
3 cups tomato sauce
1/2 cup Panko or breadcrumbs
Drizzle olive oil, lemon juice and fresh mint if serving at room temperature.
Rice Instructions
Mix the rice, a pinch of salt and safflower oil in a medium pot. Add 1 cup cold water (1 1/2 cups if using brown rice) and bring to a boil over high heat.
Stir well, reduce heat to low, cover and cook until the rice has absorbed all the water, about 12 minutes for white rice and closer to 20 to 25 minutes for brown rice. Remove from the heat and let cool to room temperature.

Eggplant Instructions
Cut the eggplant in half lengthwise and, using a melon scooper or small kitchen spoon, scoop out almost all the flesh, leaving the shell intact. Finely chop the raw eggplant flesh and set aside.
Place in the sink or on a plate and let the eggplant drain with the salt for 15 minutes. Rinse off the salt and dry thoroughly. Cut a thin sliver off the bottom of the eggplant so it sits flat.
Filling Instructions
In a large skillet, heat the 2 tablespoons oil over low heat. Add the garlic and onion and cook, stirring, for five minutes over low heat. Add the cinnamon, cumin, allspice, a dash of chile pepper and half the chopped fresh mint.
Add the reserved chopped eggplant, raise heat to moderately high, season with salt and pepper and saute for six minutes, adding more oil if needed. The eggplant should be just tender. Add almonds and saute another two minutes.
Remove from heat and add remaining mint, the yogurt, and 1 cup cooled cooked rice. Stir well to distribute all the spices and taste for seasoning, adding more salt, pepper or spices as needed. The filling should be very flavorful.
Add the 3 cups of tomato sauce to a large ovenproof skillet or gratin dish. Place the eggplant shells on top of the tomato sauce and divide the filling by spooning it into the eggplant shells. Cover and refrigerate for up to 12 hours if not baking right away.
Preheat the oven to 350 degrees. Sprinkle the top of eggplant with the panko or breadcrumbs and drizzle on the remaining 1 1/2 tablespoons olive oil. Bake for 45 minutes, spooning sauce on top occasionally.
Raise the heat to 425 and bake another 15 to 30 minutes, or until the eggplant shell is very soft and tender — you can test it with your fingers or a small sharp knife — and the filling is hot and sauce is bubbling.
Serves 3 as main course and 6 as first course. Serve hot or at room temperature, drizzled with olive oil, lemon juice and fresh mint.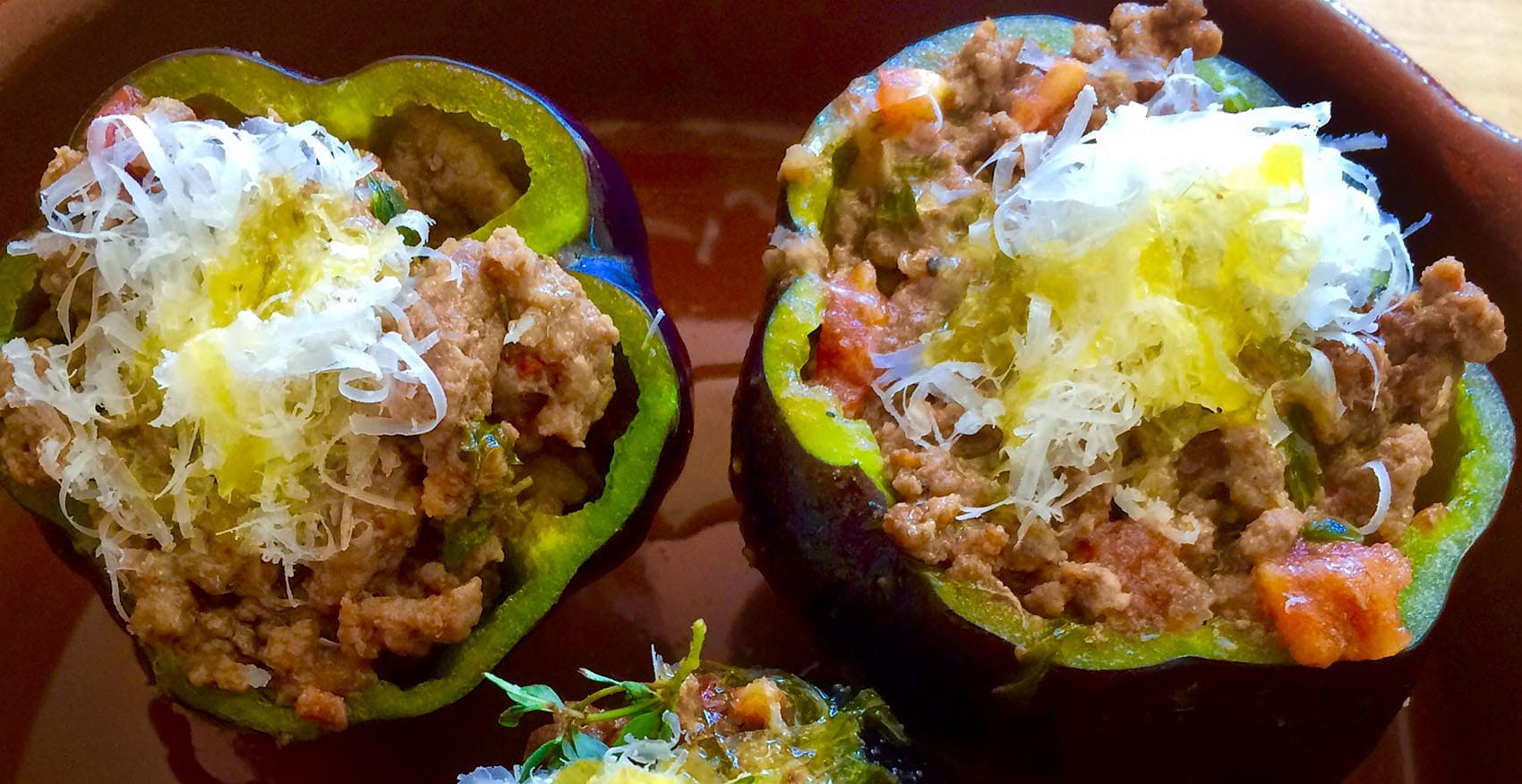 Mediterranean-Style Stuffed Peppers
Fresh peppers -- red, yellow, purple or green -- are stuffed with ground beef (or lamb), anchovies, fresh herbs and tomatoes; The stuffing also works well to fill zucchini.
Stuffed Pepper Ingredients
3 medium or 2 large red, green, yellow or purple peppers
1 1/2 tablespoons olive oil
1/2 pound ground lamb or beef
Salt and freshly ground black pepper
1 tablespoon chopped fresh thyme
1 tablespoon thinly sliced fresh basil
2 to 3 anchovy filets and some of the anchovy oil
1 large ripe tomato, chopped
1/2 packed cup grated Parmesan cheese
Stuffed Pepper Instructions
Cut the top off the pepper and remove the core, ribs and seeds. Cut a very thin piece off the bottom of the pepper so it sits without wobbling on a flat surface.
In a large skillet heat 1/2 tablespoon of the oil over moderate heat. Add the ground meat, just a touch of salt and a generous amount of pepper. Add half the thyme and basil and about 1 tablespoon anchovy oil and cook, stirring, until the meat is cooked through and browned up. Add the anchovies and the tomato and cook another three minutes, stirring, until the anchovies are just melted into the mixture. Remove from heat and add half the grated cheese. Add the remaining thyme and basil and taste for seasoning.
Using a large kitchen spoon, add the filling to the peppers, pressing down to densely pack. You don't want to overstuff them or the peppers will burst, but you can press down gently to make sure the filling goes to the bottom of the pepper.
Place the remaining tablespoon olive oil in the bottom an ovenproof skillet or medium gratin dish. Add the stuffed peppers. The peppers can be covered and refrigerated for about 12 hours until ready to bake.
Preheat oven to 350 degrees. Place the peppers in the oven on the middle shelf and bake for about 20 minutes. Sprinkle the remaining cheese on top of the pepper and bake another 20 to 30 minutes, or until the peppers feel softened and the filling is piping hot. Serves 2 to 3.

Stuffed Zucchini Blossoms
The blossoms on squash are delicate and wonderful for stuffing.
There are two types of squash blossoms: male and female. Only female squash blossoms mature into a squash. The male is just there to fertilize them. So if you're picking blossoms from your own plants, look for the male: they will always be on the end of a much longer stalk than the female. The female blossoms generally grow close to the center of the squash plant.
Here the blossoms are stuffed with soft goat cheese, chopped tomato, sautéed onions or leeks and herbs. The stuffing is held in place by tying the end of the blossom with a tender chive. They are then dipped in a simple batter of flour and water and lightly fried in olive oil.
Plan on serving them the minute they come out of the skillet.
Stuffed Zucchini Blossom Ingredients
1 tablespoon olive oil, plus 1/4 cup for frying
1 leek or medium onion, finely chopped
Salt and freshly ground black pepper
1 1/2 tablespoons fresh basil, thinly sliced
1 small ripe tomato, finely chopped
2 ounces chilled goat cheese, crumbled
About 1/4 cup breadcrumbs or Panko
6 to 8 zucchini blossoms, depending on the size*
6 to 8 tender chives
About 1/2 cup flour
About 1/2 cup water
Coarse sea salt for serving
*To clean blossoms, very gently wash under cold water and dry thoroughly.

Stuffing Instructions
In a medium skillet heat the oil over moderately low heat. Add the leek or onion, salt and pepper and half the basil and saute, stirring occasionally for 8 minutes. Remove from the heat and add to a small bowl. When almost cool add the tomato and the goat cheese and enough breadcrumbs so the mixture holds together. It shouldn't be super bready, but you use the breadcrumbs as way to adhere the mixture. Taste for seasoning and add the remaining basil and more salt and pepper if needed.
Fill the blossoms with a heavy tablespoon of the filling, be careful not to overstuff it or the petals will break or burst. Carefully twist the petals clockwise to close the stuffing in and tie the petals together to keep the stuffing secure with a chive.
Batter Instructions
In a bowl mix the flour and water and season with salt and pepper. The batter shouldn't be too thick; add more water if needed so it's thick enough to coat a spoon but not gluey.
Dip each blossom in the batter making sure it's coated on all sides.
In a large skillet heat the 1/4 cup olive oil over moderate heat and let it get hot but not burning hot. A speck of flour in the oil should sizzle up slowly. Cook the blossoms in the hot oil for about 2 minutes per side; they should turn golden brown and crispy on the outside. Drain on paper towel and sprinkle with salt and serve immediately. Serves 3 to 6.
Guest
Kathy Gunst, resident chef for Here & Now and author of the book "Soup Swap." She is also the author of "Notes from a Maine Kitchen" and the video series "Simple Soups from Scratch." She tweets @mainecook and is on Instagram @kathygunst.
This segment aired on September 15, 2016.