Making The Most Of Summer Tomatoes With Resident Chef Kathy Gunst
Play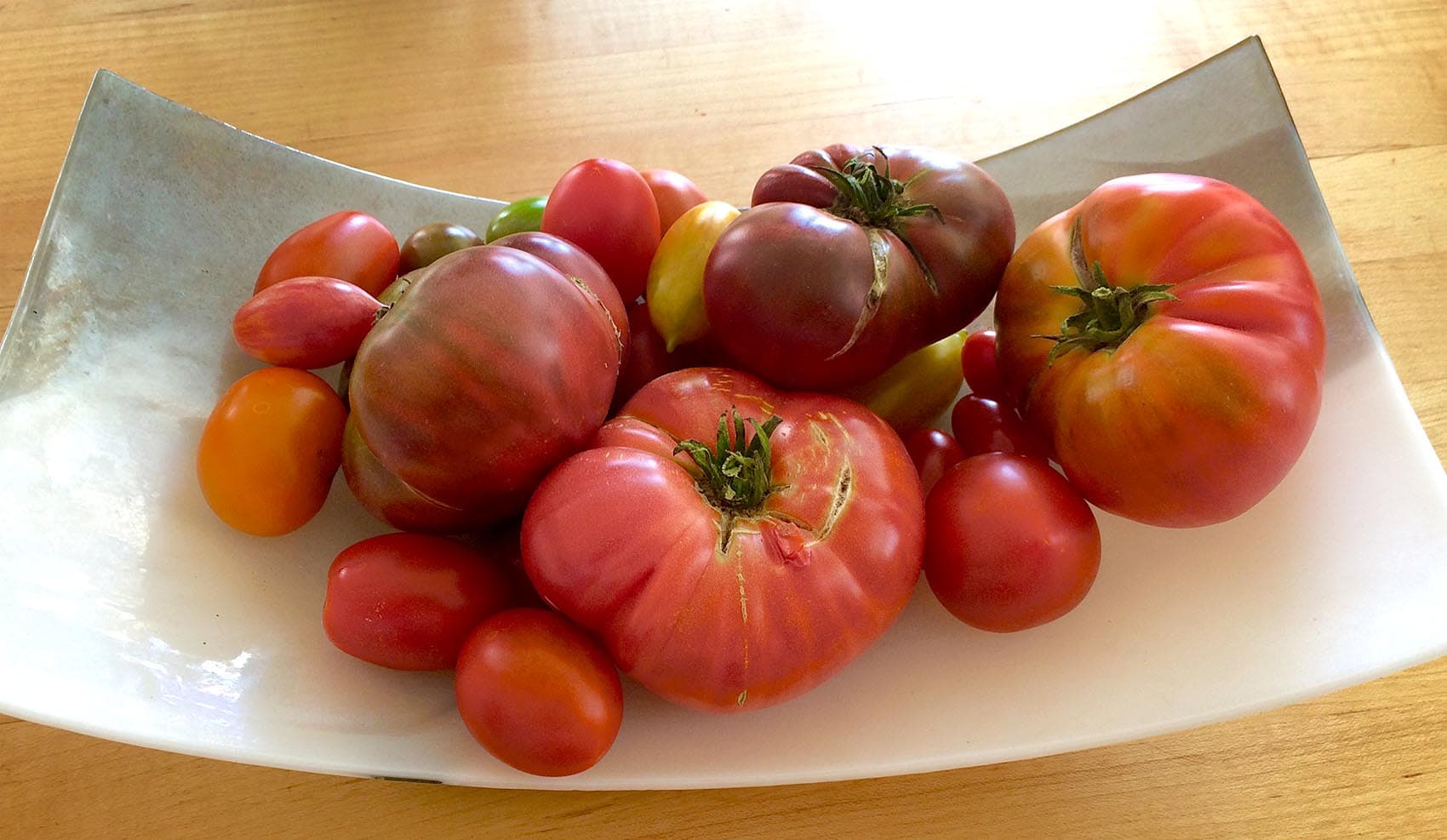 This article is more than 6 years old.
Note: You could find our Facebook live version of this segment here.
Beautiful locally grown tomatoes are abundant at farmer's markets, and they've inspired Here & Now resident chef Kathy Gunst to come up with ways to use them before they're gone.
Kathy brings Here & Now's Robin Young and Jeremy Hobson recipes and samples of a salad using tomatoes and plums, a tomato tart and her twist on a classic Italian puttanesca sauce using roasted tomatoes.
See more recipes and cooking segments with Kathy Gunst.

Puttanesca Sauce
This is a twist on a roasted tomato sauce with the addition of anchovies, capers, olives and red chile flakes. In this sauce, the tomatoes are chopped coarsely (no need for tedious peeling and seeding), and tossed in a large roasting pan, then the pan goes in the hot oven to make a roasted puttanesca.
Ingredients
About 8 pounds ripe tomatoes, any variety, cored and quartered
 5 medium onions, coarsely chopped
10 garlic cloves, peeled and left whole
5 garlic cloves, finely chopped
1 cup chopped fresh herbs (rosemary, basil, thyme, oregano, parsley, and/or chives)
About 1/4 cup olive oil
1/8 teaspoon salt, or to taste (don't add much because the anchovies are quite salty)
Generous grinding of black pepper
8 anchovy filets plus 2 tablespoons anchovy oil from the tin
1/2 cup drained capers
1 cup pitted black or green olives, cut in half or coarsely chopped
Dash red chile flakes, to taste
A few tablespoons sugar (optional)
Instructions
Preheat the oven to 450 degrees. In a large roasting pan, gently toss together the tomatoes, onions, whole and chopped garlic, herbs, olive oil, salt and pepper. Roast for 25 minutes.
Gently stir the vegetables and add the anchovies and 2 tablespoons of the anchovy oil. Roast for another 20 to 25 minutes and gently toss. Add the capers, olives and a dash of the chile flakes and roast another 10 minutes, or until the tomatoes are softened and somewhat broken down into a sauce, with a golden brown crust on top. Remove and taste for seasoning.
The sauce can be refrigerated for three to five days, or it can be frozen in a tightly wrapped plastic bag for several months. The sauce can also be placed in sterilized Mason jars and processed — 20 minutes in a boiling water bath should do it. It will keep for up to 10 months.
Toss the sauce with pasta, or serve it over grilled chicken or fish, or in any dish that calls for regular tomato sauce. You can cut the recipe in half or make a huge batch, all depending on how many tomatoes you have.
If the sauce tastes bitter, add a few tablespoons of the sugar. Add salt and pepper and more chile flakes as needed. Place in clean, sterile jars and refrigerate, freeze or can. Makes about 10 cups.

Late-Season Tomato And Plum Salad With Blue Cheese
Look for several different types of tomatoes so you have a wide range of colors in this simple salad. If you can find ripe seasonal plums (yellow and or red) the salad will be even more beautiful.
2 to 3 large ripe late season tomatoes, somewhat thinly sliced
1 cup cherry tomatoes, yellow or red
2 small ripe plums, pitted and somewhat thinly sliced
1/4 cup crumbled blue cheese
1/4 cup thinly sliced fresh basil
Salt and freshly ground black pepper
About 3 tablespoons olive oil
About 1 1/2 tablespoons balsamic, white wine vinegar, or lemon juice
Instructions
Arrange tomato slices on a medium plate. Arrange cherry tomatoes and plum slices around the tomatoes and sprinkle on the blue cheese and basil. Season with salt and pepper. Just before serving, sprinkle on the oil and vinegar. Serve at room temperature, with warm crusty bread. Serves 3 to 4.

Tomato Salad With Burrata
This salad is easier to describe than give a formal recipe.
Thickly slice several varieties of ripe tomatoes. Place around the outside of a serving plate. In the center, add one pound of fresh burrata or mozzarella. (Burrata is a fresh semi-soft mozzarella cheese made from cow or water buffalo milk. It's formed into a pouch and filled with soft cream.)
Drizzle the tomatoes and cheese with olive oil, white wine vinegar, salt and pepper. Decorate with edible flowers like nasturtium if desired. Serve at room temperature. Serves 4. Serve with warm, crusty bread.

Tomato And Corn Tart
This is a glorious way to capture the flavors at the end of the summer. An herb pastry is rolled out into a tart pan and filled with fresh shucked corn and roasted tomatoes, a touch of cream, and Parmesan cheese and basil. It can be a main course tart when served with a green salad.
The Pastry
Note: You can work with pre-made pastry if you like.
2 cups flour
Pinch salt
1/4 cup chopped fresh thyme
1 1/2 sticks butter, chilled and cut into small pieces
About 1/4 cup ice cold water
The Filling
2 cups cherry tomatoes or plum tomatoes
2 tablespoons olive oil
Salt and freshly ground black pepper
1/3 cup fresh basil, cut into thin slices
2 tablespoons chopped fresh thyme
4 ears fresh corn, shucked
2 eggs
1/2 cup heavy cream
1/2 cup grated Parmesan cheese
1/4 cup crumbled feta or soft goat cheese
Optional: Edible flowers or whole basil leaves for garnish.
Pastry Instructions
In the container of a food processor, whirl the flour, salt and thyme. Add the butter and pulse about 15 times, or until the butter is the texture of coarse cornmeal. With the motor running, add only enough water so that the dough comes together into a ball.
You can also make this by hand by mixing the flour, salt and thyme in a large bowl. Add the butter and, using your hands or a pastry blender, blend the butter into the flour until it resembles coarse cornmeal. Add enough water to help the dough come together in one solid ball. Wrap the dough in plastic wrap for at least an hour or overnight.
When the dough is well chilled, working on a well floured surface, roll the dough out to fit a round 9-inch tart pan or an 11 by 8-inch rectangular size tart pan with a removable bottom. You could also use a pie plate. Trim the edges and let chill in the refrigerator.
Filling Instructions
Preheat the oven to 275 degrees. Place the tomatoes in a medium gratin dish or an ovenproof skillet. Drizzle with the olive oil, salt, pepper and half the basil and thyme. Roast on the middle shelf for about 1 hour, or until softened but not bursting open. Let cool.
Working one ear at a time, place the shucked corn cob sticking up from the bottom of a large bowl and, using a sharp knife, cut the kernels off the cob. Whisk the eggs into the corn kernels and then add the cream, grated Parmesan, feta, the remaining basil and thyme, and salt and pepper. Whisk to make sure everything is well mixed.
Raise the oven temperature to 375 degrees. Remove the tart from the refrigerator and place on a cookie sheet. Using a kitchen fork poke holes along the bottom and sides. Bake on the middle shelf for 10 minutes. Remove from the oven and let cool. Pour the corn and cream mixture into the bottom of the tart and place on the middle shelf; bake for 20 minutes.
Remove from the oven and carefully arrange the roasted tomatoes — as well as the juices from the bottom of the pan — on top of the tart. Bake another 30 to 40 minutes, or until the tart is golden brown and the filling is solid and doesn't seem soft; test it with a small toothpick to make sure it comes out dry. Remove from the oven and let cool about 5 to 10 minutes before cutting. Top with edible flowers or fresh basil. Serves 4 to 6.
Guest
Kathy Gunst, resident chef for Here & Now and author of the upcoming book "Soup Swap." She is also the author of "Notes from a Maine Kitchen" and the video series "Simple Soups from Scratch." She tweets @mainecook and is on Instagram @kathygunst.
This article was originally published on August 30, 2016.
This segment aired on August 30, 2016.