Kathy Gunst's Dressings For The Salad Days Of Summer
Resume
Warmer weather means seasonal produce, and salads are a great summer meal option. But, as Here & Now resident chef Kathy Gunst tells host Robin Young, don't reach for the bottled dressing.
We hear recipes for quick and delicious herb vinaigrette, buttermilk-blue cheese, basil-pesto and tahini-yoghurt-ginger dressings.
Kathy's Salad Dressing Recipes
It's salad season. But that doesn't mean you have to rely on bottled dressings to get you through the summer. Simply invest in a few good ingredients — olive oil, vinegar and fresh herbs — and you'll be able to put together a small collection of great dressings in about 10 minutes.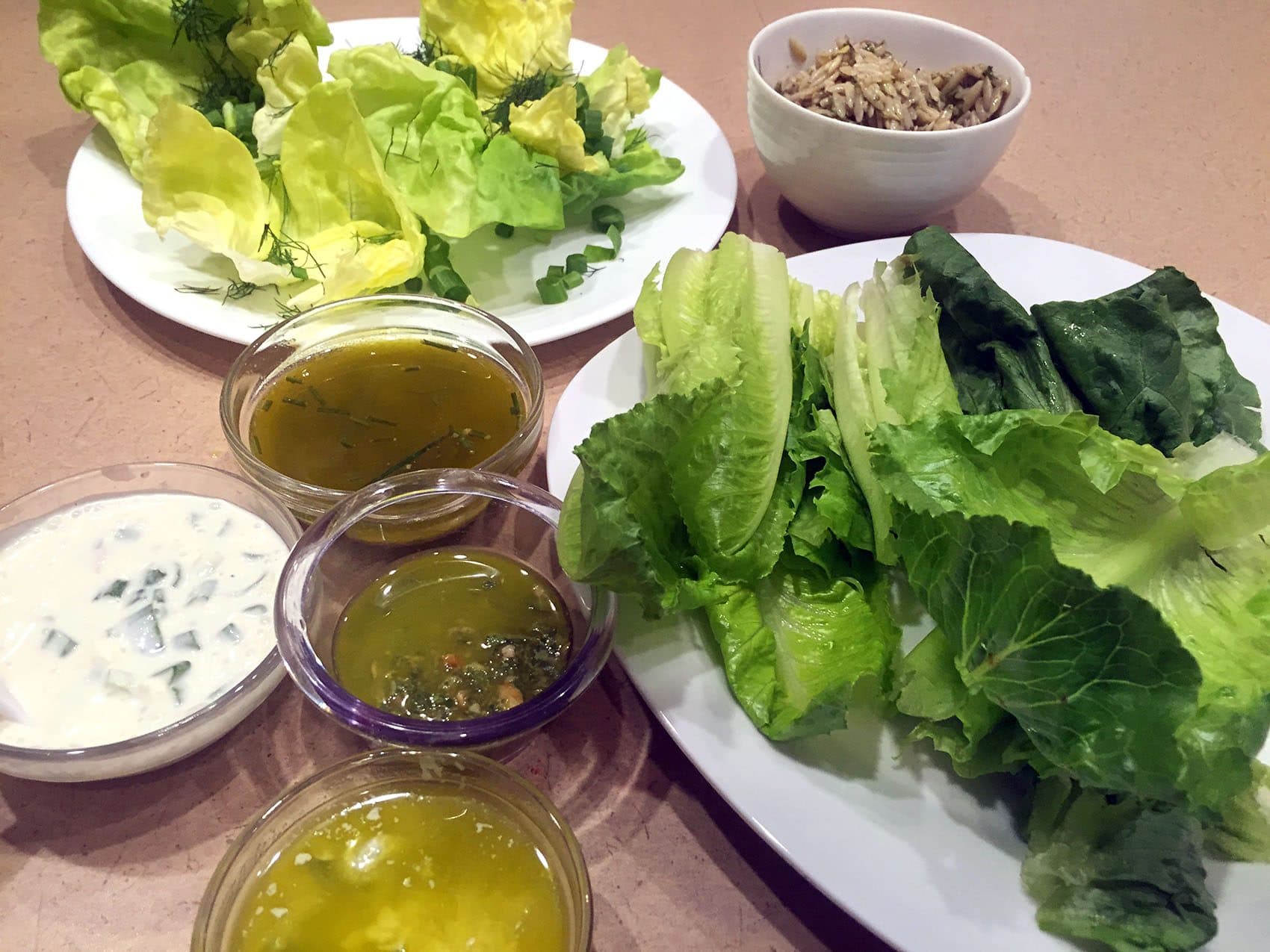 This is the time to use extra virgin cold pressed olive oil. Look for good wine vinegar or experiment with sherry vinegar, Champagne vinegar or balsamic vinegar for a rich, sweet flavor.
Experiment by adding a touch of yogurt, creme fraiche, milk or cream to dressings. Add a touch of soy sauce and grated ginger, or fresh lemon or orange juice. You can play around with the flavors and the type of acidity you use.
All of these salad dressings will keep covered and refrigerated for about a week. The recipes can all be doubled or tripled.
Basic French Vinaigrette With Summer Herbs
This is the epitome of simplicity. Mustard, olive oil and wine vinegar are whisked together to form the most versatile salad dressing imaginable. Add summer herbs like chopped fresh tarragon, chives, basil and/or thyme.
Use on salad greens, toss with grilled chicken or fish, and use in virtually any salad.
1 1/2 teaspoons Dijon mustard
Sea salt and freshly ground black pepper
1 tablespoon chives
1 tablespoon chopped fresh tarragon and or parsley
3 tablespoons white wine vinegar
About 6 tablespoons olive oil
In a small bowl or Mason jar whisk the mustard, salt, pepper, chives and herbs. Add the vinegar and then whisk in the oil. Taste for seasoning adding more oil, salt and pepper as needed. Makes about 1/2 cup.
Tahini-Yogurt-Ginger Dressing
This thick, flavorful dressing is particularly good on grilled chicken salad, with cooked shrimp, grilled eggplant and assertive greens like arugula.
1 tablespoon Greek-style yogurt
1 tablespoon tahini (ground sesame paste)
1 tablespoon minced scallions
1 1/2 teaspoons minced fresh ginger
Salt and freshly ground pepper
2 1/2 tablespoons lemon juice
4 tablespoons olive oil
In a bowl or small Mason jar, mix the yogurt, tahini, scallions and ginger. Add salt and pepper and then the lemon juice and olive oil. Stir or shake until thick and smooth. Makes about 1/2 cup.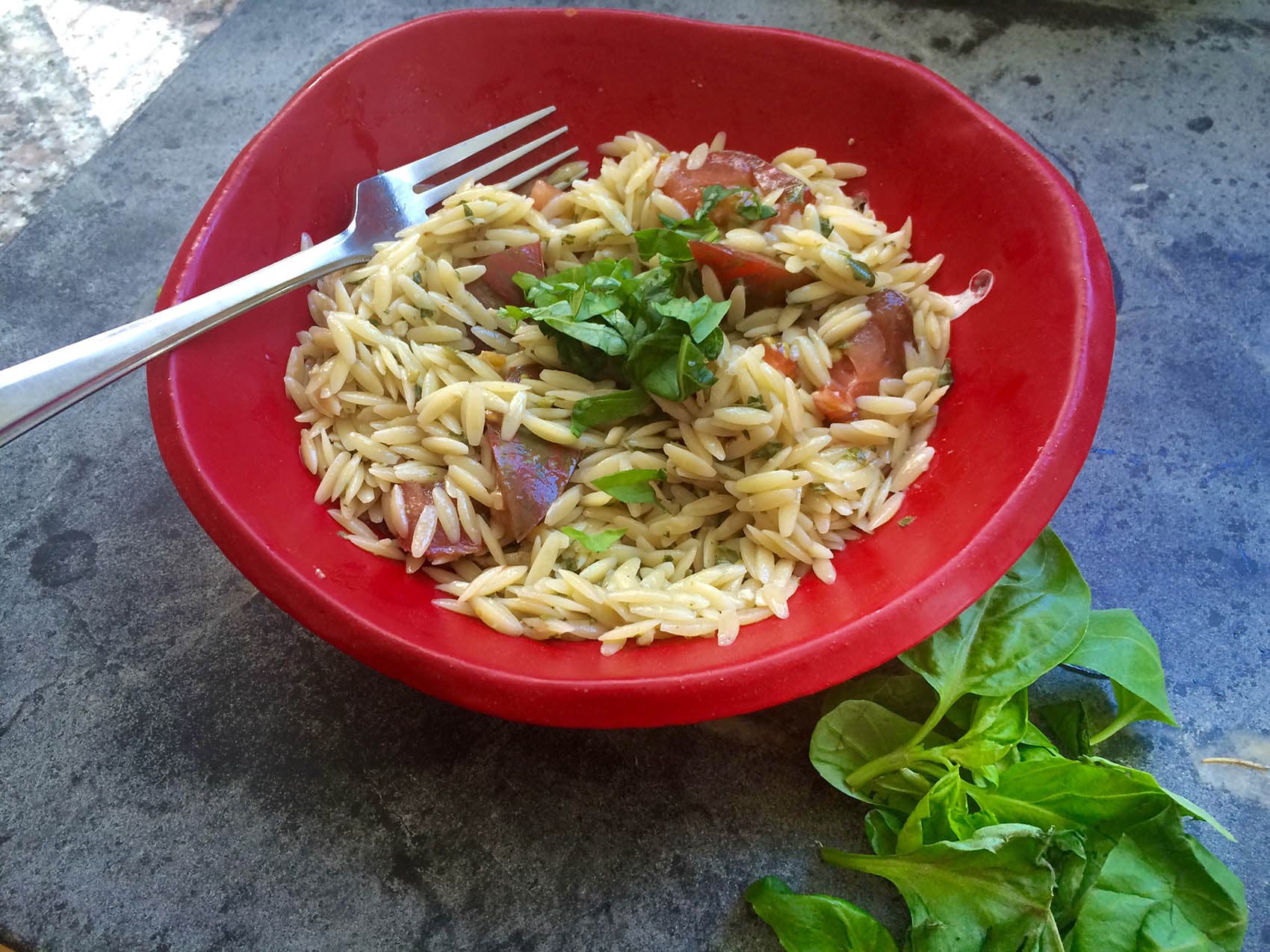 Basil Pesto Dressing
This is a thick, herb-filled green dressing that is ideal for cold noodle dishes, chicken salad, hearty greens or seafood salad. If you like pesto, you will love this dressing.
I like to toss it with about 1/2 pound cooked orzo and serve it at room temperature tossed with a chopped ripe tomato and chopped fresh basil. Be sure to look for garden fresh basil.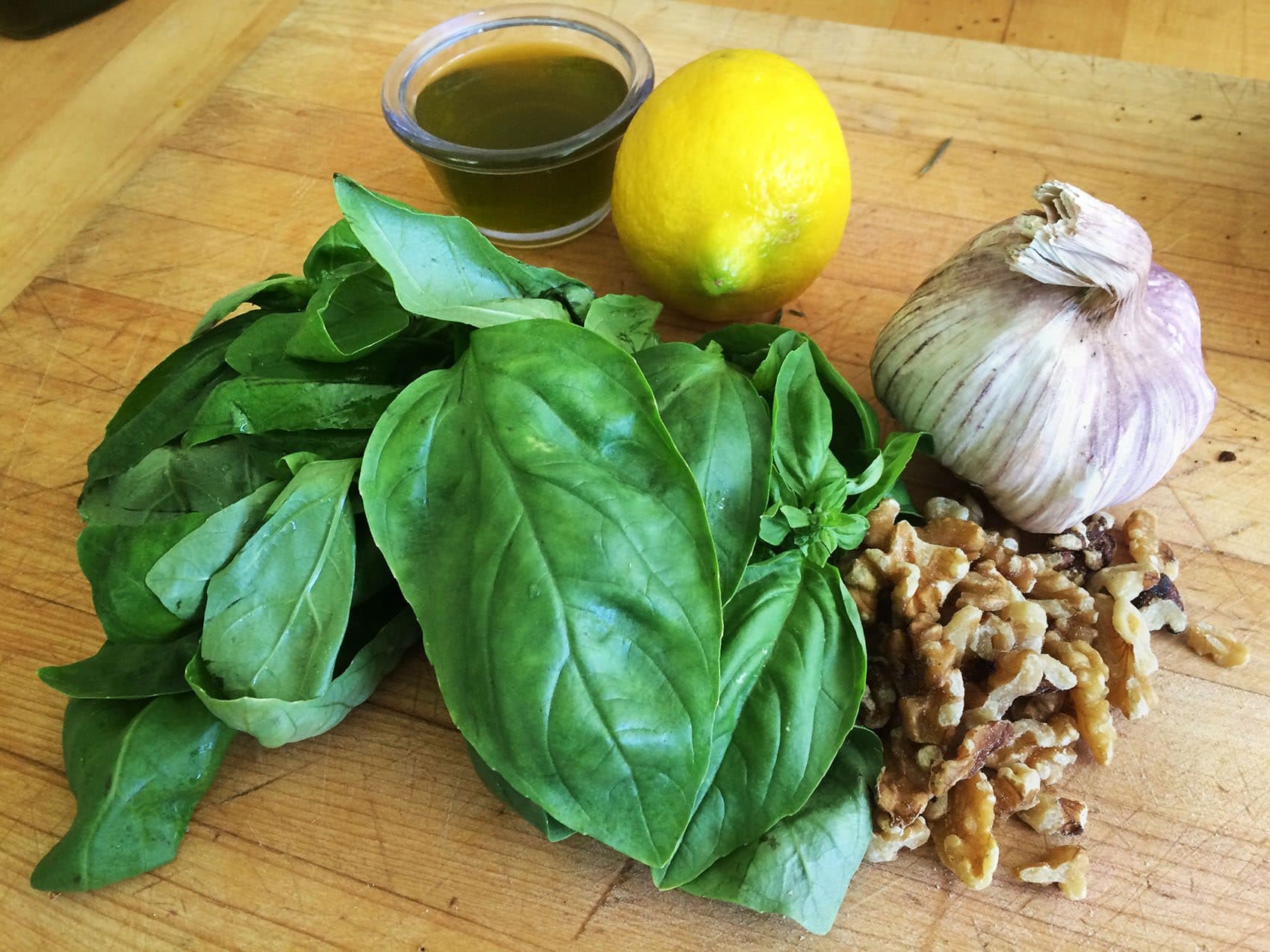 1 packed cup fresh basil leaves, washed and thoroughly dried
1/3 cup walnut halves (or almonds, pistachio, pine nuts, etc)
1 small clove garlic, chopped
3/4 cup olive oil
1/4 cup white wine vinegar
1 tablespoon lemon juice
Salt and freshly ground pepper
In a blender or food processor coarsely chop the basil. Add the walnuts and garlic and pulse. Add the oil, vinegar and lemon and pulse until thick. Season to taste. Makes about 1 cup.
Blue Cheese-Buttermilk Dressing
This dairy-rich dressing is ideal on iceberg salads or crunchy greens. Toss with greens and top with bacon, fresh chives and a sprinkling of blue cheese. The dressing would also be delicious served with cold cooked shrimp.
1/3 cup, plus 1/4 cup blue cheese crumbled
1/3 cup buttermilk
1/3 cup sour cream
1/3 cup finely chopped scallions
Salt and freshly ground black pepper
In a bowl mash the 1/3 cup blue cheese with the back of a spoon or a soft spatula. Add the buttermilk and sour cream and stir until thick. Add the remaining 1/4 cup blue cheese — don't mash it — and the scallions, salt and a generous grinding of black pepper. Taste for seasoning. The dressing needs to be refrigerated for about 30 minutes before using to thicken and let the flavors come together. Makes about 1 cup.
Guest
Kathy Gunst, resident chef for Here & Now and author of the upcoming book "Soup Swap." She is also the author of "Notes from a Maine Kitchen" and the video series "Simple Soups from Scratch." She tweets @mainecook and is on Instagram @kathygunst.
This segment aired on July 13, 2016.