A Not-So-Ordinary Fourth Of July Barbecue With Kathy Gunst
Resume
Grilling on the Fourth of July is an American tradition. This year, resident chef Kathy Gunst decided to change up her usual fare by putting fruits on the fire.
Kathy brings Jeremy and Robin her Grilled Tomato and Onion Salsa, Spicy Grilled Mango and Cucumber Salad with Grilled Shrimp, and Grilled Peaches with Burrata.
Kathy's July Fourth Grilling Recipes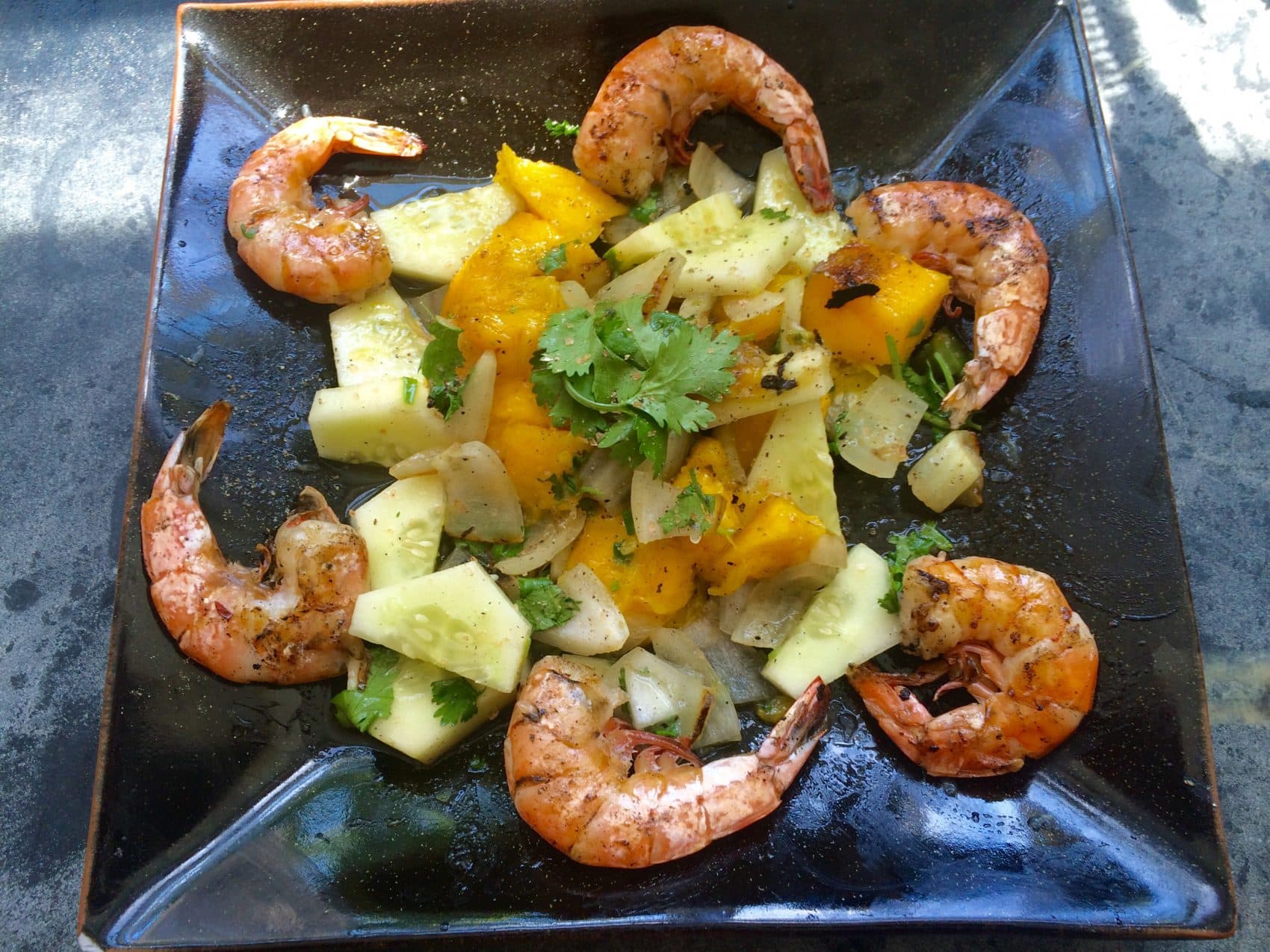 Spicy Grilled Mango and Cucumber Salad With Grilled Shrimp
This is a really refreshing, slightly exotic tasting summer dish. It can easily be doubled or tripled to serve a crowd.
1 ripe, but not mushy fresh mango
2 tablespoons olive oil
1/2 jalapeño pepper, with or without seeds
1 red onion, peeled and cut in half
1 lime, cut in half
8 medium shrimp, deveined and kept in their shell
2 tablespoons chopped fresh cilantro
1 cup thickly sliced cucumber
To cut the mango, hold the mango upright on a cutting board and, using a large, sharp knife, cut just over 1/3 of the fruit off the side of the mango. Repeat with the opposite side so you have two large pieces of mango, without the irregular shaped pit. Use a small sharp knife to cut a tic-tac-toe pattern into the fruit, with lines about ½-inch apart. Cut any remaining fruit off the pit and eat. You only need the two side pieces.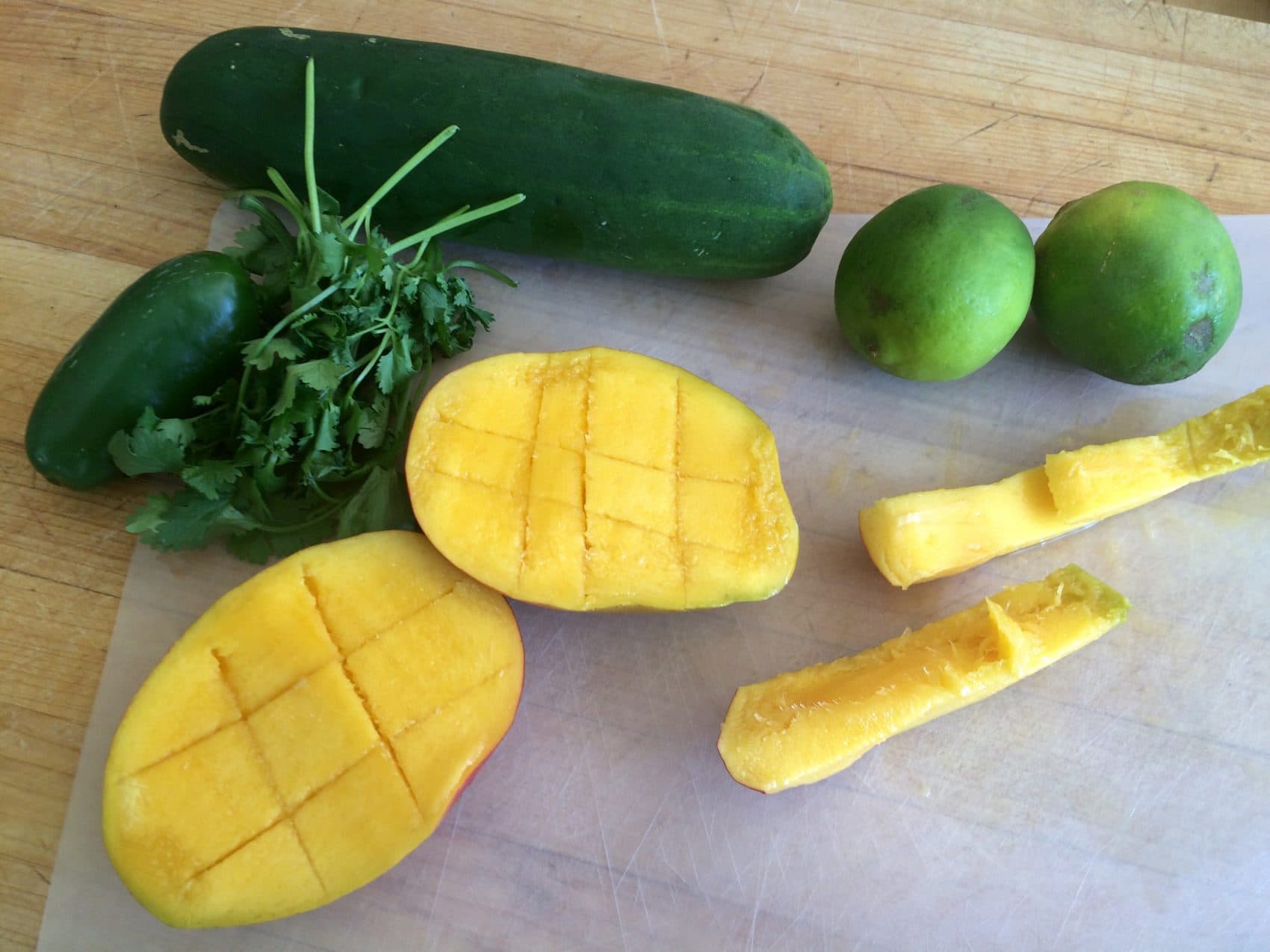 Place in a bowl and brush with 1 tablespoon of the olive oil over the mango slices, on the fruit side. Add the pepper, onion, lime, and shrimp to the bowl and coat with the remaining oil. Season with salt and pepper.
Heat a charcoal or gas grill until it reaches about 350 degrees. Heat a vegetable rack or grilling basket. Place the mango and lime on the grill fruit side down. Add the onion and shrimp to the grill, cover, and cook 2 minutes. Gently flip everything over, drizzling on any olive oil still in the bowl, cover and grill another 2 minutes
The mango and pepper should be golden and softened and the lime should have grill marks and also feel softened. The onion should be golden and the shrimp should be just cooked through — they should be pink and feel firm. Remove and let cool to room temperature.
Push the mango pieces out of the skin; they should be in large cubes and add to a bowl. Coarsely chop the onion and add to the bowl. Chop the jalapeño, with or without the seeds ( a bit of spice is very good in this dish). Add the cilantro and cucumbers and toss. Squeeze one half of the lime over the salad and season with salt and pepper.
Arrange the salad in the middle of a plate and surround with the shrimp. Squeeze the remaining lime half over the shrimp and serve at room temperature. Serves 2.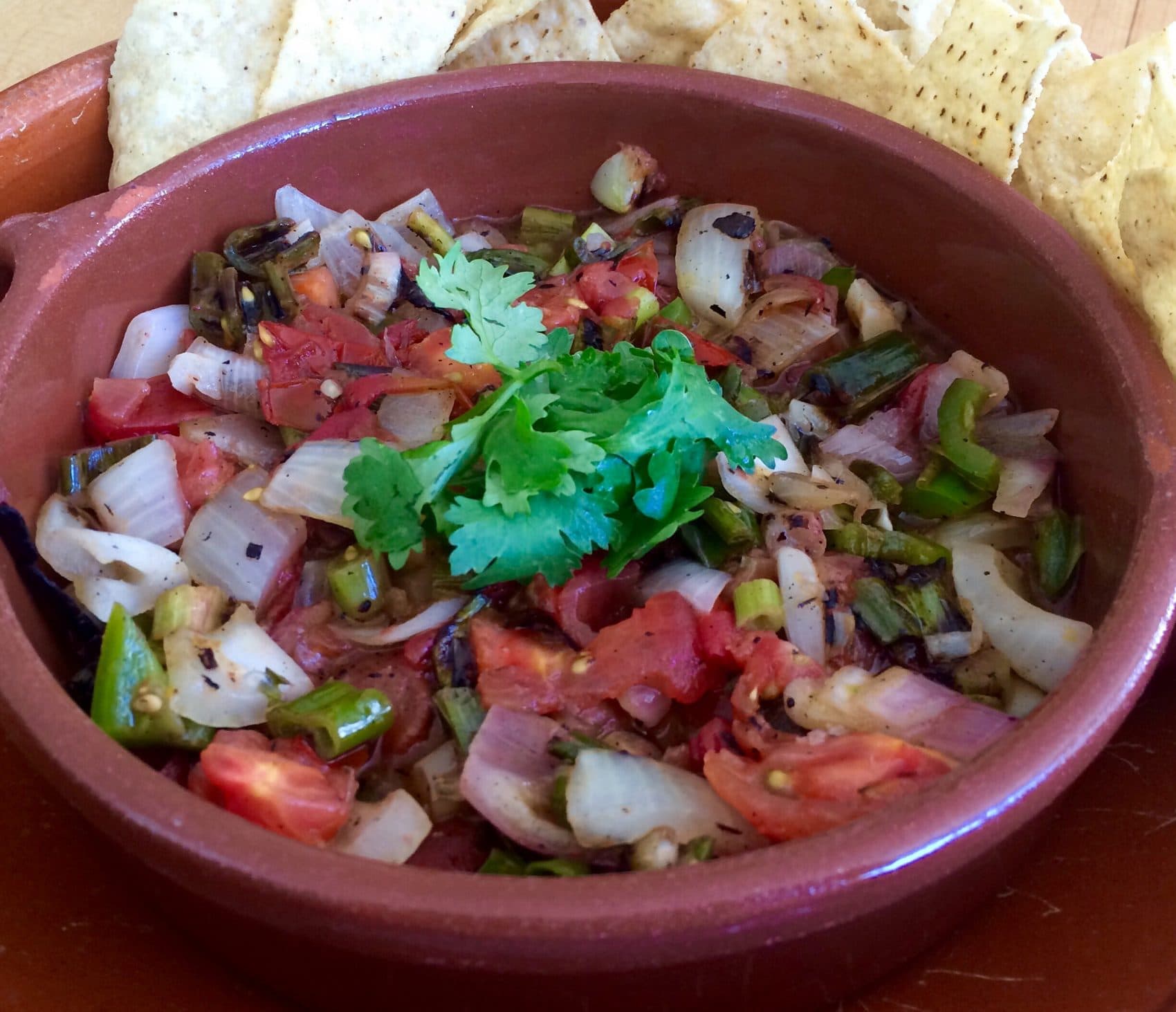 Grilled Tomato and Onion Salsa
Grilling the ingredients for a traditional salsa adds an amazing depth of flavor: you have smokiness, char and sweet, juicy vegetables. Cut limes in half and grill (you won't believe how juicy they are), garden scallions (they will almost char which adds a great smoky flavor), tomatoes (take them off the grill just when they begin to blister), onions, shallots and garlic (they become so sweet when grilled in their skin). Chop them up and you have the makings of a totally new grilled salsa. Serve with chips, grilled fish, burgers or chicken, tacos or tortillas.
1 medium-large onion, peeled and cut into quarters
4 scallions, trimmed of root end and left whole
1 shallot, peeled and cut in half
4 medium ripe tomatoes, left whole
1 jalapeño or fresh chile, cut in half, deseeded
1 large lime, cut in half
3 cloves garlic, unpeeled
2 tablespoons olive oil
Salt and freshly ground black pepper
Place the onion, scallions, shallot, tomatoes, chile pepper, lime and garlic in a bowl. Toss with 1 tablespoon of the oil and salt and pepper.
Light a charcoal or gas grill to around 400 degrees. Place a vegetable basket or rack on the hot flames. Add all the ingredients in a single layer and grill for around 5 minutes, tossing the ingredients once or twice. Remove and let cool.
Coarsely chop everything into a bowl and add the remaining oil. Taste for seasoning. Makes about 2 1/2 cups.
Grilled Peaches with Burrata
If you've never grilled a ripe summer peach you're in for a very nice surprise. Peaches take on an almost buttery texture when grilled and the sweet juices char slightly to create a caramelized flavor. They are grilled with a touch of olive oil and honey.
Burrata, like fresh mozzarella, is a semi-soft Italian cheese made from cow or water buffalo milk. They're both super creamy but Burrata cheese is fresh mozzarella formed into a pouch and then filled with soft, stringy curd and cream. Look for it in specialty food shops, the cheese section of a grocery store or a cheese shop. You can also serve this salad on a bed of spicy arugula.
4 ripe but not mushy or falling apart peaches, pitted and cut in half
2 tablespoons olive oil
1 1/2 tablespoons honey
Salt and freshly ground black pepper
1 pound fresh Burrata or mozzarella cheese, drained and shredded
1 tablespoon balsamic vinegar, optional
Heat a charcoal or gas grill to 350 degrees with a vegetable rack or basket. Drizzle 1 tablespoon oil and the honey over the fruit side of peaches and season with salt and pepper. Grill skin side down for 2 to 3 minutes (depending on how ripe they are) and gently flip them over. Grill another 2 minutes until soft and with grill marks. Remove from heat.
Arrange the Burrata in the center of a place and surround with the grilled peaches. Drizzle with the remaining olive oil and the balsamic if you like. Season to taste. Serves 4.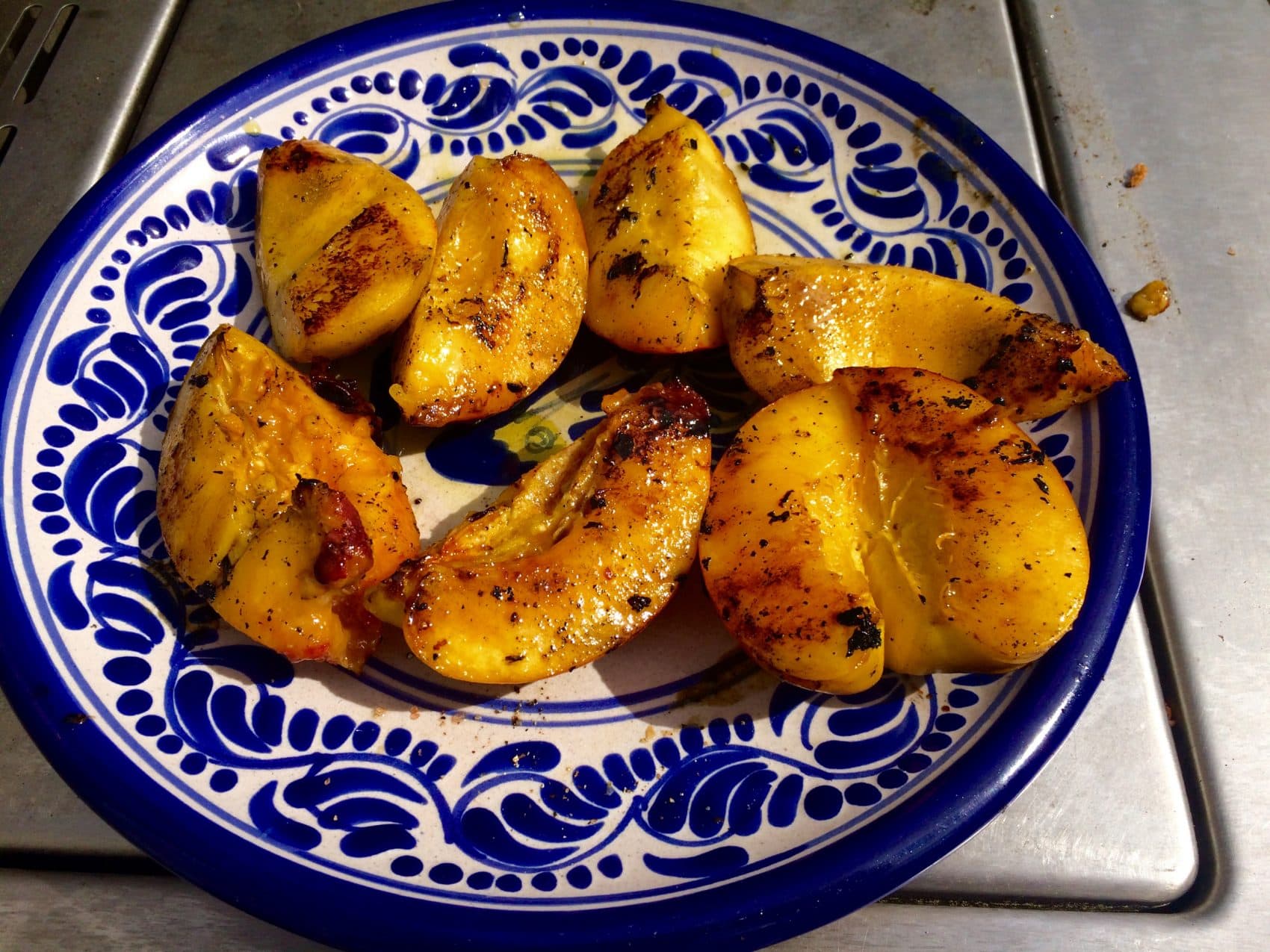 Grilled Honey Peaches
This entire recipe takes 5 minutes, making it an ideal dessert for summertime and grilling season. Cut a peach in half, brush it with good honey, and grill 5 minutes. Place a dollop of crème fraiche or Greek yogurt into the hot peach and you've got a simple summer treat.
4 ripe (but not too ripe) summer peaches
About 1/3 cup good floral honey
About 1 cup crème fraiche, Greek-style yogurt, or sour cream
Heat the grill to about 350 degrees. Place a grill rack or basket on the grill and let it get hot, about 3 minutes.
Cut the peaches in half and remove the pits. Using a pastry brush or a grill brush, brush the skin side of the peaches with some of the honey. Place on the hot grill, flesh side down, cover, and cook 2 minutes. Gently flip the peaches over so the skin side is down, and spoon a generous amount of honey into the peach "cavity," cover the grill and cook about 3 minutes. The honey should caramelize on the peach and the peach flesh should begin to turn a golden brown. The peaches should be slightly soft but not "cooked."
Remove from the heat and place on a platter. Spoon a generous dollop of the crème fraiche or yogurt into the cavity of the peach and drizzle the remaining honey on top. Serves 4.
Variations
Sprinkle with chopped toasted pistachio or pine nut, or your favorite nut.
Decorate the plate with edible flower blossoms.
Try the recipe using ripe summer nectarines, plums, or apricots instead of peaches.
More Summer Recipes From Kathy Gunst
Guest
Kathy Gunst, resident chef for Here & Now and author of the upcoming book "Soup Swap." She is also the author of "Notes from a Maine Kitchen" and the video series "Simple Soups from Scratch." She tweets @mainecook and is on Instagram @kathygunst.
This segment aired on July 1, 2016.