Looking For Ways To Keep Cool This Summer? Try One Of Kathy Gunst's Sweet Treats
Resume
What beats the summer heat like popsicles and ice cream?
Here & Now resident chef Kathy Gunst brings host Meghna Chakrabarti a trio of homemade popsicles, as well as a pair of sauces to top a dish of ice cream. Here & Now's Robin Young chimes in from Cleveland with treats from Mitchell's Ice Cream, which has an entire lineup of RNC-inspired flavors.
Kathy Gunst's Sweet Treat Recipes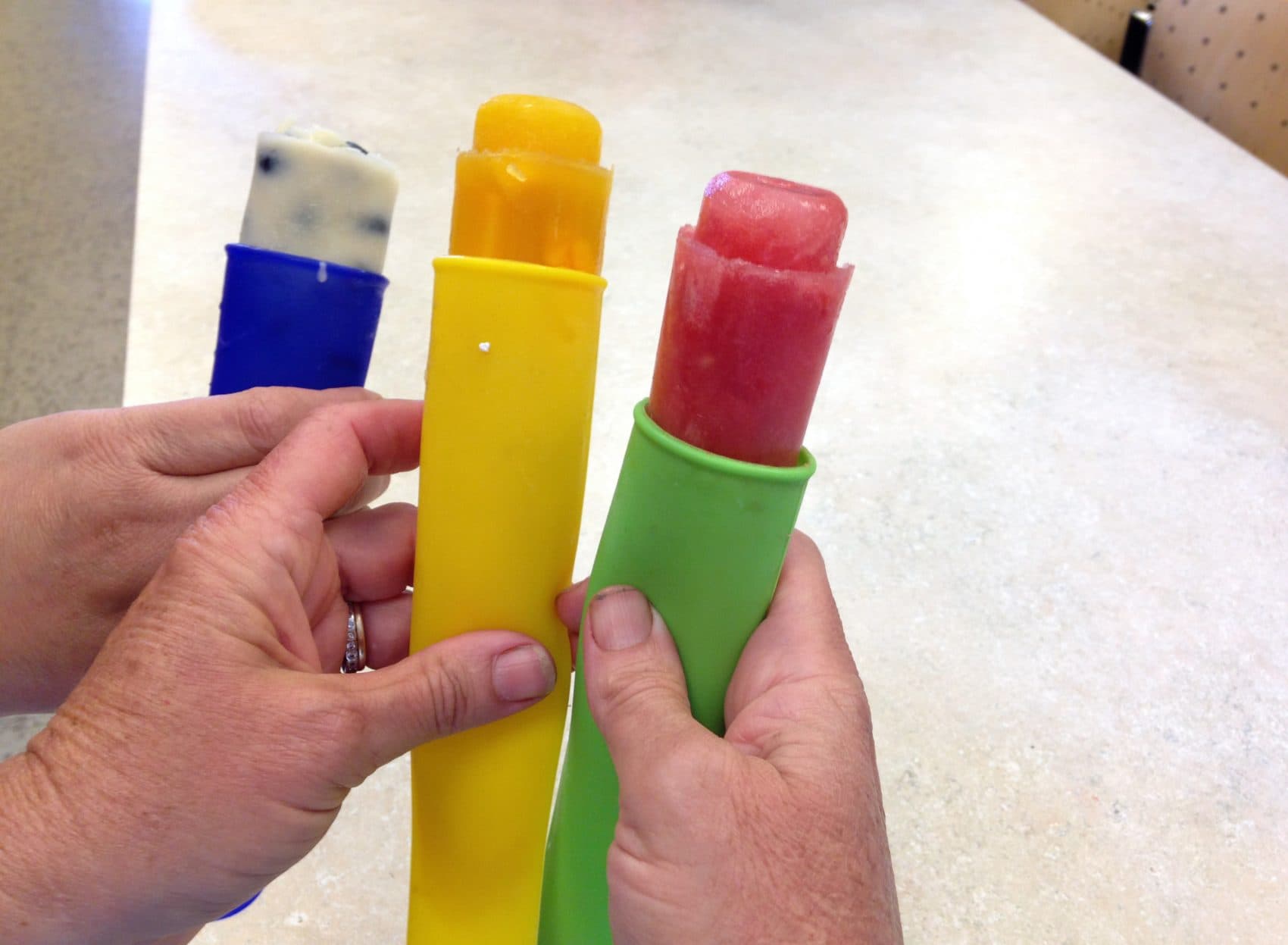 A Trio Of Popsicles
These recipes will provide about 4 popsicles depending on the size of your popsicle mold. You can always use small paper cups with wooden sticks frozen into the middle. To use cups and wooden sticks, freeze the pop for around 15 minutes and then push stick into the middle of the cup and continue freezing.
Mango Popsicles
Mangoes may seem exotic, but they are readily available and make a delicious frozen treat. Look for mango juice (or you can use pineapple or orange juice).
Chop 1 ripe mango into very small pieces, being sure to catch any juice. Spoon about 1 to 2 tablespoons of chopped mango pieces into popsicle molds or a cup — pushing all the way down so they get distributed throughout the popsicle — and top with enough juice to top off the mold. Freeze.
Watermelon-Lime Popsicle
Puree 3 cups seedless watermelon with 2 tablespoons fresh lime juice. Chop 1 cup seedless melon into small pieces. Fill the popsicle mold or cup with a tablespoon or two of the watermelon pieces (pushing them down into the mold to evenly distribute) and top with the watermelon-lime puree. Freeze.
Maple Yogurt-Blueberry Popsicles
Stir 1 cup plain yogurt with 3 to 4 tablespoons maple syrup. Add a few tablespoons blueberries to each popsicle mold or cup (pushing them down to evenly distribute) and top with the maple yogurt. Freeze.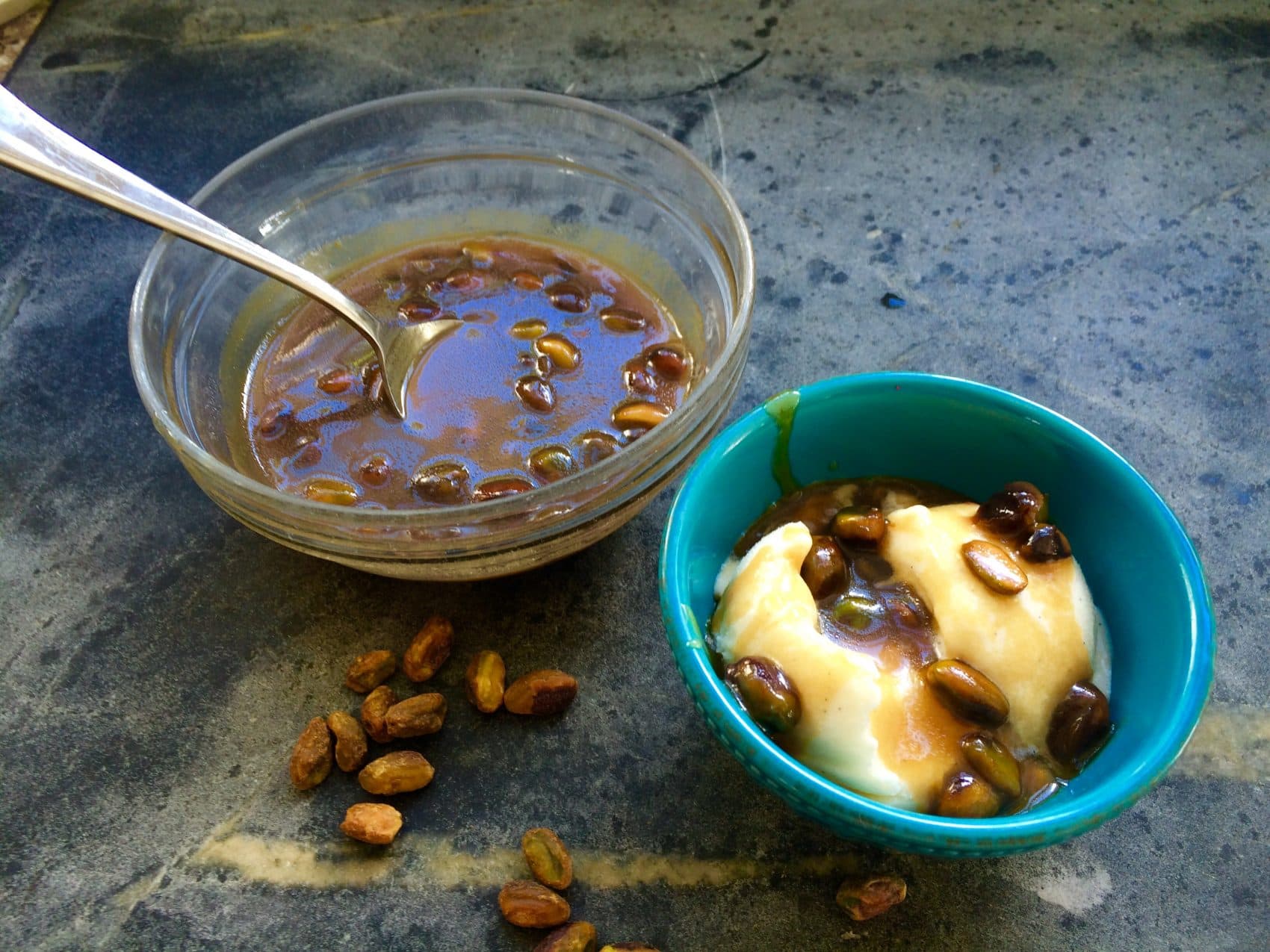 Sea Salt-Caramel-Pistachio Ice Cream Sauce
This is an untraditional caramel, a kind of quickie version that is buttery, rich, and delicious. Use to top your favorite ice cream, sorbet or gelato. Be sure to warm the sauce up if you've made it ahead of time by placing the jar of sauce in a pot of slightly simmering water over moderate heat until it becomes pourable again.
1 cup light brown sugar
1/2 cup heavy cream, or half and half
3 1/2 tablespoons butter
About 1/4 to 1/2 teaspoon good sea salt, depending on how salty you like it
1/2 cup shelled salted pistachios, or your favorite nut, toasted
In medium pot mix the brown sugar, cream and butter and bring to a boil over moderate heat, whisking until smooth. Reduce the heat to low and simmer, whisking, until slightly thickened. Add the salt and pistachios and cook another 4 minutes. Remove from heat and let cool before storing in a tightly sealed glass jar. Refrigerate. The sauce will keep refrigerated for several days.
Makes about 1 1/2 cups.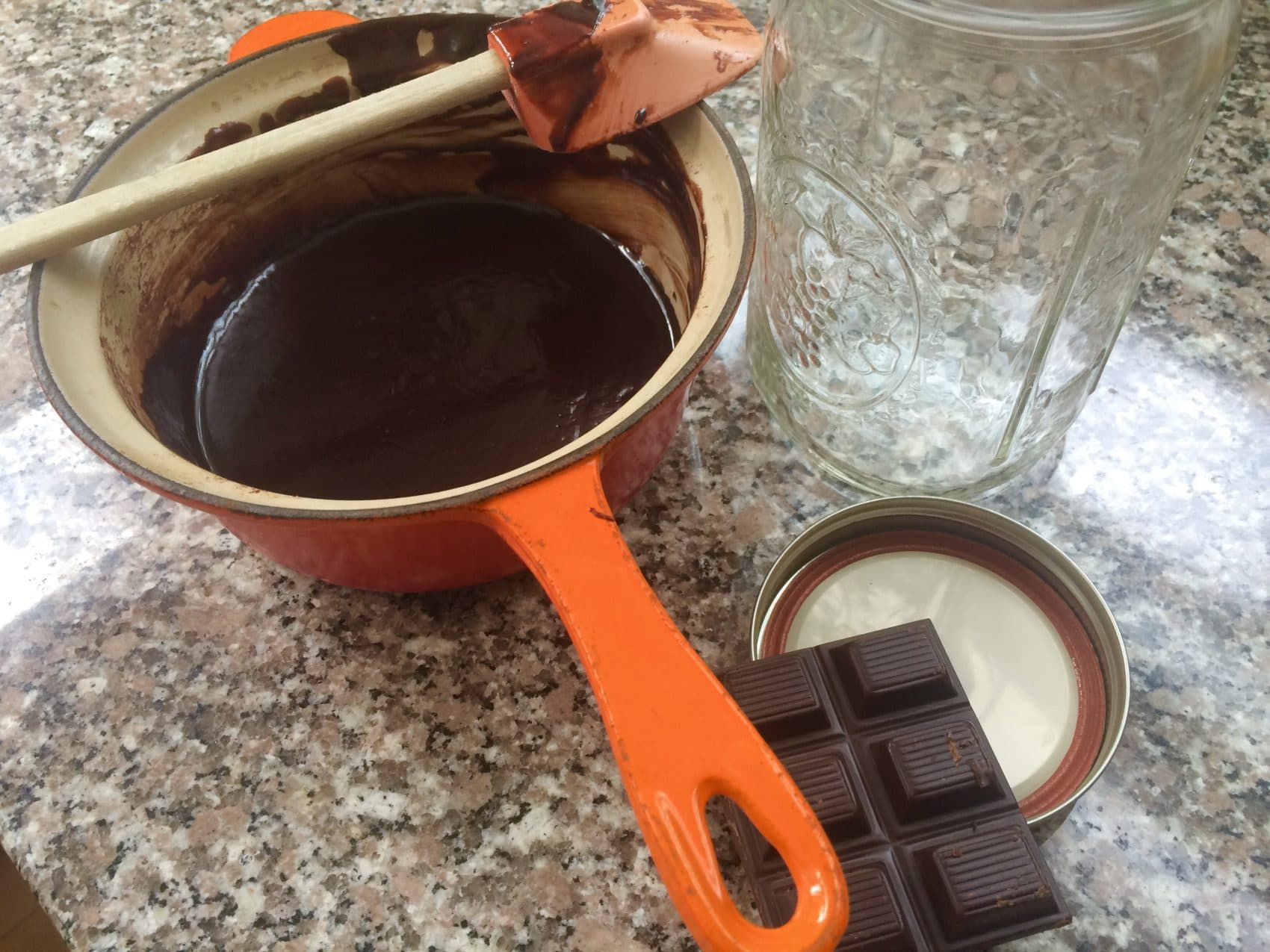 Hot Fudge Sauce
This is the classic. What's better than hot fudge poured over a scoop of vanilla ice cream? Top with fresh seasonal raspberries, blueberries and/or blackberries.
This is a quick simplified version of most hot fudge sauces. Use good quality dark chocolate. You can easily double the recipe.
3 ounces dark chocolate
2 tablespoons butter
3 tablespoons light corn syrup
1/4 cup white sugar
1/3 cup boiling water
1/2 teaspoon vanilla extract
Generous pinch sea salt
Add the chocolate, butter, corn syrup and sugar in a medium saucepan and place over very low heat until melted and smooth, stirring frequently. Add the boiling water, vanilla and sea salt and stir to create a smooth sauce.
Raise the heat until the sauce is at a low simmer. Cook for 5 to 6 minutes until smooth and slightly thickened. Let cool slightly or serve warm. The sauce can be kept in a tightly sealed jar for up to five days.
To warm the sauce, place the jar in a pot of lightly simmering water until smooth and warm.
Makes about 1 cup.
More Summer Recipes From Kathy Gunst
Guest
Kathy Gunst, resident chef for Here & Now and author of the upcoming book "Soup Swap." She is also the author of "Notes from a Maine Kitchen" and the video series "Simple Soups from Scratch." She tweets @mainecook and is on Instagram @kathygunst.
This segment aired on July 20, 2016.