Dull Doritos Offered To Undecided College Voters
03:28
Play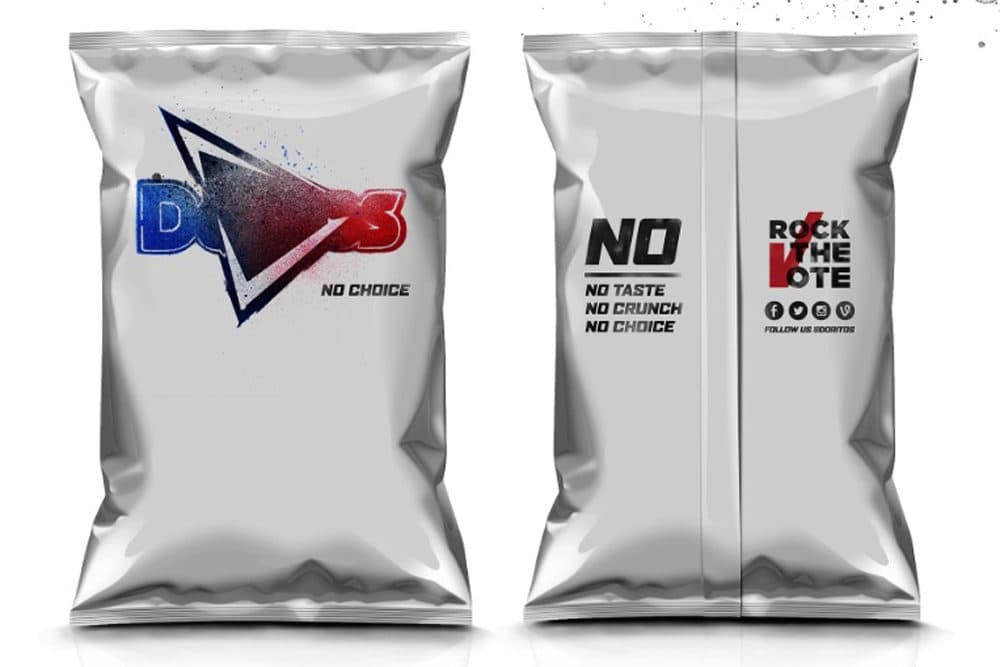 This article is more than 5 years old.
The newest Doritos have little flavor, no flashy color, minimal crunch and dull gray packaging. The kind of snack, essentially, that no one would choose.
And that, according to executives at Frito-Lay, is exactly the point.
The new chips are part of a campaign with Rock the Vote to boost voter registration among college students. Special vending machines placed on college campuses will be asking snackers whether they've registered to vote.
If they indicate they haven't, the machine will deliver the unappealing chips. In other words, if you don't register to vote, you've lost your choice.
Jennifer Saenz is chief marketing officer at Frito-Lay. She joins Here & Now's Robin Young to discuss the new initiative.
Interview Highlights: Jennifer Saenz
On how the no-choice Doritos works
"The first thing that they will see on the vending machine is a touch pad, and the first question will be 'Are you registered to vote?' And you can answer yes, you can answer no. If you answer no, you would go through that same selection process that you normally would — select nachos or select cool ranch — but instead of dispensing either one of those choices, you would get a silver bag of these no-choice Doritos, which as you mentioned, have no taste, no crunch, no chip."
On the reasons for launching this campaign
"For us, we think about the Doritos brand as a brand that takes bold action and inspires bold action across multiple facets of popular culture. We think we have an opportunity and a responsibility to encourage young people to act and engage in society. And voting is just one of those things."
"For us, we just want to encourage that voter registration and voter turnout. We don't take sides; we're non-partisan. So for us, what's important is that people engage in the process."
"We think life is about choices, exactly like our chips. So we have a portfolio of options that gives consumers lots of choice."
Guest
Jennifer Saenz, chief marketing officer at Frito-Lay. She tweets @JenQSaenz. The company tweets @Fritolay.
This segment aired on September 28, 2016.