What Makes A Great Marching Band?
Play
This article is more than 6 years old.
In Trumbull, Connecticut, Trumbull High School's Golden Eagle Marching Band performs every weekend, from early September through November. Parent Michael Noe said parents raised $10,000 for an 18-wheel trailer, to help with all of the hauling.
"There is really a lot of gear... all the band, all of the uniforms, all the stuff that comes with 130, 140 kids," Noe said.
Parents kept the "big rig" a secret from their kids until the day it was unveiled, the same day the band traveled to New Jersey to compete in a national marching band championship.
Center snare drum Will Hnatuk said he was excited.
"We've been working hard every day, every practice," Hnatuk said. "We're going to put all our effort into it, and do it up... coming to practice with pride, attitude and concentration."
On this day the band was getting ready for a relatively short three-hour practice, before their big competition that night. The color guard warmed up by tossing flags, sabers and wooden rifles.
Gia Vitiello said the hardest part about catching the rifle is "it hurts. But it's worth it when you get everyone's reaction to it."
The brass tune their instruments for the November chill. They're reminded to point the bells of their horns up high toward the stadium lights so that judges who will be in the stands can see and hear them better.
This isn't your ordinary high school marching band. There's a coach for every section.
There's a mini-orchestra on the sidelines with marimbas, gongs, an electric guitar and keyboards. Other percussionists are rolled out onto the field on floats. It's all part of a program titled "Metal," a four-part musical and marching homage to all things metallic.
Music supervisor Kevin Lam has to make sure the band members sound together.
"We're just trying to make sure that we don't have any people sticking out of the texture, so we want to make sure everybody's contributing the same amount," Lam said. "We've got the pit in the front, we've got the winds and we've got the drum line in the back. So it's pretty important to get all of that evenly balanced."
There are three students who lead the band from three platforms placed along the sidelines. Drum major Michael Collins conducts the band, wearing white gloves.
"So they're easier to follow," Collins said.
On the field, it's easier to experience the band's controlled chaos — and athleticism.
"It's a lot of breathing at the right times, and running around," brass instructor Josh Murphy said.
Kevin Granata, who just started playing the tuba this year, said "you need to have a lot of 'air' to play the instrument, first. And then also a lot of concentration, and strength."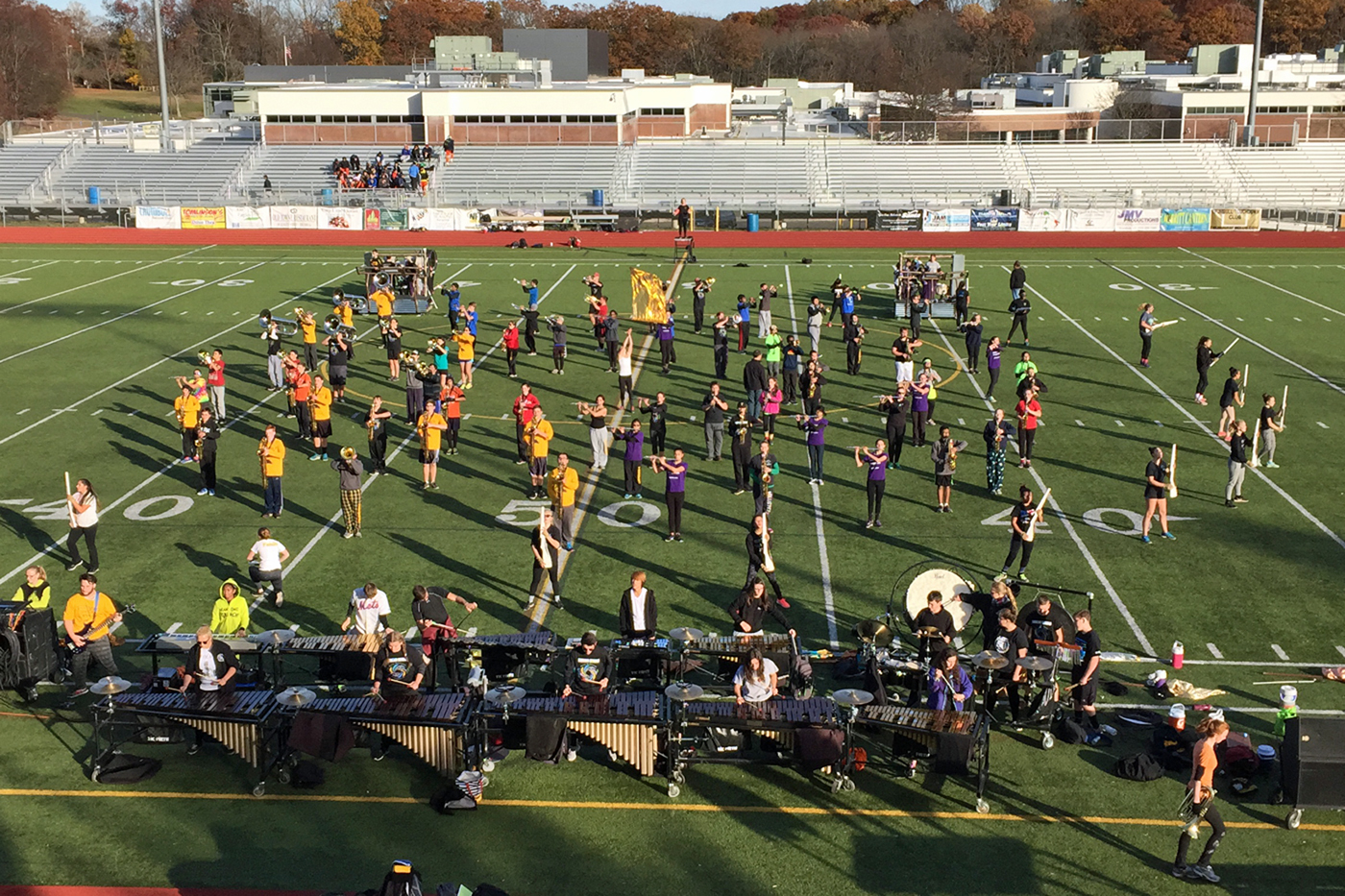 Adam Twombly has been working with the band for two years as music and visual instructor. He said there's a lot of choreography in marching band work these days.
"I had one instructor when I marched in drum corps who used to say, 'It's the 21st century, we can't just march around and play music anymore,'" Twombly said. "So there's a lot more dance and choreography that gets involved."
Alto saxophone player Gretchen D'Amato, who was nursing a twisted knee, said the on-field movement is "really hard."
"You have to be in time with everyone else and you have to connect with the band all across the field," she said.
Peter Horton has been band director at Trumbull High School for 29 years. He knows all the tricks.
"When you're moving this circle, you have to place your foot smoothly," Horton said, coaching the winds section. "We're still getting people that are lunging into their heel. You can't. You have to think about walking on eggs. You've got to float. Put your foot in and roll through the toe. And that whole (lyrical section) will sell 100 percent better."
Band members were not only going to national championships that night. They were also waiting to hear if they'd be picked to march in President-elect Donald Trump's inaugural parade.
McKenna Turechek has been a part of the color guard for four years. She was out of breath after the final run-through, and said she and other band members were excited to potentially go to the parade — but also somewhat apprehensive.
"Everyone's a little scared, you never know there might be, like, a riot or something," Turechek said.
That night the Trumbull High School Golden Eagle Marching Band took first place at the USBands Open Class National Championship. And in a few weeks, they'll hear whether they'll be marching in the inaugural parade.
You can watch the band's championship-winning performance here.
This article was originally published on November 22, 2016.
This segment aired on November 22, 2016.