Jacob Sartorius On Social Media Stardom, Music And Justin Bieber Comparisons
09:25
Play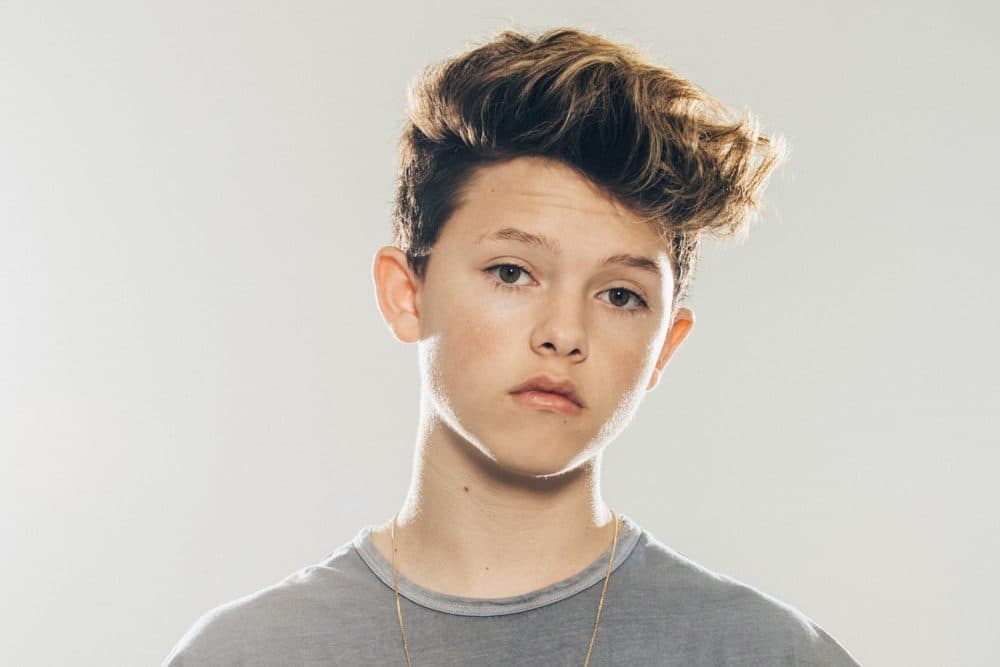 This article is more than 4 years old.
At just 14 years old, Jacob Sartorius (@jacobsartorius) has 14 million followers on the app Musical.ly, 7 million followers on Instagram and more than 2 million subscribers to his YouTube channel.
Sartorius is about to release his first EP and head out on his first world tour, and he's hoping his success on social media leads to success in the music world.
Here & Now's Jeremy Hobson talks with Sartorius about his social media presence, his music and being compared to Justin Bieber.
Interview Highlights
On how he got started
"It started in my bedroom, with making content. It started with musical theater, from performing every day. It really built kinda fast. I started in my bedroom with zero followers, and I grew it to something that I didn't expect with a lot of hard work, and I just have always wanted to be where I am right now."
On his first big hit online, and experiences with bullying
"My first-ever social media post was on Vine, and it was a message against bullying, because that was something that I faced when I went to school every day, just because I was interested in things that other people weren't, so I think that was really relatable, and it pretty much just blew up overnight... Right now I think it has, like, 16 million loops on Vine.
"I just think it's something that people face every day. I just wanted other people to know that they're not alone, because I faced it, I know what they've been through... With kids saying things to my face every day at school... I faced bullying from like fifth grade to seventh grade, and seventh grade was when it got really bad. And then I had to leave school because of it, and I just had different interests, and other kids, obviously — whether they're on the basketball team or the baseball team — everybody has their own interests, and I was respectful to theirs, but they didn't really understand what I was trying to do. I kinda just faced that every day."
"I started in my bedroom with zero followers, and I grew it to something that I didn't expect with a lot of hard work, and I just have always wanted to be where I am right now."

Jacob Sartorius
On what drew him to making music videos
"I started with musical theater, obviously, so music was always something that I was passionate about. And it went to something where I could actually make Musical.lys to songs that I enjoyed, whether it was on the radio, or my own songs. It was really cool because I just got to vibe out with the music, which was really important to me. I think it's all just because I love music."
On being compared to Justin Beiber
"I think it's a big honor. I think it's kinda crazy, like, in a good way, because I've looked up to him since I was a little kid, and listening to all his music. He's a great artist, and people like that are the people that I look up to.
"He's just a great performer, great dance moves, great vocals. I've learned a lot from people like him and Shawn Mendes and Ed Sheeran, people like that, those are just, like, people that I've always looked up to. I've learned a lot, a lot, a lot from Justin."
On how being in the public eye has affected him
"I think, in a way, it actually has helped me, because I know that I have people that look up to me every single day, I have people that look at my pages all day, look at my videos, look at my music videos. It's crazy, because I just want to be the best influencer I can, be the best musician I can, and just make the best impact I can. So I just, I try to uphold a certain standard. I just want to be as positive... and of course I'm going to make mistakes along the way, but the important thing is that I get back up and just keep fighting."
On the challenges of being famous at a young age
"If I go to the grocery store with my mom... if she's picking out some fruits, maybe somebody will notice me, which is really cool. And I take a picture, meet them, get to know them. I've met a lot of cool people the past, like, six months. And it's kinda, at times, it can be a little bit of stress, little bit of pressure, to just be the best person I can. But I think my fans keep me grounded, my fans keep me humble. I've been lucky enough to work with a great team."
This segment aired on January 17, 2017.