From Oranges To Lemons, 3 Ways Citrus Can Brighten A Winter Menu
Resume
Here & Now resident chef Kathy Gunst says citrus fruits are a great way to perk up a winter menu. She goes through several seasonal varieties with Here & Now's Robin Young, and shares three recipes that use them.
---
Citrus Tasting Notes
When shopping for citrus, look for fruit that is firm, shiny, and avoid soft and spongy citrus. Always look for fruit that feels heavy in your hand. Most citrus will keep at room temperature or can be refrigerated for about 10 days.
Cara caras: They may look like a regular old roundish navel orange, but when you cut them open they have a gorgeous pinkish, almost red and orange flesh. Cara cara are sometimes called the "red navel." The flavor? Sweet, tangy, low acidity and seedless. Some say they taste like a cross between a grapefruit and an orange.
Sumos: Peels easily, sweet, juicy, low acidity citrus. It's one of the largest mandarins, like a cross between a mandarin and a California navel orange. Sumos are said to have taken 30 years to develop in Japan. They are now grown in California and sold on the East and West coasts.
Mandarins: There are so many varieties of mandarins — satsuma, kishu and page are among my favorites. Mandarin and tangerine are two words for the same things.
Kishu mandarins: Taste like honeysuckle and rose petals, very floral. Smells like spring blossoms.
Page mandarins: Juicy, taste a little like a fresh lychee nut, with a sweet, almost rich flavor. Great to cook with the juice, like a cross between a clementine and an orange.
White pomelos: First thing you notice is the size — a pomelo looks like a huge, oversized grapefruit. Also called a Chinese grapefruit, pomelos originated in Southeast Asia and are said to be the largest of all citrus fruit. They are sweet, tart, and low in acidity. They have a much thicker pith than most citrus.
Kumquats: Very sour, tart, tiny citrus that look like miniature footballs. They have an edible skin — rich in anti-oxidants and vitamin C — can be eaten whole, are great candied, can be used to make marmalade and jellies, roasted, used in cocktails and are great with rich foods like roast duck or turkey. Kumquat means "golden orange" in Chinese. There are many varieties of kumquat, like marumi, nagami and meiwa.
Blood oranges: Prized for the dramatic blood red/orange color of the flesh, they are a rich source of fiber and vitamin C. Great for juicing, using in salads, baking with the juice and more.
Meyer lemons: Taste like a cross between an orange and lemon. They are milder, sweeter and less acidic than regular lemons. The peel (or zest) has great flavor and the grated zest is delicious in puddings, cakes, breads, salads, and more.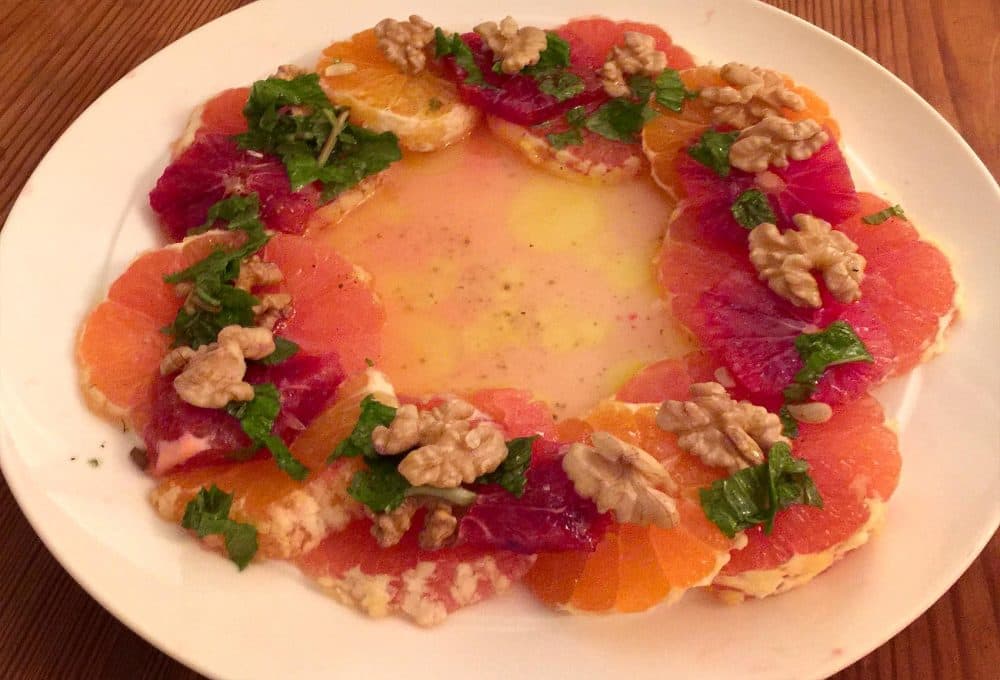 Citrus Salad With A Mint And Meyer Lemon Vinaigrette
This colorful, sweet salad has a bit of an identity crisis: it can't decide if it's a sweet, savory salad or a savory, sweet salad. It takes 5 minutes to put together and will wow any meal, or can be served as a first course or light lunch with warm bread.
The vinaigrette can be made several days ahead of time, but the salad should be put together at the last minute.
To toast the walnuts, place on a cookie sheet in a preheated 350-degree oven. Bake for about 8 minutes or until your kitchen smells nutty. Remove and cool.
Salad Ingredients
1 cara cara orange, or your favorite orange, peeled and thinly sliced into rounds with any seeds removed
1 tangerine, peeled and thinly sliced into rounds, with any seeds removed
1 blood orange, peeled and thinly sliced into rounds
1 sumo or navel orange, peeled and thinly sliced into rounds, with any seeds removed
1/3 cup walnut halves (see toasting instructions above)
Sprig fresh mint for garnish
Vinaigrette Ingredients
2 tablespoon fresh mint, coarsely chopped
Salt and freshly ground black pepper
Juice of 1 Meyer or regular lemon, about 2 tablespoons
2 teaspoons white wine vinegar or regular lemon juice
4 tablespoons olive oil
Instructions
Arrange the oranges and tangerine slices alternating varieties on a serving plate, overlapping them slightly.
Make the vinaigrette: mix the mint, salt, pepper, lemon juice, vinegar and oil and taste for seasoning. Cover and refrigerate if making ahead.
Sprinkle the nuts on top of the citrus. Drizzle the dressing over the salad and garnish with the fresh mint. Serves 4.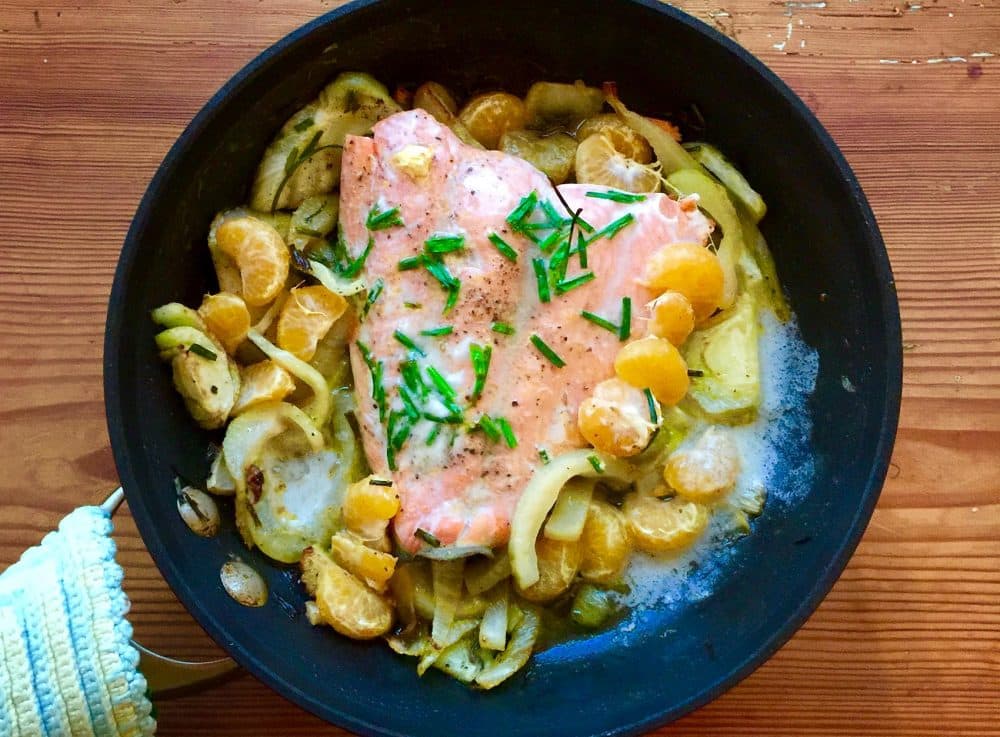 Roast Salmon With Tangerines And Fennel With An Orange-Butter Sauce
Fancy name, but this dish couldn't be easier. It takes about 30 minutes from start to finish and is ideal for a weeknight dinner.
Ingredients
1 teaspoon olive oil
1 teaspoon butter, plus 1 tablespoon
1 medium size head fresh fennel, cored and thinly sliced
2 tablespoons minced fresh chives
Salt and freshly ground black pepper
1 pound salmon filet, preferably fresh
2 seedless tangerines or clementines, peeled and separated into segments
1/3 cup fresh orange juice
1 teaspoon grated orange zest
Instructions
Preheat the oven to 400 degrees.
In an ovenproof skillet heat the oil and 1 teaspoon butter over moderately high heat. Add the fennel, 1 tablespoon of the chives and salt and pepper and cook, stirring, for 4 minutes.
Remove from the heat and push the fennel to the sides. Add the salmon to the center of the skillet, skin side down and sprinkle with the remaining chives, salt and pepper. Add the tangerines on top of the fish and fennel and pour the orange juice and zest on top. Roast on the middle shelf for 8 minutes.
Remove from the oven and add the remaining tablespoon of butter to the skillet.
Roast another 2 to 3 minutes, depending on the thickness of the salmon. Serve hot. Serves 2 to 3.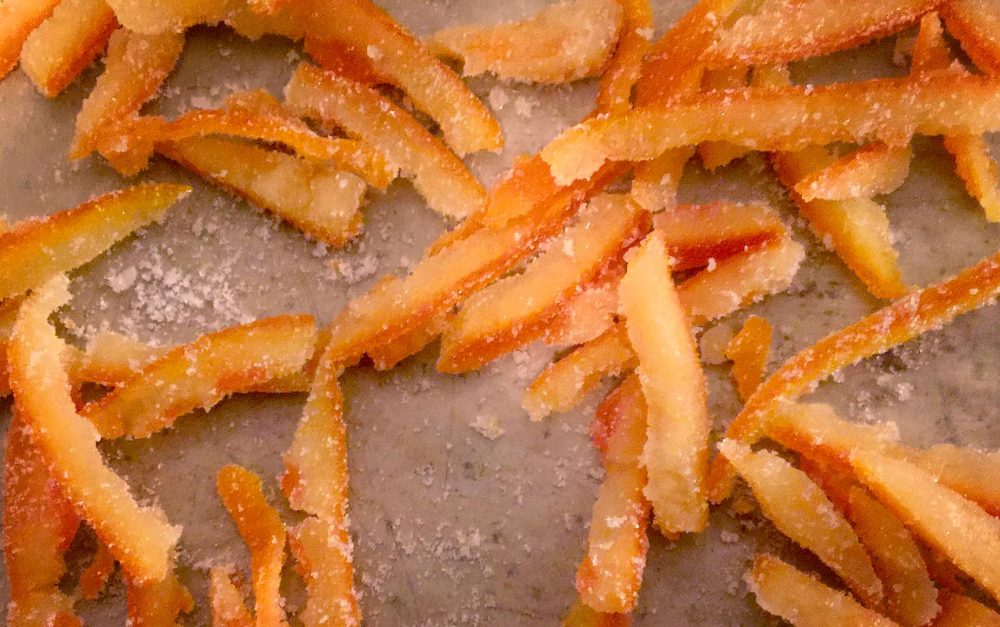 Candied Citrus Peel
You've seen them in fancy shops — beautiful strips of citrus peel coated in sugar, sold for exorbitant prices. But why not make your own? I never realized just how easy it is to make candied citrus peel until I tried. It takes about an hour or so, because the peel needs to boil in water three separate times and is then cooked in a simple sugar-orange syrup.
Use a variety of citrus for a really dramatic effect: grapefruit, tangerines, oranges, blood oranges and more. You can eat the candied peel as is served with tea or coffee, or dip half of it in melted dark chocolate, use it to decorate a cake or sprinkle it into yogurt or ice cream.
These candied citrus peels would make a great Valentine's Day gift. The candied peel will last, in an airtight bag or tin, for at least a week. If you have a lot of citrus you can easily double or triple the recipe.
Ingredients
A variety of fresh citrus, preferably organic, washed and thoroughly dried, about 6
1/2 cup sugar
1/4 cup fresh citrus juice (orange or grapefruit or tangerine or a combination)
Sugar for dusting
Instructions
Using a small, sharp knife, cut the peel off the citrus into long, thick 1/4-inch strips leaving a tiny bit of the white pith attached. You should have about 1/2 cup citrus strip.
Place the peel in a small saucepan and cover with cold water. Bring to a boil over high heat; remove from the heat, drain. Repeat this process twice. Drain.
Add the drained cooked peels, the sugar, 1/2 cup cold water and the citrus juice to the same saucepan and bring to a boil over high heat. Reduce the heat and let simmer for 20 minutes. The syrup should be thickened and the peel should look cooked. Strain the syrup into a jar or bowl and be sure to keep it. (This sugary citrus syrup is delicious in cocktails, mixed with seltzer water for instant soda, and added to fruit salads.)
Place a sheet of parchment paper or wax paper on a cookie sheet. Lay the peel out in a single layer and allow it to dry at room temperature for several hours. It should feel dry and not sticky.
When dry toss with sugar and let it dry. Place in a Ziploc bag or a tin.
This article was originally published on February 07, 2017.
This segment aired on February 7, 2017.