After Sandy Hook, How One Parent Found Hope Through Forgiveness
11:00
Play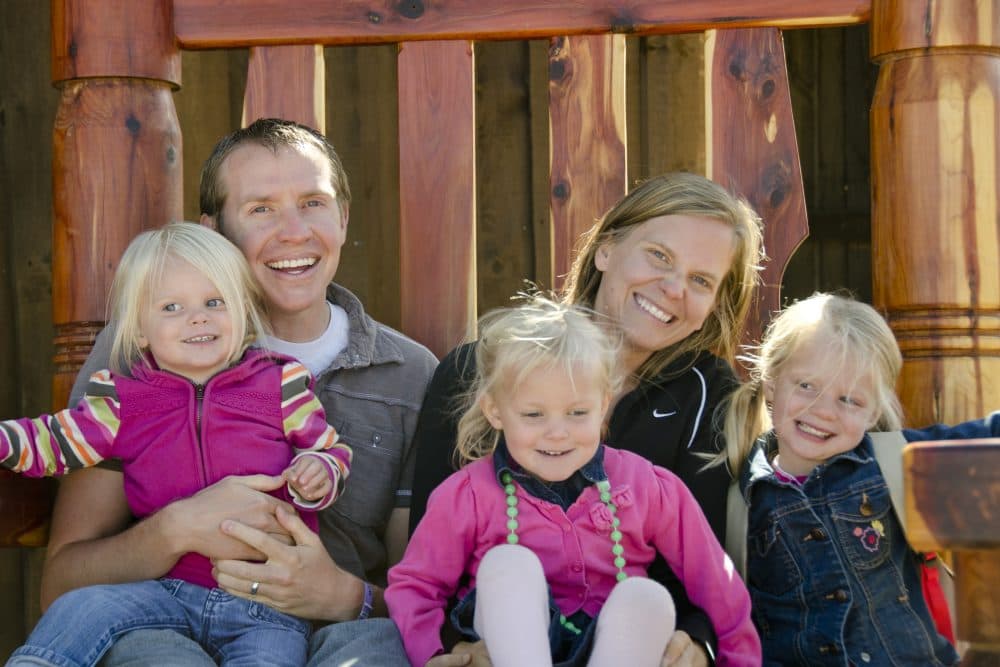 This article is more than 4 years old.
After her daughter Emilie was killed in a mass shooting at Sandy Hook Elementary School in 2012, Alissa Parker struggled to play with her other two daughters. It reminded her too much of playing with Emilie.
In her new book, "An Unseen Angel," Parker describes how she found joy and hope in her life again. Part of that process was learning to forgive the man who had killed her daughter.
Parker, also co-founder of the organization Safe and Sound Schools, talks with Here & Now's Meghna Chakrabarti about how forgiveness helped her.
Scroll down to read an excerpt from "An Unseen Angel"
Interview Highlights
On her story of how the day of the shooting began
"So my husband had left for work already, and I was just in bed by myself, and [Emilie] crawled up, and I opened my eyes and she was just there, and so beautiful. We chatted for a little bit, and I remember thinking, 'Oh, I don't wanna move, I don't wanna get up. But we gotta get ready.' And so we went into her room and she just had this most amazing thing that she had discovered, and on the back of the bed we had stenciled these flowers, and they were her three favorite colors: black and pink and blue. She said, 'Mom, I have the coolest thing to show you.' And I said, 'What?' And she said, 'Look at these flowers, do you see these two flowers?' She said, 'One has a pink center with a black outside, and the other one is pink with a black inside. Do you see it?' And I said, 'Yeah.' She said, 'They're connected! Isn't that amazing? There's connections everywhere. Do you see it?'
"And those words were so profound to me in the months and the years since her passing, seeing these connections, and the connections everywhere. And I hear those words in the voice every time I have one of those small little miracles, and I think, 'Do you see the connections mom? They're everywhere.'"
On the immediate aftermath of Emilie's death
"I just couldn't get out of bed, and it was so difficult to be a mother all of a sudden, and the things that came so natural to me now felt impossible to do, just my day-to-day life. I had this innate, motherly instinct to always keep track of all three of my kids, and holding hands was something that was a part of my job, and it was really difficult after she died. I would scramble to make sure everyone was holding a hand and somehow connecting to me as we crossed the street. To recognize that there was one missing, and her hands in particular, I remember such detail about her hands, and my little girls, her sisters, it was really painful when I would hold their hands. I missed her, I missed just connecting with her in that way."
"What was so interesting was, when I could physically feel that weight lifted off, and that peace instantly replaced it, I knew that that's what Emilie wanted for me."

Alissa Parker, on forgiving Adam Lanza
On her decision to meet with Peter Lanza, father of shooter Adam Lanza
"You have to understand, when the shooting happened, the last thing I was really thinking about was my feelings and emotions towards the shooter. I was angry, he was a monster to me, and I felt OK with that for the time being. I felt like holding on to that anger was something I deserved, that I was supposed to feel those feelings. And it wasn't until my husband shared with me an interaction he had with our daughter Madeline. When he was tucking her in for bed, she said, 'When do I get to see Emilie again?' And he said, 'When we are here on this Earth, if we make good choices, when we die, we'll be able to see Emilie again.' And she thought about that for a minute, and then said, 'What about the boy who shot Emilie? What happens to him?' And so my husband posed the question to her, 'What do you think God thinks of him?' And her response was, 'I think that God still loves him, but is really sad about the choices that he made.' And it wasn't until he spoke those sweet words to me that I considered looking at [the shooter] through different eyes. That conversation led us to have a meeting with the shooter's father."
On whether she wanted to hold the shooter's father more accountable
"What I felt was... And I thought about all of those children who struggle with something similar, and their parents, who are desperately trying to find answers, and find help for their child. And if I isolate this father, and I make him feel horrible for the mistakes that he made, I felt like I was turning that finger and pointing it at those parents who were struggling with the exact same thing. And that did not seem at all like the Christlike thing to do. I want to learn from what went wrong, and see what we can do to make sure that this doesn't happen again."
On whether it felt like she could breathe again after forgiving Adam Lanza
"Yeah, it truly did, and what was so interesting was, when I could physically feel that weight lifted off, and that peace instantly replaced it, I knew that that's what Emilie wanted for me."
Book Excerpt: 'An Unseen Angel'
By Alissa Parker
Writing a book about losing Emilie wasn't something I had planned to do. To begin with, I'm very private and reserved. Also, after Emilie died I couldn't bear to think about what had happened to her, much less write about it. Nor, I believe, do most people want to read about something so sad. But violence, grief and loss are not what this book is primarily about; at least, I prefer not to look at it that way. Although it contains tragedy, my story is ultimately not tragic. The story I feel compelled to share is one of help and healing. It is a story of how God's love and protection surrounded me during my darkest hour.
I have always believed that family is eternal, that we are bound with our loved ones by a tie that outlasts disaster and death. But when Emilie died, my faith in this principle was put to the ultimate test. I asked God again and again to help me feel Emilie's presence, to confirm that she still was with me and that our family was and is forever connected. In His own time, he gave me this reassurance. I was granted very sacred personal experiences that allowed me to see and feel Emilie in the small and simple occurrences of daily life. I have no doubt whatsoever that Emilie lives, that she is still a part of my family and that we will be reunited in God's time.
As I have pondered my experiences in writing this book, I have come to realize how truly blessed I have been. I can clearly see that God was indeed faithful to his promises to me the day Emilie died. His help has radically changed my life. I have finally come to the understanding that Emilie's story is one of joy.
Emilie had six wonderful years on this earth. She made every day beautiful. She saw the world in color and spent every moment she could trying to capture that beauty in her artwork to share with others. Through all the pain, I have come to feel this truth with every fiber in me: Emilie's was a beautiful life. I feel honored to have been a part of it. God loves Emilie, and, even now, Emilie has a happy life, even if it didn't follow my plan for her "happy endings."
Excerpted from the book AN UNSEEN ANGEL by Alissa Parker. Copyright © 2017 by Alissa Parker. Reprinted by permission of Shadow Mountain Publishing.
This segment aired on April 19, 2017.