Mexican Senator Ready To Stand Up To Trump Administration
11:08
Play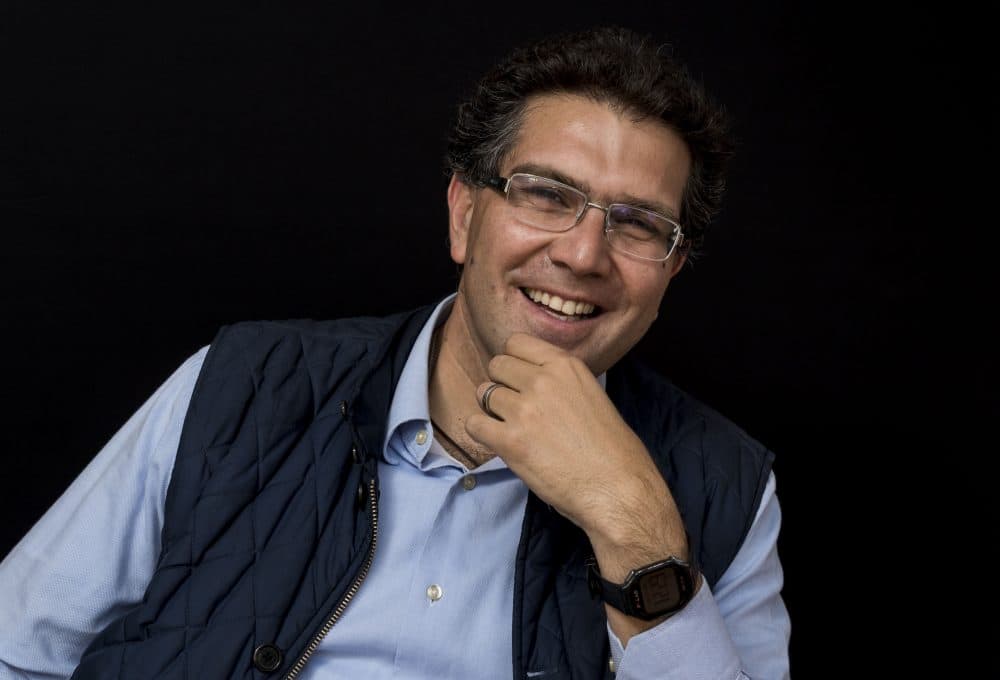 This article is more than 2 years old.
Mexican Sen. Armando Ríos Piter, who plans to run for president in the next election, has called for a Mexican boycott of American corn to retaliate against President Trump's trade policies.
Piter (@RiosPiterJaguar) talks about the future of U.S.-Mexico relations with Here & Now's Jeremy Hobson.
Interview Highlights
On Trump's most recent statements on the border wall
"I don't understand Mr. Trump. I think he may be bipolar, he may be schizophrenic. He sends these kind of tweets, but before, his minister of the interior, minister of homeland security was saying that Mexico was being of so much help to the U.S. regarding security. So I don't understand who I should believe. Of course, I should hear President Trump first of all, but his signals, the way he's doing, the way he's thinking of the relationship with my country, I think it's a very changing one. So this gives us a signal that he doesn't know what to do with Mexico."
On whether Mexico will pay for the border wall
"Of course that is the most stupid thing I've ever heard. That's the way I've seen it every time. I think President Peña Nieto has made a big mistake not saying in the very first moment, not only that he was stupid to allow President Trump that we will pay for it. But we must be calling the wall in its terms. It's a hostile act, it's an unfriendly act. And Mexico should be saying it in all the cardinal points in all the world. We should be saying it in the United Nations, we should be saying it in the [Organization of American States]. We should be telling every country that the United States is being hostile and unfriendly to Mexico, and that the wall represents that.
"He has the capacity to increase what we pay for going to the United States, but that will also cost a lot to the United States. We as Mexicans spend a lot in tourism. If that changes, of course, that will also cost a lot to a lot of Americans, people in Florida, people in California, to people in New York. We Mexicans love to go there. But if he increases visas, we'll stop going there."
"Mexico is a good partner. Mexico has been a very good friend and Mexico does a lot of things for Americans to have security. If they want us to continue doing that, then they must treat us as friends."

Sen. Armando Ríos Piter
On the state of U.S.-Mexico relations right now
"It has been for the last two decades a very important strong one, not only in terms of trade, but also in terms of helping each other regarding security. Also, in terms of migration, doing labor, that's part of our common prosperity. I like to think of the U.S.-Mexico relationship as one that should continue in good terms, but unfortunately, we have now this president who doesn't understand how important my country is. Me, as a senator, and some other Mexicans need to stand up. That's what I've been trying to do."
On his suggestion to boycott U.S. corn
"Those who support Donald Trump's speech are the ones in the Midwest, the ones who support the most his speech. And when I sent this bill into the Senate saying we won't buy any more corn from Iowa to Nebraska to Wisconsin to North Dakota, South Dakota. Then they said, 'What's going on, why is this senator saying this?' We are spending [nearly $2.6 billion] a year regarding corn. This means a lot of money for the pocket of farmers in the Midwest, for producers in the Midwest."
On buying corn from alternative providers in South America
"Surprisingly it is even cheaper. We buy it from Brazil. Especially if the United States is having a hostile position against us it's a good way to tell them we won't continue collaborating. Probably we won't collaborate buying corn, and we won't probably collaborate in terms of anti-terrorism. Why should we be doing it with a hostile administration and the one that Donald Trump is leading?"
On his statement that Mexico should take back territory from the U.S.
"It's a very big territory, the one that was taken from us in [the Mexican-American War]. What I said is that Mexico should be analyzing every treaty we have with the United States. The thing is: Why should we continue collaborating with the United States, with this administration especially? If this administration is saying that Mexico is not a friend, that Mexico is kind of an enemy, that Mexico is taking advantage regarding trade. The thing that we should be doing right now is sending very clear messages to Donald Trump's administration. Mexico is a good partner. Mexico has been a very good friend and Mexico does a lot of things for Americans to have security. If they want us to continue doing that, then they must treat us as friends."
On whether he sympathizes with Trump supporters calling for increased border security
"They have a point, no? I know that they feel uncomfortable for having people who they call 'illegal aliens,' not having papers. But the way to deal with this — there's two ways to deal with this. Attacking their human rights, attacking their civil rights, not recognizing that they've been good people who have paid taxes who are very important for the development of a lot of communities in the U.S. If you recognize that, then we must deal with the issue as a common problem. In between partners, you can have problems and you can deal with them, as a shared problem and trying to build a common solution — or doing what Donald Trump has been doing right now. We are going to take care of this situation, we're going to build the wall and then that's two parts who are separated. In that way, then Mexico must deal with the issue in a different way than collaborating."
On the economic future of Mexico
"Mexico will be a very rich country, a serious global player probably with the fifth-most important economy in the whole world in the next 25 years. This view has to do with the relationship that we have with the United States. That's also in the interest of the United States. We together will have probably 500 million people. That's a huge, a very powerful muscle. The distance in between the minimum wage and Mexican minimum wage is 14 times. That's a reason people are going to the United States, and that's a reason so many Americans are feeling afraid of losing their jobs, they're feeling afraid of knowing people of brown color. There's a lot of fear regarding what's happening right now. That's why the speech and the position of Donald Trump is so bad."
On whether he could work with President Trump if he became the president of Mexico
"I must be able to do that. The issue with Americans, with people from the United States and any part of the world, is talking straight, but if you put with dignity and in a very clear way your position, then that's a good way to talk. And that's the way we've been dealing with the United States not only for 20 years, but for two centuries. That's a way we'd be working with Donald Trump or with [Vice President Mike] Pence or with any people from the U.S. I started at Harvard, I studied at Georgetown. I have very good friends who are Americans. I love Americans. I like dealing with them. I like talking with them, I like laughing with them. But dignity is the kick-start for any kind of relationship. That's the kind of relationship I want to make very clear for my country."
This segment aired on April 26, 2017.