4 Years In, How Bike Sharing Has Impacted New York
05:51
Play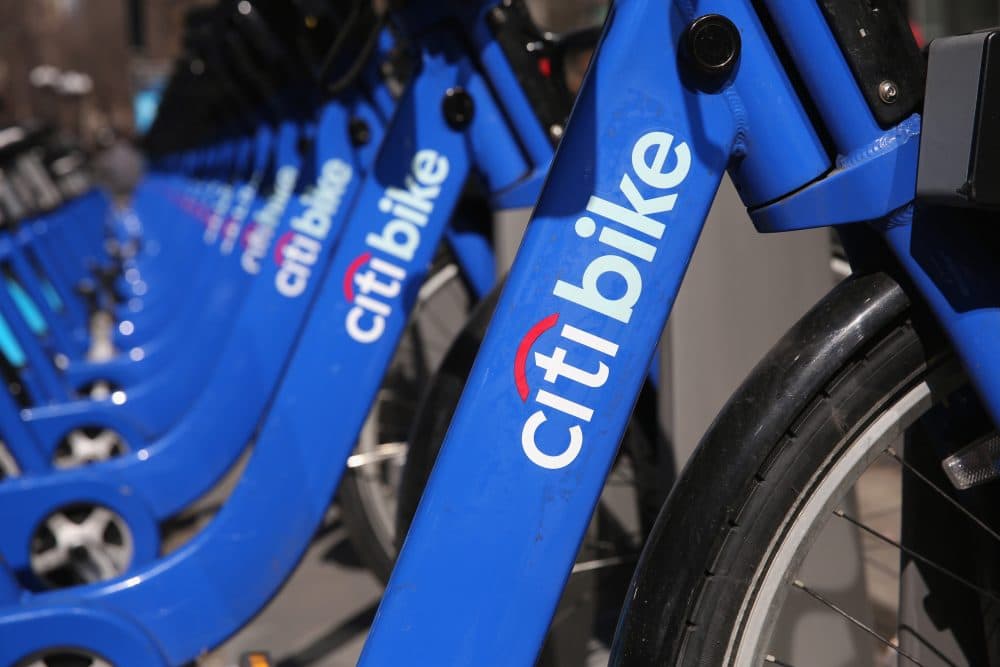 This article is more than 4 years old.
New York City's bike-share program, Citi Bike, turns 4 years old on Saturday. It has the largest fleet of bikes of any bike-share program in the country, and last year riders took 14 million trips.
Here & Now's Jeremy Hobson finds out what's made the program successful from Jay Walder, president and CEO of Motivate, the company that operates Citi Bike.
Interview Highlights
On the state of Citi Bike after four years
"I think we measure it in a number of different ways. I mean first off, we're seeing phenomenal usage. And last year we had 14 million trips on Citi Bike, which is a number that frankly boggles my mind. But I think you can measure it a lot of other ways as well. And one of the ways that we really like is hearing all the ways that people come to us and approach us and say, 'Citi Bike has really changed the way that I get around New York, and it's really changed my life.'"
On whether New York is becoming a safer place to ride a bike
"New York City has been engaged in one of the most extensive programs of building bike lanes, and I think that's hugely valuable. And the other thing that they've been doing — and I think the city has done this so well — is to be able to integrate Citi Bike stations into the design of bike lanes. I think safe biking infrastructure is an essential part of the way that we should be thinking about urban mobility now, and it is really a partnership between Motivate and the city to be able to deliver all of the benefits of biking."
"One of the things that people say to me is, 'It feels like Citi Bike is on every corner.' I think that's a fundamental aspect in terms of having successful bike share."

Jay Walder
On lessons from New York's bike-share program that might benefit other cities
"I think that one of the biggest lessons has really been about the ubiquitousness of bike share. I mean, one of the things that people say to me is, 'It feels like Citi Bike is on every corner.' I think that's a fundamental aspect in terms of having successful bike share. It takes away the sense of thinking about where a station is, and you just think about place, and you assume that a station will be nearby.
"We are in fact expanding a very large program in the San Francisco Bay Area. It'll be 7,000 bicycles, so the second-largest program in the United States. That will start next month. And we're obviously optimistic and very, very hopeful that the take-up in that community will be similar to what we've seen in New York. ... Have [bikes] everywhere, make it feel like it's part of the urban fabric, part of the public transport system, and to give people the sense of freedom and flexibility and control that comes with bike share. I think people are responding to it, because it's offering something that we want."
On why Paris' bike-share program remains larger than Citi Bike
"Paris is the gold standard for bike sharing in the world. They started this. They've done a great job. We're definitely playing catch-up. But we've caught up a lot in a short period of time. New York has seen a 40 percent growth in bike share in the last year, in rides. You're seeing more and more people joining as members, but you're also seeing that every member is using bike share more. And wherever it's convenient, people are grabbing a helmet, they're grabbing a bike and they're taking a trip, and they tend to be quicker and cheaper and more satisfying than many of the ways that we're getting around cities."
Correction: An earlier version of this post incorrectly stated that Paris' bike-share program is the world's largest. We regret the error.
This article was originally published on May 26, 2017.
This segment aired on May 26, 2017.