Gardeners Take Note: Warmer Temperatures Mean New Planting Zones
Play
This article is more than 5 years old.
Backyard gardeners might be surprised to find out that their "hardiness zone" — the Department of Agriculture's designation of where specific vegetables, trees, fruits and flowers can survive — has changed.
The zones are determined by average nighttime low temperatures in each region, and maps published by the National Oceanic and Atmospheric Administration show there's a northward drift of more temperate growing zones.
Here & Now's Robin Young talks with reporter Ari LeVaux (@AriLeVaux), who wrote about the changes for Montana's High Country News.
Interview Highlights
On people growing peaches in Montana
"Not just peaches, but huge peaches. Peaches that will just get your entire face wet. It's really something."
"This is actually outside of Missoula, in a town called Paradise, where the Blackfoot and the Clark Fork rivers come together before they flow out into Idaho. So it's a region we call the 'banana belt,' it's the warmest spot in Montana, and those warmer zones have been creeping up the river from Idaho from the West Coast, and they've invaded Montana, essentially, right there."
On whether there's been a plant hardiness zone change in Montana
"Yes, down by Paradise where the peaches are grown, they have recently been upgraded from a 5b to a 6a."
Below is a 2012 plant hardiness zone map, from the U.S. Department of Agriculture. Find your plant hardiness zone here.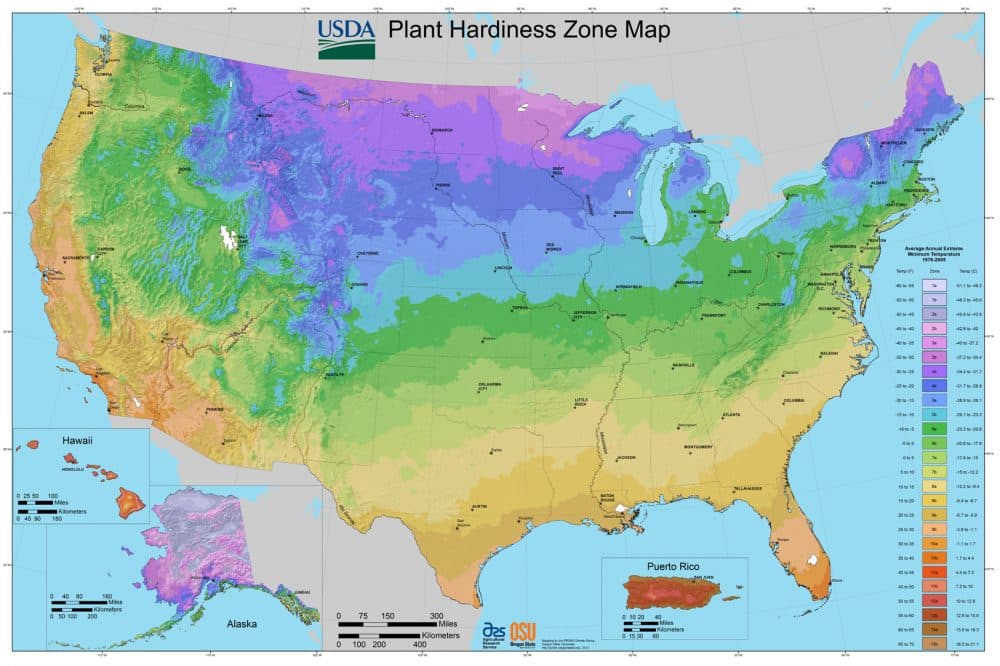 On seeing things grown in Montana he's never seen grown before
"It's amazing. I've recently purchased ginger, Montana-grown artichokes, and also things a little more subtle, like a lot more peppers, because you don't have to grow them in a greenhouse anymore, so everyone has just tons of peppers. And out on the plains, farmers are cutting alfalfa three times when they used to cut it two times."
On concerns about cold extremes
"For example the peaches — and other fruits, too, like apricots, plums, apples, nectarines, all of which grow in Montana — what you worry about is a warm February or March, which can trigger an early bloom. And then suddenly we revert back to normal and have a hard frost and all the flowers die, and the farmer gets an unpaid vacation."
On what he's planted
"Inspired by Tom McCamant, the peach grower who took a chance 15 years ago on a warming climate, I've also [taken] some much smaller chances on a Chicago fig tree, which is actually rated Zone 5, believe it or not, and a Russian pomegranate, which is rated Zone 6. And we have not actually officially made the jump to Zone 6 in Missoula, but it seems like a matter of when and not if. So I'm just gonna keep that Russian pomegranate alive as long as I can, and see what happens."
This article was originally published on June 21, 2017.
This segment aired on June 21, 2017.