Are Cheap Flights To Europe Here To Stay?
Play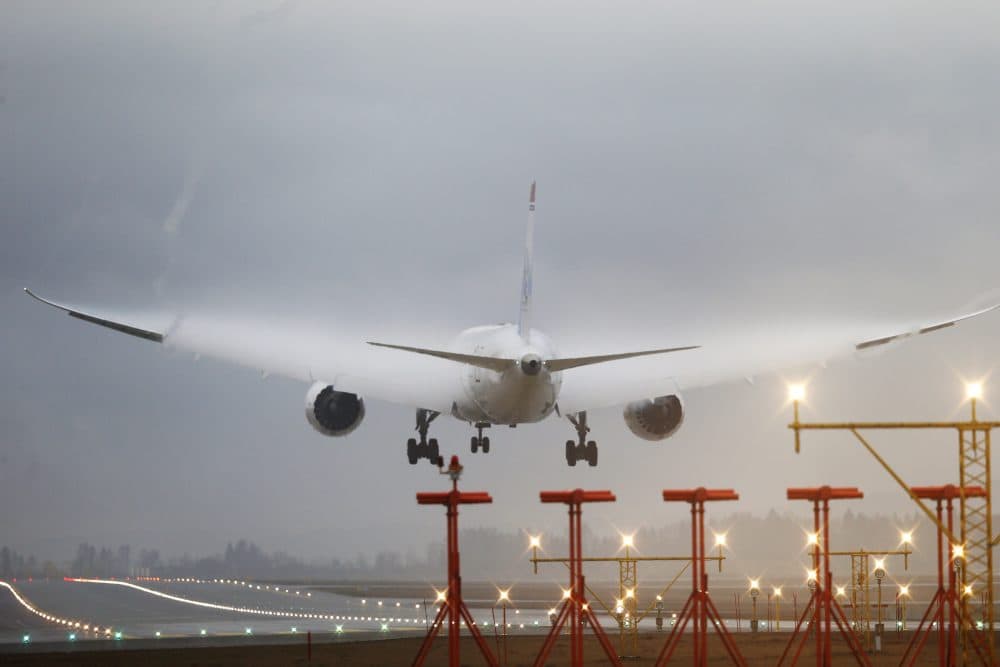 This article is more than 5 years old.
If you're flying to Europe this summer, you may have noticed some new flights from discount foreign carriers: Danish carrier Primera Air recently announced new routes from Newark to London. Norwegian Air recently announced new service from Denver to Paris, and the airline is also expanding flights in Austin and Chicago. And Iceland's Wow Air recently started flying from Chicago to Reykjavik.
Here & Now's Jeremy Hobson finds out more about what's happening — and whether flights to Europe are a sustainable business for budget airlines — from Airline Weekly's Seth Kaplan.
Interview Highlights
On low-cost airlines entering new markets
"There's a lot of demand for leisure service between the U.S. and Europe, I mean that is the fastest-growing segment of the marketplace. Corporate travel is the higher-yielding part of the business, basically, higher airfares, but it's not growing as rapidly. So these airlines are trying to go where the growth is. It's not a new concept, it's been tried a number of times over the decades. Cheap fuel prices are helping somewhat this time, airlines think that when fuel is cheap, things that might not work as well in another environment can work."
On low-cost carriers like Norwegian Air and their profitability
"Well that's the big question. If you just sort of look at the growth, you might think, 'Oh, these airlines must be doing really well, right?' Well, Enron was a really big and growing company, we know how that ended. Now, Norwegian, to be clear, is not Enron, I mean they're providing a very real service, actually great for consumers: They're people who are able to travel, from a U.S. perspective, to Europe, in some cases for the first time, who could never afford to do it before. The problem is that the company's not really making money doing it. Looking at their earnings here in the past couple of quarters, they're likely to lose money this year; that's despite fuel prices being as low as they are, and so you'd have to think that if fuel were to go up, anything beyond just a little bit, they could be in real trouble."
"As a consumer you certainly root for it to succeed, but the burden of proof is still very much on the airlines who are trying something that hasn't worked until now."

Seth Kaplan
On low fares — like Providence to Belfast for $238 round trip on Norwegian — being too good to be true
"It is the law in America, for the past several years, that when you advertise a fare, it has to be possible to travel at that fare. Now, to be clear, that doesn't include food, it doesn't include checked bags, but yeah, as long as you pack light, you can really do it. I mean, the answer is that [Norwegian] can't make money charging everybody that. The lowest fare has to sort of be balanced by some higher fares for people maybe booking at the last minute, for example, but right now they're just trying to develop a market like that, because that hasn't existed before, and hope that word of mouth helps them build the market. But they do have to count on, at some point, something changing, because right now — although they don't break out their earnings by market and they also have a short-haul operation within Europe, very much like what Southwest does within the U.S. — it's fair to guess that if the company's not doing all that well, and if they're doing something else that kinda does make money for their competitors... this trans-Atlantic service probably isn't doing all that well."
On airlines like Wow Air competing strategically in the trans-Atlantic travel market
"Their advantage would be in some of the secondary markets, where Norwegian doesn't compete. You're right, a nonstop flight is always gonna win — in terms of convenience at least — over a connecting flight. Sometimes people connect to save money, but it's pretty hard to save money over those kinds of fares that you mentioned, so Wow is, to a degree, gonna have to specialize in markets where there's probably never going to be a nonstop flight — let's say Baltimore to Bristol, England, which Wow can offer you on a connecting basis. Norwegian's probably not going to offer that nonstop, so in that case, that is the most convenient way to travel between those two places perhaps.
"Wow by the way also has the benefit of, because of its geographic position — there are limitations when your home market is Iceland, a rather small, local market — but one benefit is that the geography is such that you can fly smaller aircraft deeper into the United States than you can from anywhere in continental Europe or even the U.K., and that's important because sometimes you can fill a smaller plane, whereas you might not be able to fill a larger aircraft. Norwegian in most cases is still flying these [Boeing 787 Dreamliners] across the Atlantic where you have to fill nearly a few hundred seats, so Wow does have that benefit of being able to use what you might call lower-risk aircraft to penetrate the U.S. ... As a consumer you certainly root for it to succeed, but the burden of proof is still very much on the airlines who are trying something that hasn't worked until now."
On the response from U.S. carriers like American, Delta and United
"They can't just ignore it, because these are fares that are in the marketplace. Now, look, a time-sensitive business traveler who has to get from New York to London for a meeting, and has to know that there's gonna be, if the meeting goes late, there's gonna be another flight there's going to be another flight two hours later, if the meeting ends early, there's gonna be one they can hop on. That kind of person is not probably going to be considering Norwegian, so Delta, United and American don't have to go toe-to-toe with Norwegian on those kinds of fares, but these are seats that are in the marketplace, and at the right price, all kinds of people will consider them."
On the changing market as exemplified by expansion into Fort Lauderdale, Florida
"I used to live there, and I remember this odd kind of blue-ish-purple-ish 767 for a few years was landing, it said 'Zoom' on the side, it was an airline called Zoom, that was flying between London and Fort Lauderdale, and it was one of the last of the airlines to have tried this sort of thing. Then during the fuel price spike last decade, that finally put paid to Zoom, and for a number of years there was nothing of that sort of service. Now, you go to Fort Lauderdale, it's just one example of this sort of thing, but a very dramatic one. You have Norwegian flying by a few weeks from now to six different cities in Europe: Stockholm, Copenhagen, Oslo, London, Paris, Barcelona.
"It really is a changed world, all kinds of new options for travelers, which is why you hope that this — from the perspective of consumers — can work out. Norwegian says, 'This time is different,' they say, 'Forget all those experiments that didn't work in the past, aircraft technology and so forth have changed things this time,' and so far their profits aren't really there to sort of confirm that, but let's watch here and see what happens."
This article was originally published on August 09, 2017.
This segment aired on August 9, 2017.