Letter Project Connects Newtown Students To Kids In Distant Honduran Village
Resume
Families struggling to cope with the 2012 mass shooting at Sandy Hook Elementary School in Newtown, Connecticut, have taken a number of steps to pay tribute to their lost loved ones — starting charities in kids' names, speaking out about gun violence and simply spreading kindness.
Among them are three Newtown physicians — Drs. Joe Young, Eric Chanko and Daniel Federman — who make frequent medical missions to Honduras with the not-for-profit Community Health Partnership Honduras. They decided to pay tribute to Sandy Hook victims by connecting Newtown elementary school students with kids in a remote village — through letters.
'A Great Tribute'
Young walks through the courtyard of the Lempira Elementary School in La Florida, Honduras. With his patterned scrubs, Harley-Davidson headband, white hair and beard, he looks like a cross between a biker and a rock star — and that's exactly how the kids treat him. The 62-year-old optometrist is a lifelong Newtown resident.
The school draws kids from communities around the region. Poverty is endemic and only a handful of the kids will continue school beyond sixth grade, when education isn't free. But Young says that one thing the kids will have is "a letter with their name on it from a child in Newtown."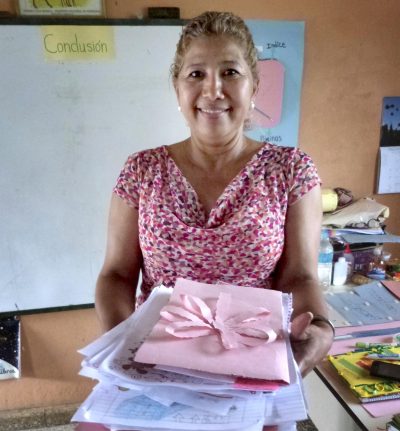 Young says he met with the principal of Newtown's Hawley Elementary School and gave him names of all the kids he meets at the Lempira school, from first grade up, so that the Newtown kids can send them personal letters.
"Health care is important," Young says. "But without the total package of having the connection, the happiness, the feeling of being part of the whole..."
Before he can finish his sentence, he's distracted by kids heading out to recess. After a round of high-fives he returns to the question: Why the letters?
"To help the kids out, you know, is a great tribute," Young says.
What he means is a tribute to the kids lost in Newtown. Federman says the idea of the letters is to bring people together.
"Obviously for those of us who were living in Newtown during that time, it was really devastating, and one of the things that resonated was that some of the victims' families wanted the rest of the world to be kind," Federman says. "Just be kind. And that's how they wanted to deal with the loss of their children and the tragedy."
The Power Of Letters
The letters are given out at a special assembly in the school courtyard. Kids are bouncing around, jumping, waving their letters. Some come over to introduce themselves. They're between 9 and 11 years old and they can't wait to talk about their pen pals.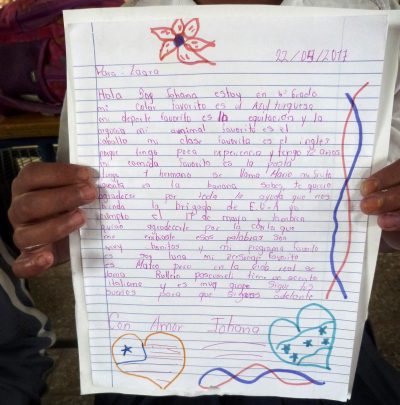 One girl, Nathalie Martinez, says the letter made her feel special because it's the first time she's ever received mail, or seen a letter — there's no post office in her village. Another boy, Axel, says he loves finding out what kids in the United States do, what they eat. He calls it inspiring.
Miriam Avila teaches at Lempira. She holds a stack of elaborately decorated letters — the replies her students will be sending back with the brigade to kids in Newtown. She says thinking about the Newtown tragedy gives her goosebumps and brings her incredible sadness. But if the letters are meant to spread kindness, she says, it's working.
Johanna Martinez Lopez, 11, takes her reply from Avila's pile and asks to read it. She tells her pen pal that she likes horses, and the color turquoise. But for Avila, and for the Newtown physicians, it's her last words that matter most.
"With love, Johanna."
This article was originally published on August 31, 2017.
This segment aired on August 31, 2017.