Béla Fleck And Abigail Washburn Want To Share 'The Glory Of The Sound Of The Banjo'
11:08
Play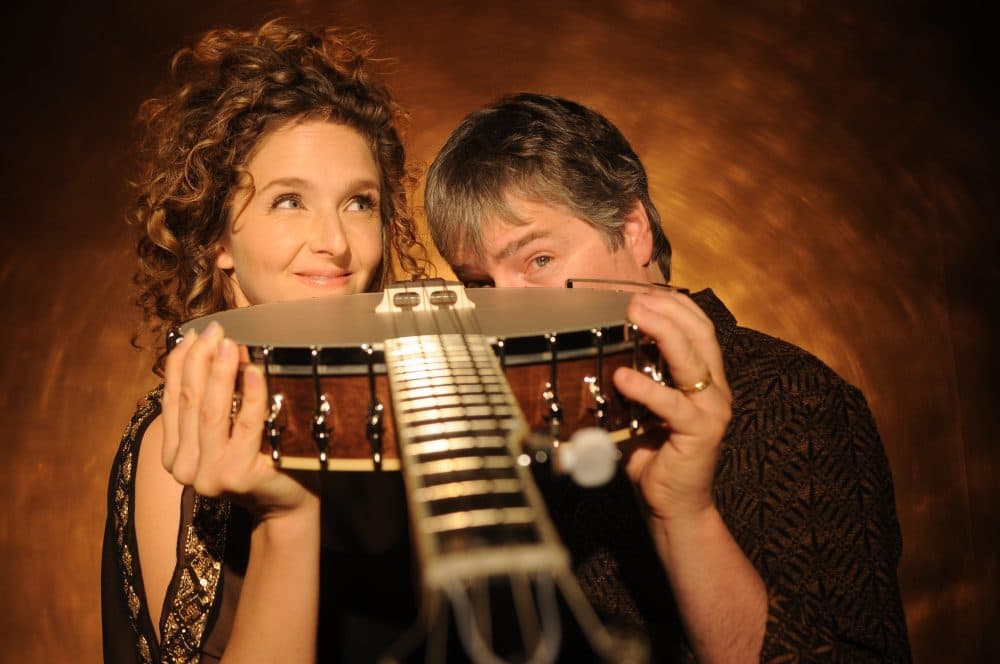 This article is more than 2 years old.
Banjo duo Béla Fleck (@belafleckbanjo) and Abigail Washburn (@abigailwashburn) are on tour promoting their latest album, "Echo in the Valley."
They stopped by our studios for a bit of a concert and a chat with Here & Now's Peter O'Dowd.
Interview Highlights
On the rule that the album's sound had to come only from the two of them
Abigail Washburn: "Sometimes you go to see a show, and when you pick up the music, it's like, 'Oh whoa, this is really different music than what I heard on stage.' And I think Béla and I really love the aesthetic of sounding like us, everywhere, all the time. And there's also a point of pride, which is that there really aren't banjo duos out there. And so we wanted to share with people the glory of the sound of the banjo, at least from our perspective. We wanted to be able to share that with people, and tell them, 'You don't need more than banjos.'"
On another rule: banjos only
Béla Fleck: "The thing about banjos is a lot of times, you hear it, and you go, 'Wow, can one person possibly be doing that? And I don't mean that in some, like, ego-y way. I mean that's the nature of banjo. It's a lot of repeated notes, and a lotta times you have multiple voices happening inside. With two banjos we can make a lot of sound, and there would be the temptation to listen to it and go, 'Oh there's probably some overdubs.' So we liked the idea of saying, 'No no, this is just what two banjos can sound like.'"
"I think Béla and I really love the aesthetic of sounding like us, everywhere, all the time."

Abigail Washburn
On their song "Over The Divide"
AW: "This is at the height of when we were hearing about the Syrian refugee crisis in the news, and we woke up one morning and saw a link to an article about this guy named Hans Breuer. His family was ferried through the night to safety and friends during the Holocaust. And so he got in his minivan and he drove down the unmarked roads that only sheepherders know, over the Austro-Hungarian border to the other side, and found Syrian families who had walked that far from Syria through the fields. And he picked them up in his minivan and he took them back over the border, undetected, to safe places in Austria."
BF: "While yodeling."
AW: "And the Syrians in the back of his minivan were just having a laugh."
On how being married has impacted how they make music
BF: "I think, on the first record, honestly we made the record right after our boy Juno was born, and so we really had to work with things that we already had. We weren't writing a lot of music. But on this new album, now he's 3 years old, 3 and a half by the time we started working on it, and we really tried to write words together. And it was a really different experience, because we didn't always agree about it. It was particularly tough because when someone you love doesn't like your idea, it hurts, and you have to kinda get past that to where the best solution is.
"But gradually, as we started to find, like, we'd finally finished a version of this song 'Harlan' that we both love the lyric we came up with, and it was like, 'Hey we got one,' and then we got another one, and then pretty soon we had four of them. It was like, 'Well, we got four songs that we both really agree.' And we had to discard some of the ideas that each of us were very attached to and find the middle ground between us. That's what relationships are all about."
On "Take Me To Harlan"
AW: "It's a special challenge we decided to take on for this record. In fact, that's the way we decide to do a lot of songs. There's some goal, a challenge, something you want to rise to that you've never risen to musically before. And in this one it was definitely doing Appalachian clogging moves, very simple moves that I know, but enough to get into trouble and try to do for percussion to a song."
On how their song "Railroad" evolved from "I've Been Working on the Railroad"
AW: "It's an incredibly organic process sometimes. My grandma sang ['I've Been Working on the Railroad'] to my mom when she was going to bed, and my mom sang it to me when I was going to bed. But in the major version, which sounds a bit different from the one we do …"
BF: "Abby was teaching Juno how to bang on the table when he was maybe 1 and a half and she was singing along … But I called home from out on tour and she said, 'Hey, check this out,' and she started singing, 'I've Been Working on the Railroad' in a minor key while they were banging, and I thought, 'Wow, that's awesome he's banging on the table, but I've never heard that song done that way before.' I said, 'Honey we should do something with that. That's a really special thing.'"
On music changing organically as it's passed down through generations
BF: "That's the folk process. And I would argue that if you don't change it, maybe you're not serving the song that well. If you just do it as a museum version of what it's always been, maybe you're not giving it everything you could give it."
This article was originally published on November 23, 2017.
This segment aired on November 23, 2017.