What Had The Food World Sizzling In 2017, Plus A Few New Year Predictions
Play
This article is more than 5 years old.
As the year draws to a close, we want to take a look at the world of food — what was trending this year, and what might be hot in 2018. Here & Now resident chef Kathy Gunst joins Here & Now's Lisa Mullins to share two food trends and recipes that incorporate them.
---
Trend No. 1: Spices And Spice Blends
Here are two of my favorite places to buy interesting spices and spice blends:
La Boîte Biscuits & Spices makes delicious blends, by Lior Lev Sercarz. There is a storefront in New York City, or you can order online.
Stock + Spice in Portsmouth, New Hampshire, has great spice blends and very fresh herbs.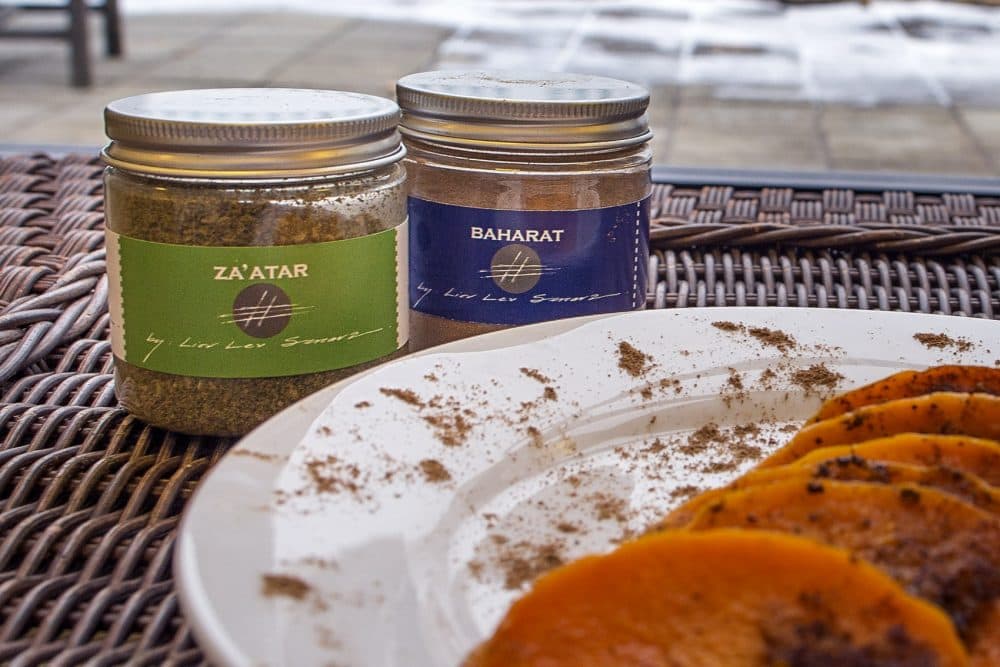 Roast Butternut Squash With Bahārāt
This simple dish — roasting slices of butternut or acorn squash — takes on a whole new dimension with the addition of an interesting spice blend.
In this case I sprinkle the squash with bahārāt — which is the Arabic word for "spices" — a spice blend popular in Yemen, Turkey, Egypt and North Africa. It is usually finely ground and goes well with meat, fish or vegetables. Bahārāt combines allspice, cinnamon and cloves.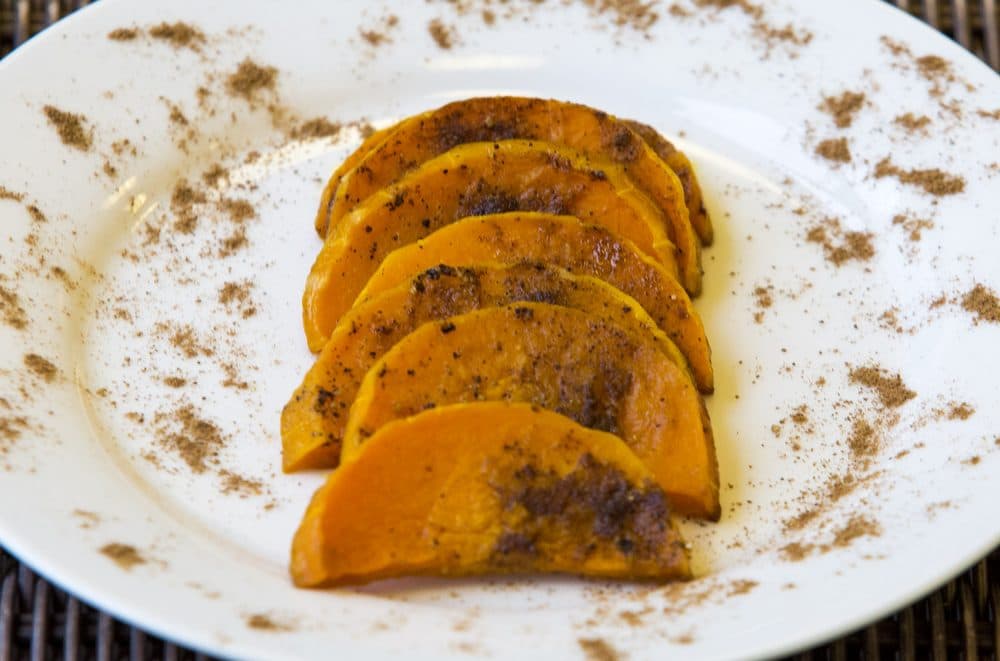 Ingredients
1 butternut or acorn squash, peeled, seeded and cut into 1/2-inch slices
1 1/2 tablespoons olive oil
Salt and freshly ground black pepper
Generous dusting of bahārāt (or a blend of allspice, cinnamon and cloves)
Instructions
Heat the oven to 425 degrees.
Spread out the squash slices on a cookie sheet or rimmed baking sheet. Drizzle with the oil, salt and pepper and sprinkle with the bahārāt. Bake on the middle shelf for about 10 minutes, gently flip over, sprinkle with a touch more salt, pepper and bahārāt and bake another five to 10 minutes, or until tender when tested with a small, sharp knife.
Serve hot or room temperature on their own, as part of a salad or with a yogurt-bahārāt sauce.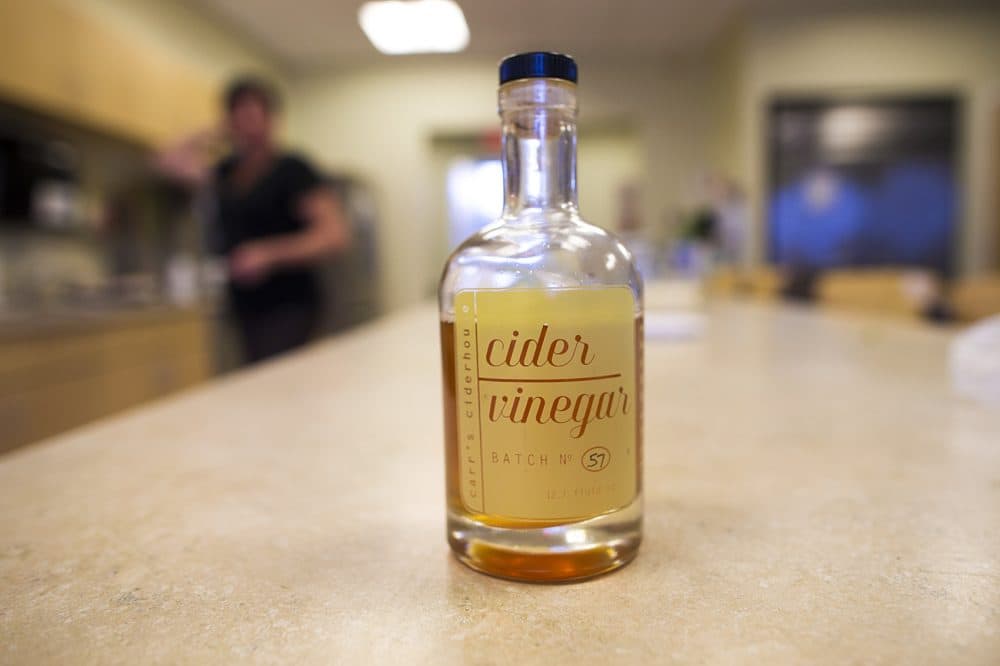 Trend No. 2: Vinegars
To learn more about vinegar, check out "Acid Trip: Travels in the World of Vinegar," by Michael Harlan Turkell.
Chicken With Red Onion, Garlic And Apple Cider Vinegar Sauce
This is my American take on the traditional, classic chicken with garlic and vinegar dish from Lyon, France. Look for really good apple cider vinegar -- I used Carr's Ciderhouse cider vinegar in this recipe. Serves 4.
Ingredients
1 1/2 tablespoons olive oil
1 large red onion, very thinly sliced
6 to 8 cloves garlic, peeled and left whole or cut in half if large
1 teaspoon fresh chopped thyme, or 1/2 teaspoon dried
One 3- to 4-pound chicken, cut into 8 pieces
2 teaspoons butter
Salt and pepper
1/2 cup aged or good quality cider vinegar, wine vinegar or sherry vinegar
1 tablespoon water
Instructions
Heat the oven to 425 degrees.
In a large ovenproof skillet, heat 1/2 tablespoon of the olive oil over low heat. Add the onions and cook, stirring occasionally for 10 minutes. Add the garlic and thyme and cook another three minutes. Remove the onion-garlic mixture to a plate.
In the same skillet add the remaining oil and 1 teaspoon of the butter and raise the temperature to moderately high. Brown the chicken pieces, seasoned with salt and pepper, about four minutes per side. Remove some of the fat from the bottom of the skillet but not all — make sure there is at least 1 tablespoon left. Make sure the chicken is skin side up and add the cooked onions and garlic back into the skillet, and then splash in the vinegar and the 1 tablespoon of water. Bring to a simmer.
Remove from the heat, cover with a lid or foil and place on the middle shelf of the oven. Bake for 20 minutes, basting the chicken with the pan juices once or twice. Remove the lid or foil, add the remaining butter and roast another five to 10 minutes or until the chicken is cooked, and the juices run clear yellow and not pink when pierced with a small, sharp knife. Serve hot with the pan juices on top.
This segment aired on December 29, 2017.