New Baltimore Police Chief Will Help Department 'Start To Rebuild,' City Councilor Says
10:56
Play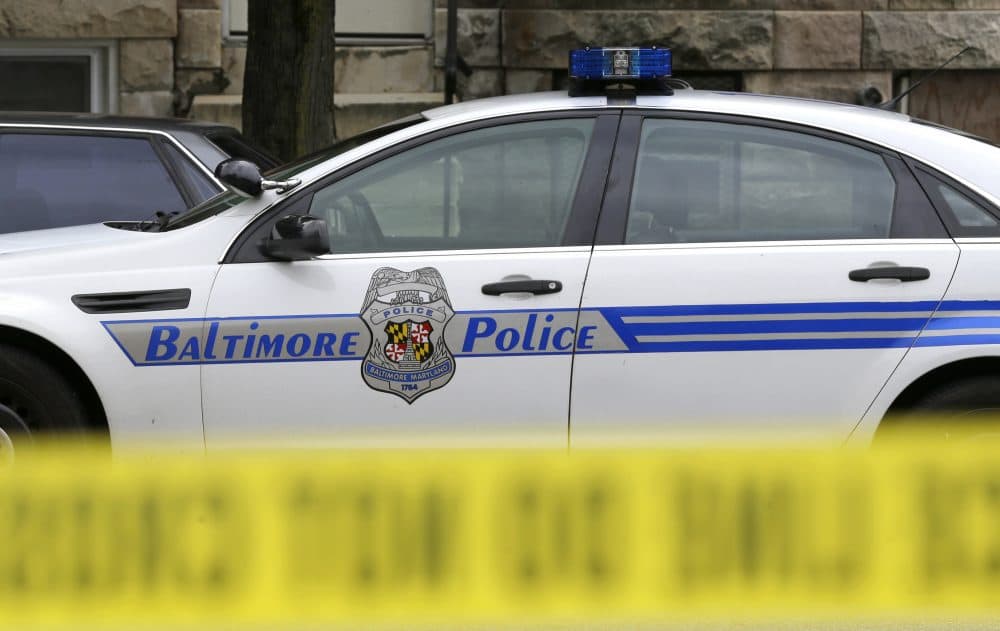 This article is more than 3 years old.
In his first full week on the job, Baltimore's new police chief Darryl De Sousa has a lot on his hands. De Sousa was promoted to the position last Friday after Baltimore's mayor fired the previous police commissioner, Kevin Davis. The city is grappling with a record number of killings.
Baltimore City Councilor Brandon Scott (@CouncilmanBMS) worked alongside De Sousa when De Sousa was a lieutenant and later deputy commander in his district. Scott had been advocating for De Sousa to become police commissioner as far back as 2015.
"I think that Darryl De Sousa is the right police commissioner for Baltimore, where we are in Baltimore in its history," Scott (@CouncilmanBMS) tells Here & Now's Jeremy Hobson.
Interview Highlights
On why naming Darryl De Sousa police commissioner was a good decision
"It is very important that he came up here, he lives in the city. It's also critically important that he's an African-American man, so he understands what's going on. He has a young son, a young daughter, who live the life of young black people in Baltimore and who are at the same risk as the other young people in Baltimore. So he understands as a father, as a black man himself, as a police officer, he knows everything about this department. So he knows what's wrong with BPD, what's right with BPD and how BPD can start to rebuild and regain the trust of the citizens of Baltimore and become a safer city."
On Kevin Davis, who was fired as police commissioner by Mayor Catherine Pugh
"I think that where Commissioner Davis fell short was on the crime fight, and what we're expecting from this commissioner ... and let me be clear, again, I've been on the record, folks have to understand that the Baltimore Police Department itself will not reduce crime for years on end in Baltimore. We have to have a holistic, comprehensive public health approach to attack the disease of gun violence."
"We cannot continue to think that we're gonna solve the disease of gun violence in Baltimore simply through the lens of policing."

Baltimore City Councilor Brandon Scott
On why Baltimore has seen such a high number of murders in recent years
"I think it's important to understand that we had a flash-bang point in 2015 with the Freddie Gray unrest. But folks have to understand that things were bubbling up even before that. Once that stuff starts to grow, once you have drug shops and drug corners that have been closed down for five, 10 years reopened, you're gonna have that, you're gonna have those beefs, you're gonna have things going back and forth. You add on top of that, you have an event like Freddie Gray, and you had this unrest and you have things that folks were just simply not prepared for, it's hard to come back from that."
On how much the violence has to do with the death of Freddie Gray in 2015, following a spinal cord injury Gray sustained while in police custody
"I think that it's partially to do with that. I think that there were so many factors already leading up to that. Folks forget that before Freddie Gray, violent crime was already up. Freddie Gray just blew that up to epic proportions. And then I would also like to say that the year following ... so 2015 was a very bad year, 2016 they saw a decline. And then last year we saw an increase again. So that's my point about this commissioner being right for this time in Baltimore, and we have to ensure and work to make sure that he's successful, but that everybody's at the table from every city agency, every business leader in Baltimore, to make sure that the city's a safer place. Because we cannot continue to think that we're gonna solve the disease of gun violence in Baltimore simply through the lens of policing."
On the issue of trust, amid a trial beginning this week involving a corruption scandal at the Baltimore Police Department
"I think [police] have to rebuild and earn that trust, and I think that's why the consent decree is important, and I think that's also why the hiring of this new commissioner is important. Because, listen, these things have gone on for far too long in this department, and there had [to have been] people at high levels of the department who were allowing it to go on. And I think that having these cases and these incidents — even from incidents on body camera — ultimately will be great for the city of Baltimore, because we need to root out those people and let folks know, make examples of them. This will not be tolerated anymore. Those days are gone. And the public trust will come back from us recognizing these falls, but then rebuilding and bringing in folks who truly want to work for the community. The officers don't want to work with individuals like those that are being prosecuted by the federal government, because they can't trust them, they can't watch their back. They don't know if they're gonna be on their side or on the side of the criminals. So people have to understand that as well, and that's how we're gonna have to rebuild that trust."
This article was originally published on January 25, 2018.
This segment aired on January 25, 2018.