'Planet Earth: Blue Planet II' Celebrates 'Wonder And Complexity' Of Life In Our Oceans
Resume
Seventeen years after the first "Blue Planet" series, the BBC returns with "Planet Earth: Blue Planet II," which uses cutting-edge technology to film in the oceans and capture the animals and creatures that live there.
"I think, for many of us, the oceans are remote worlds, alien worlds — we even fear it — filled with slippery, cold creatures," says "Blue Planet II" series producer Mark Brownlow (@macbrownlow). "And we tried really hard to show a different side of marine creatures and really reveal their true complexity and intelligence."
Interview Highlights
On making a follow-up to the first "Blue Planet"
"That series was a seminal underwater series that captured the imagination of a generation of ocean-lovers. And 17 years on, we have huge advancements in camera technology, diving technology — but more than that it's an era of ocean exploration, the last decade. So there's just incredible information and new understanding of ocean life, of its complexities, its intricacy, and so it really was time to combine those three ingredients to make a brand-new 'Blue Planet' series."
On the more advanced technology
"What new technology did was open up new opportunities. For instance, off the Sea of Cortez, mobula rays at night come in to feed on shoals of plankton, that, as they disturb them, light up in bioluminescence. Now, that was only possible to film two years ago because camera sensor low-light technology was good enough to actually capture the light of these flashes. We could never have done that 10 years ago, let alone five years ago, so it's huge advances in camera technology that open up new filming opportunities."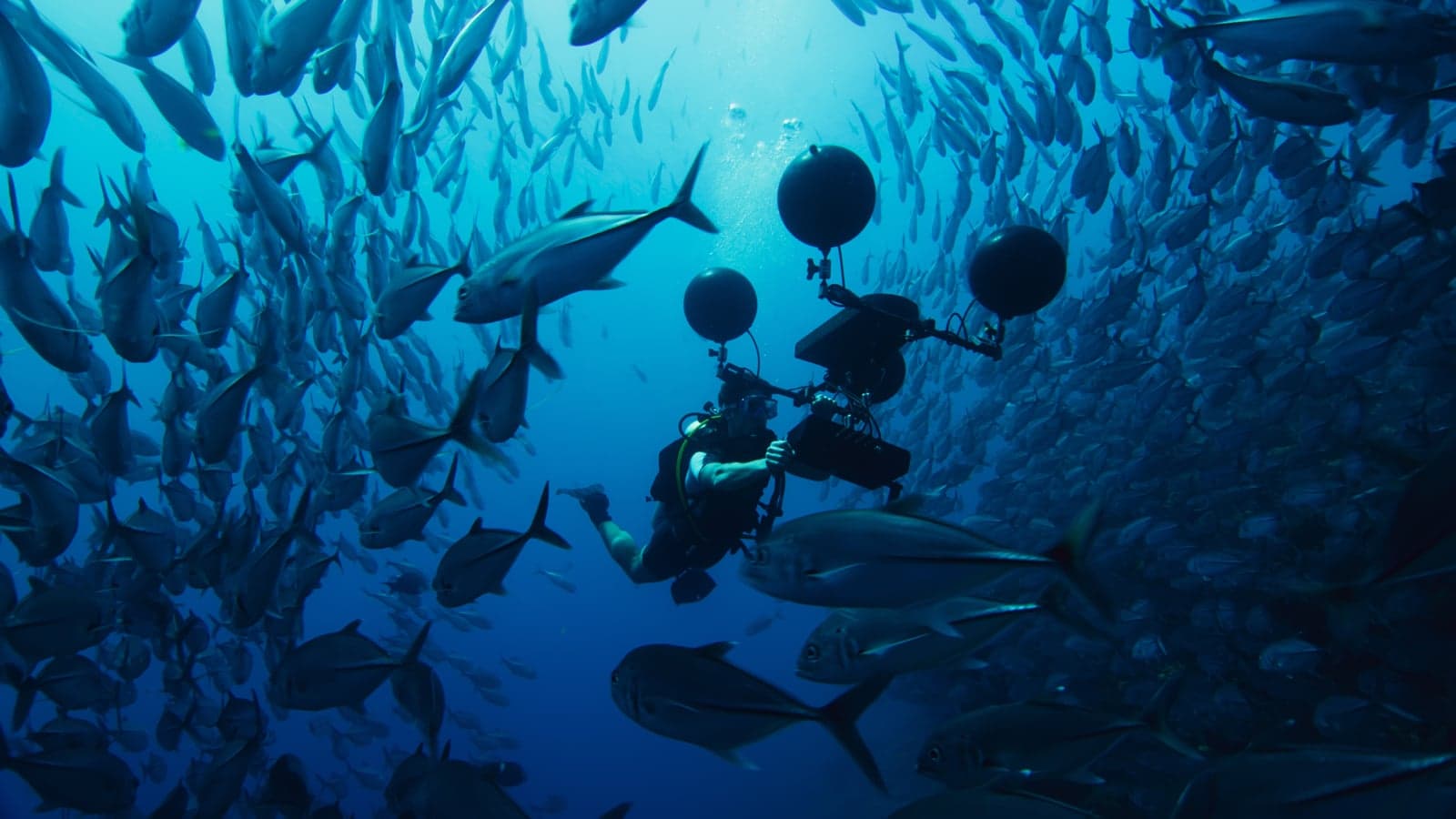 On how the presence of humans changes animal behavior
"If the animal is impacted by your presence, you can't film natural behavior, and we're all about filming unique natural behaviors. What's been amazing is with the advent of rebreathers, which are these underwater breathing [apparatuses] that enables you to recycle your air so you don't exhale like with scuba, it does two things: It means you can dive in silence and you can dive for longer. So we can sit underwater — for instance, off the Great Barrier Reef in Australia — for 4 1/2 hours and wait in silence, for a tuskfish, which is a remarkable reef fish that has found a way to get at the soft meat in clams by smashing it against the side of a particular piece of coral reef. What's ingenious about that is that it's a demonstration that a fish can use a tool. It means that they have intelligence. So it's with the rebreather we can sit in silence and observe week after week and gain the trust of this tuskfish, that we could open new filming opportunities.
"But, for instance, in the deep, we did have to use lights because we were 1,000 meters underwater, and sometimes fish would sort of stare a bit mesmerized. But typically, you know, again, we don't want to just film portraits, we want to film behavior. So if they weren't going to play ball with our lights, we'd have to rethink our strategy. So, for instance, we filmed Humboldt squid feeding at 800 meters off the coast Chile, and they don't like white light, so we had to film with infrared light. And we were able to film them, not only feeding on lanternfish, these great squadrons of 2-meter long Humboldt squid — when they run out of lanternfish they would turn on each other, and we were able to film cannibalistic behavior."
"I think it's just redefining people's preconceptions of what these creatures are truly capable of."

Mark Brownlow
On filming near Antarctica
"We are pioneering breaking new territories, and we were the first people in history to dive in a manned submersible to the very depths of Antarctica. And no one was quite sure how the submersibles would cope with the extreme cold, and sure enough one of the seals sprang a leak. And it's a testament to the professionalism of the sub pilots that they could coolly and calmly seal it up whilst under huge pressure and avert a disaster. We plan our risk with meticulous detail, work with only the best professionals, but there are a few curveballs that come your way at times."
On the intelligence of marine life
"I think it's just redefining people's preconceptions of what these creatures are truly capable of."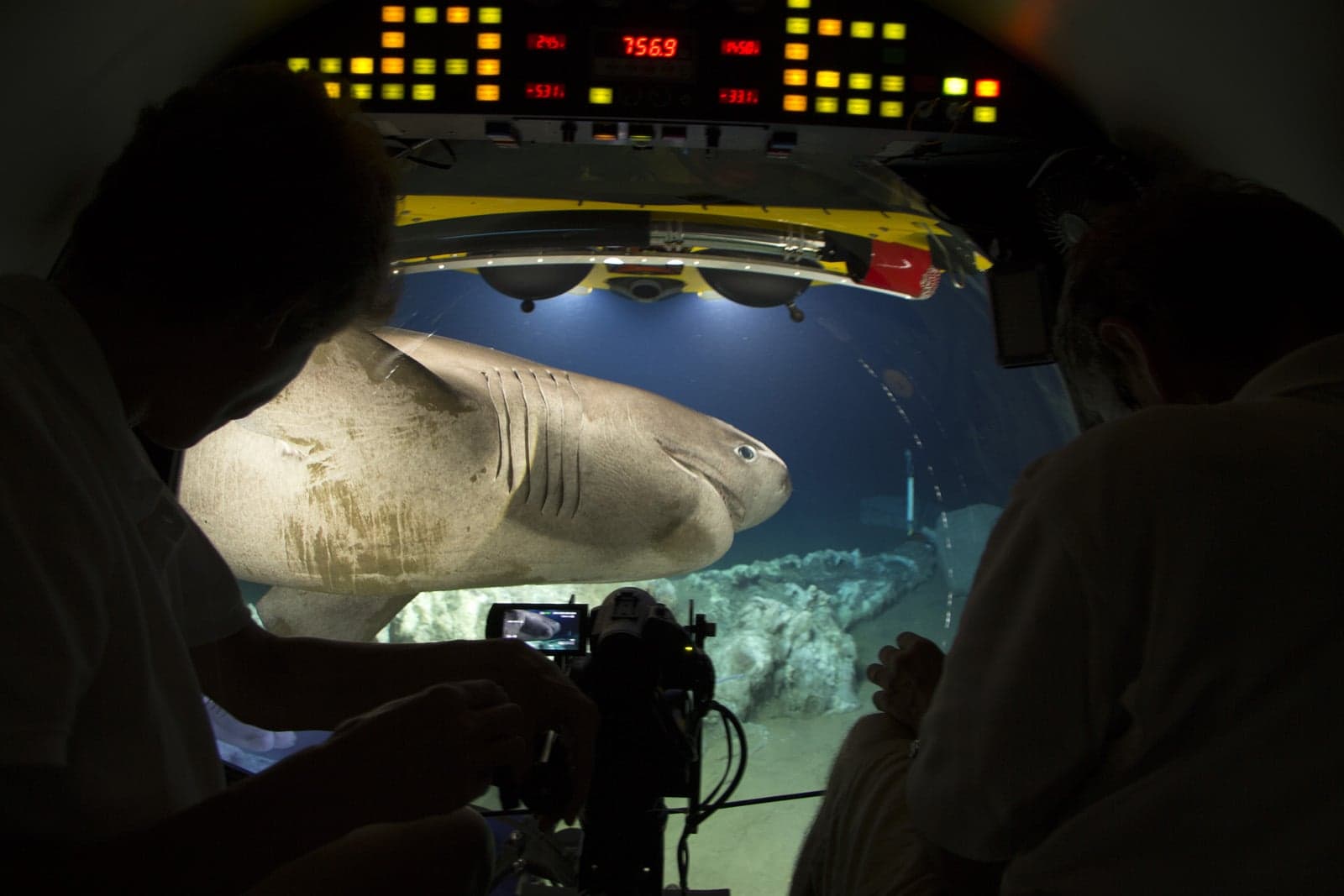 On issues like pollution and climate change in the series
"We never set out to make a campaigning series about the oceans. This is a series that celebrates the majesty of the oceans, the wonder and the complexity of life within. But, we could not avoid, during the course of the four-year production, [witnessing] catastrophic events like the two greatest bleaching events that the Great Barrier Reef has ever witnessed. We came across plastic pretty much wherever we went, ocean plastic. So, it was important that we showed a contemporary depiction of today's oceans. So we included the stories. Whether it's gotten worse from the original 'Blue Planet' series — yes it has. Things are exacerbated, pollution is more extreme than 20 years ago, noise pollution. The oceans are in trouble and need our help."
On whether there will be a Blue Planet III
"Well, what I can say is that only 10 percent of the ocean has been explored, and the more we look the more extraordinary the stories there were. And I can say with confidence that there are those incredible new stories to be filmed. But I would like to give the audience a little bit of a breather before we launch back into it once again."
This article was originally published on February 26, 2018.
This segment aired on February 26, 2018.