The Attack That Almost Happened: Foiled School Bomber Rebuilds His Life
11:03
Play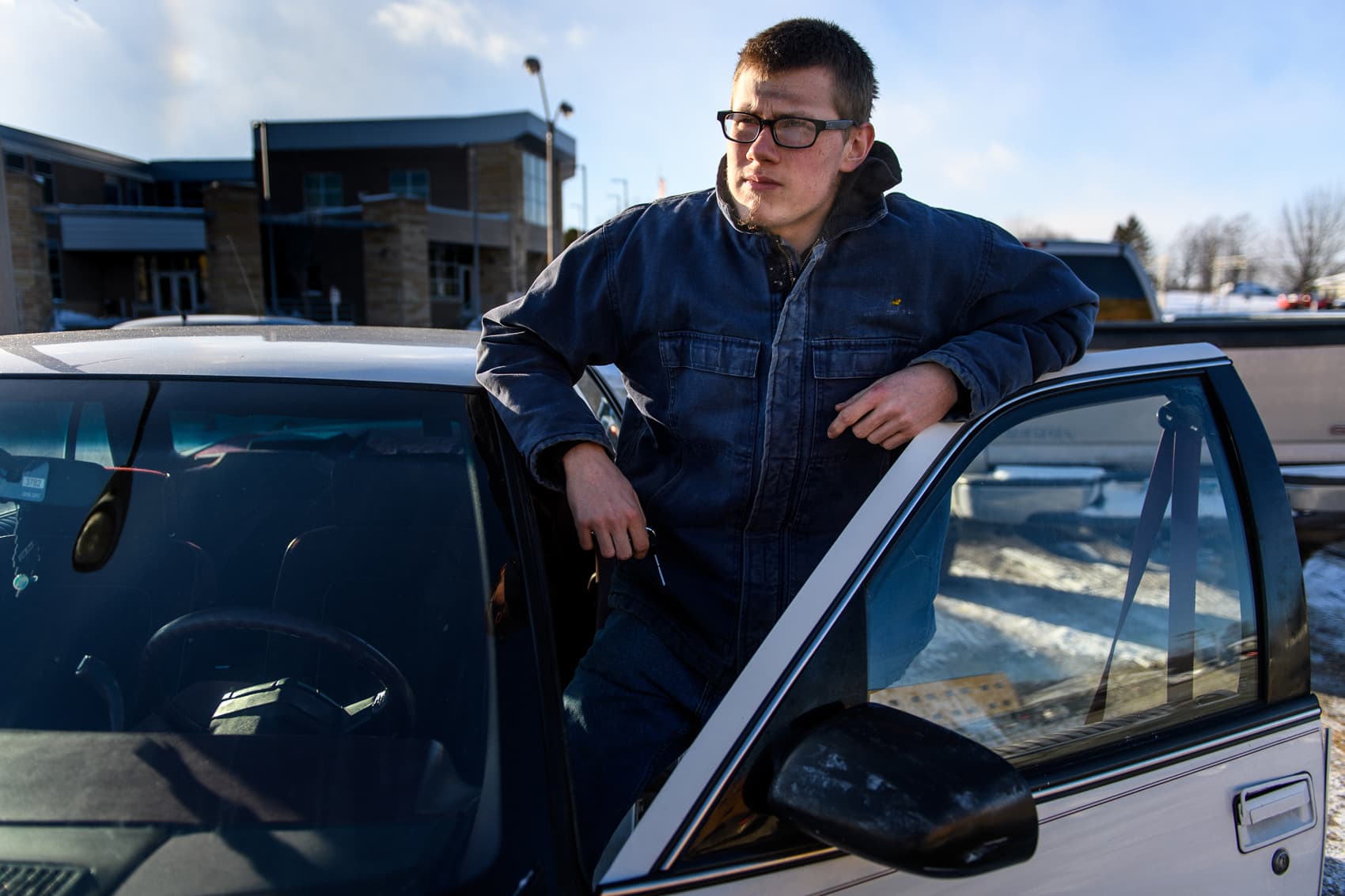 This article is more than 1 year old.
John LaDue never carried out a plan to kill his family, police and students in his Minnesota high school in 2014. He was caught in a storage shed surrounded by his arsenal of pressure cookers and bombs, after a neighbor tipped off police.
LaDue took a plea deal and spent two years in juvenile halls and jail during the legal process before returning to his family — declining probation and taking a felony charge instead. He wasn't sentenced to any prison time, which angered some.
He tells Here & Now's Robin Young that coping skills and medication helped him recognize his skewed thinking.
"Right now, my view on life is I can rationalize — even if things go terribly, there's not a rational reason to involve harming other people," says LaDue, 21, who's earned his welding certification from a community college.
Interview Highlights
On how he felt as a middle school and high school student
"I guess I mostly noticed that, through my seventh- and eighth-grade years, how I tended to just get more irritable with people and sort of distance myself from the ... just grow kinda resentful of smaller notions they had, like I was, I guess, a bit more to the point in doing things, and it kinda bothered me watching people mess around. I always remember when people were screwing around in the class, the teachers would always say something like, 'Do you think they're gonna allow this sort of behavior in high school?' And when I got to high school, nevertheless they did, just far more obvious."
"I think that you'll find that the people who are thinking about this sort of thing mostly want to do it because there's something that's not going right for them. Ask them what they want, and then rationalize how they can get it."

John LaDue
On putting pressure on himself to be a stronger student
"I felt like I should have been naturally doing much better than I was. And it just bothered me to see counterexamples of that everywhere I looked."
On how his plot developed
"There wasn't a distinct pushing moment. It was more a gradual build of what I talked about earlier: I wasn't enjoying things. I looked around and people were enjoying stuff, and I was just kind of living day to day, just existing. So it was more fueled by my disappointment and frustration that led me to wanna be violent, it's because I wanted to feel satisfaction through dominance, basically."
On his mental health diagnosis
"My final evaluators, who I agree with the most, their diagnoses were three things: It was narcissistic personality disorder, unspecified personality disorder with obsessive-compulsive traits and major depressive syndrome."
On continuing to cope with feelings of inadequacy
"It's kind of a bit more of an instinctual thing. I can rationalize that it doesn't make sense, but the feeling itself of, 'I should be doing a better job,' even if you're really doing really good already, it just doesn't go away."
On whether he feels lucky he didn't act on his thoughts of violence
"I mean I said I was going to, and I felt I had to, but I don't really know how deeply I would have tried to act on them. Physically it was making me feel sick, and I was tired of it, so me being caught was not expected by me, so, yeah, I'd say that I am lucky and in the long run I'm glad it happened. So, yeah I am lucky."
On wishing he could have talked to someone
"I don't know who it would've been, but someone to sit down and rationalize exactly what my thoughts are and why they're incorrect. That's what it would've been, is just someone telling me I was wrong.
"I mean, I suppose at the time I was more thinking that, 'I don't need and I don't want any help.' I felt I should've able to handle things on my own, and I don't recall anyone ever telling me prior to that that I needed help. So I mean, maybe if someone said it, due to my behavior, then I might have taken it a bit seriously. But I don't know. That's a good question."
On what he would say to someone who's had thoughts of violence like his
"If I was to speak to them directly, I guess I'd ask, what do they want? And I think that you'll find that the people who are thinking about this sort of thing mostly want to do it because there's something that's not going right for them. Ask them what they want, and then rationalize how they can get it. Because you'll pretty much always find out that the ways you can get what you want are very attainable.
"I guess I'd make an analogy to life being like a car: If you steer it correctly, it can get you pretty much anywhere you wanna go. But crashing it doesn't usually bring you to your destination."
This segment aired on February 26, 2018.