Dried, Or Canned? Your Burning Bean Questions Answered, Plus 3 Recipes
Resume
Here & Now resident chef Kathy Gunst has three nutritious and easy recipes using canned and dried beans, and brings them in for Here & Now's Robin Young to taste and share.
---
Beans 101: Cooking Tips And Nutrition
Beans are not only inexpensive, but also wildly versatile: You can use them in soups, stews, chilis, dips, tacos, enchiladas and more. They can be pureed, mashed, sauteed, stir-fried or baked.
And the bonus? Beans are very good for you.
Dried, Or Canned?
It's all a matter of time and preference. Beans are one of the few canned foods I rely on when time is tight. Always look for non-BPA cans.
Tips For Cooking Canned Beans
If using canned beans, look for organic varieties and be sure to drain the beans in a colander and place under cold running water to remove the "tinny flavor."
Drain again thoroughly before using.
Tips For Cooking Dried Beans
Making dried beans from scratch is quite simple; you just need to plan ahead.
When buying dried beans look to see if there's a date on the package. Just because the beans are dried doesn't mean they last forever; they are best cooked within a year of harvest date.
When working with dried beans, place them in a large colander and check for twigs or tiny pebbles.
Soaking beans overnight is said to make them more digestible. It leaches out enzymes that can cause gas — another reason to make your beans from dried.
Soak the beans in a large bowl of cold water overnight, or for a few hours if you're tight on time. Drain, rinse in cold water and drain again.
Always cook beans in plenty of cold water in a large pot (they will increase more than double of their original size and volume when they are cooked).
Although each variety is a bit different here is the rule of thumb when cooking dried beans: One cup of dried beans will be equal to a little bit over 2 cups when cooked, so keep this is mind when using dried beans versus precooked, canned beans.
You can add a variety of seasonings to the cooking water: bay leaf, peppercorns, salt, etc.
The exact timing on cooking dried beans varies greatly depending on the type and the freshness of the bean. The cooking time can range from 45 minutes to close to 2 hours.
How do you tell when they are done? Scoop a few beans up in a spoon and blow on them. If the skin peels back gently and they taste soft but not mushy (like an al dente pasta, with a bit of bite) they are ready to come off the heat.
Beans will keep, covered and refrigerated, for almost a week.
Are Beans Healthy?
Yes, indeed.
Beans contain fiber, lots of protein and antioxidants that can aid in digestion and help burn fat. They are a great source of protein for vegetarians and vegans.
Beans are very low in fat (almost none) and are cholesterol-free. In fact, beans actually lower cholesterol and triglyceride levels instead of potentially causing them to increase, unlike some animal proteins.
12 Popular Bean Varieties
There are dozens and dozens of varieties of beans. Tastes and textures vary from mild to sweet, earthy, buttery, nutty, creamy, meaty and more. Rancho Gordo of Napa, California, is a great source for heirloom varieties of beans you won't find anywhere else.
Here's a guide to some of the most popular bean varieties:
Black Beans
Rich in magnesium, these small oval beans -- also called "turtle beans" — with a deep black skin have a velvety texture and a subtly sweet, earthy taste that goes well with smoky flavors, such as bacon or chipotle. These beans have a meaty texture and pair well with burritos, soups, Latin food and vegetarian dishes.
Black-Eyed Peas
Small, plump, kidney-shaped and spotted, these earthy-flavored beans are an excellent source of folate. These beans, also known as cowpeas, do not need to be presoaked.
Cannellini Beans
This large, creamy and delicately flavored bean — also called white kidney beans or white navy beans — is one of my favorites. They are exceptionally versatile and pair well in pasta dishes as well as soups and stews.
Sauteed sausages and cannelloni beans is a great combination, and this is the classic bean for pasta e fagioli soup. These white beans also make a great pureed dip.
Chickpeas
Round, firm, high in fiber and with a terrific nutty flavor, chickpeas are the base of hummus and so many more Middle Eastern and Indian dishes. These beans, also known as garbanzo beans, hold up well to long, slow cooking and work well in salads, dips, soups, stews and more.
Cranberry Beans
An exceptionally creamy bean with a thin skin and a delicious, earthy flavor. These small, rounded beans, also called borlotti beans, have a gorgeous ivory color with red streaks that (unfortunately) in many varieties disappears when cooked. They have a creamy texture and subtle, nutty flavor and are frequently used in Mediterranean cooking, and Italian dishes like pasta e fagiloi and minestrone soups.
Fava Beans
Fresh fava beans are a seasonal spring and early summer treat. Dried, they have a creamy texture that is delicious paired with salads, pasta or rice dishes, and goes well with roasted vegetables.
Great Northern Beans
These small, white, kidney-shaped beans are an especially good source of calcium. Because they're mild and easily absorb other flavors, they work well in soups and stews. This is the traditional bean of the French bean and meat dish cassoulet, and can also be used in New England-style baked beans.
Kidney Beans
Best known as the bean in chili, this bean has a reddish skin and white interior and has quite a bit of protein, omega-3 fatty acids, iron and almost as many antioxidants as blueberries. Other than chili, kidney beans work well with rice dishes, soups and salads.
Lentils
Lentils are tiny beans that are exceptionally tender with thin skins; they require no presoaking and cook fairly quickly. There are many varieties of lentils, and they are excellent in soups, vegetable burgers or simmered with spices and herbs. Lentils hold their shape well, making them ideals for salads.
Lima Beans
These flat-shaped beans, also known as butter beans, come in large and small sizes and have a buttery, somewhat starchy flesh; baby lima beans can also be quite sweet. This is the traditional bean for succotash. They also work well in stews, soups, salads and casseroles.
Navy Beans
Filled with potassium and fiber, these small, white oval-shaped beans have a mild flavor, and are often used in baked beans, soups and stews, or pureed for dips and sauces.
Pinto Beans
These light-brown beans have substantial amounts of fiber and protein. Their earthy flavor and smooth texture works well in dips and stews or in Mexican refried beans and other Mexican dishes.
The More You Eat, The More You ...
My friend John Forti, the executive director of Bedrock Gardens in Lee, New Hampshire, says:
"Through the ages, the herb savory, both winter and summer versions, have been used to cut the flatulence quality when cooking beans. Before there were flatulence pills the herb was added to bean dishes."
Another tip: Seaweed can help reduce flatulence. Take a strip of dried seaweed when soaking beans, and add it to the pot when cooking. Remove before serving. Ginger and fennel are also said to help reduce gas.
---
White Bean Dip With Cumin Oil And Cumin-Dusted Pita Chips
A quick, delicious dip that can be whipped up in under 30 minutes. You can use canned beans (see tips for canned beans) or freshly cooked (see tips for dried beans). A hot, cumin-flavored oil is poured on top of the dip just before serving.
Serve with cumin pita chips or corn chips and/or an assortment of raw vegetables. Serves 4 to 6.
Ingredients
2 cups canned white beans, rinsed and drained, or 1 cup dried white beans cooked
2 1/2 to 3 tablespoons olive oil
2 cloves garlic, chopped
1 tablespoon fresh chopped thyme, or 1 teaspoon dried and crumbled
1 tablespoon fresh chopped rosemary, or 1 teaspoon dried and crumbled
1/2 dried red chile
1 1/2 tablespoons plain yogurt
Salt and freshly ground black pepper
1/4 to 1/2 teaspoon dried cumin (depending on how strong you want the cumin flavor to be)
Instructions
In the container of a food processor or blender, add the white beans, 1 1/2 tablespoons of the oil, garlic, thyme, rosemary, chile and yogurt. Blend until almost smooth. Add salt and pepper to taste. If the dip seems too thick add an additional 1/2 tablespoon of oil and whirl it up again.
Place the dip in a serving bowl.
Make the cumin oil: In a small skillet heat the remaining tablespoon of oil over low heat. Sprinkle in the cumin and let cook about 2 to 3 minutes or until just sizzling. Pour the hot oil on top of the dip and serve.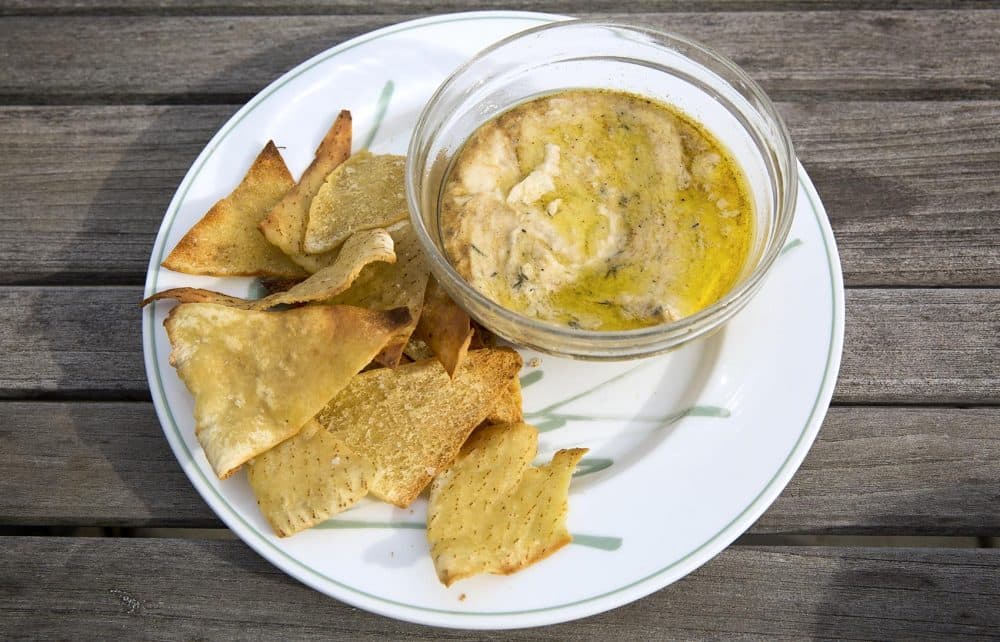 Cumin-Dusted Pita Chips
The pita toasts can be made several hours ahead of time and stored in a tightly sealed container at room temperature.
Ingredients
2 pita breads, cut in half to make two rounds, and then cut each round into 4 triangles
2 tablespoons olive oil
1/4 teaspoon ground cumin
Salt and freshly ground pepper to taste
Instructions
Heat the broiler. Place the pita triangles on a cookie sheet or broiler pan with the cut side up. Using a pastry brush or the back of a kitchen spoon, brush with the olive oil and then dust with the cumin, salt and pepper.
Place under the broiler for about 2 minutes, or until golden brown. Makes 8 pita chips.
Roasted Vegetable And Bean Soup
When you roast cubes of winter vegetables — parsnips, winter squash, carrots and celery, along with shallots, leeks and garlic — in a hot oven, they caramelize and become sweet. Add soft, buttery beans and you have a main-course vegetarian soup full of protein, texture and great flavors.
Serves 6 to 8.
Ingredients
3 medium parsnips, about 1/2 pound peeled and cut into 1/2-inch pieces
3 medium carrots, about 6 ounces peeled and cut into 1/2-inch pieces
1 small butternut squash, or any type of winter squash, peeled and cut into 1/2-inch cubes
2 large or 3 medium stalks celery, about 4 ounces cut into 1/2-inch pieces
3 leeks, halved lengthwise, washed, dried and the white and pale green sections cut into 1/2-inch thin pieces (save dark green section for stocks)
2 shallots, quartered
8 cloves garlic, thinly sliced
Salt and freshly ground black pepper
1 1/2 tablespoons chopped fresh thyme leaves, or 2 teaspoons dried
3 tablespoons olive oil
5 cups vegetable or chicken stock
1 bay leaf
3/4 cup dry white wine
2 cups canned beans, or 1 cup dried beans cooked (see tips for dried beans): white cannelini beans, kidney beans, black beans, great northern beans or a combination of your favorite varieties
1/2 cup finely chopped fresh parsley
Instructions
Place a rack in the center of the oven and heat the oven to 400 degrees.
Toss the parsnips, carrots, squash, celery, leeks, shallots, garlic, salt, pepper, thyme and olive oil together in one large or two medium-sized, very shallow roasting pan(s) or rimmed sheet tray/cookie sheet(s). You don't want to crowd the pan or have vegetables on top of each other; you want one even layer.
Place on the middle shelf and roast for 20 minutes. Raise the heat to 450 degrees and roast for another 10 minutes, or until the vegetables have a nice golden-brown color, are almost crispy on the edges and almost soft.
Meanwhile, combine the stock in a large pot with the bay leaf and bring to a boil over high heat.
Remove the vegetables from the oven and deglaze the pan with the wine, using a spatula to loosen any bits clinging to the bottom of the pan. Pour the vegetables and the liquid from the bottom of the pan into the pot with the simmering stock. Reduce the heat to low and simmer for 20 minutes, partially covered. Taste for seasoning. Add the beans; remove the bay leaf, and cook another 10 minutes. Taste for seasoning and serve hot, sprinkled with parsley.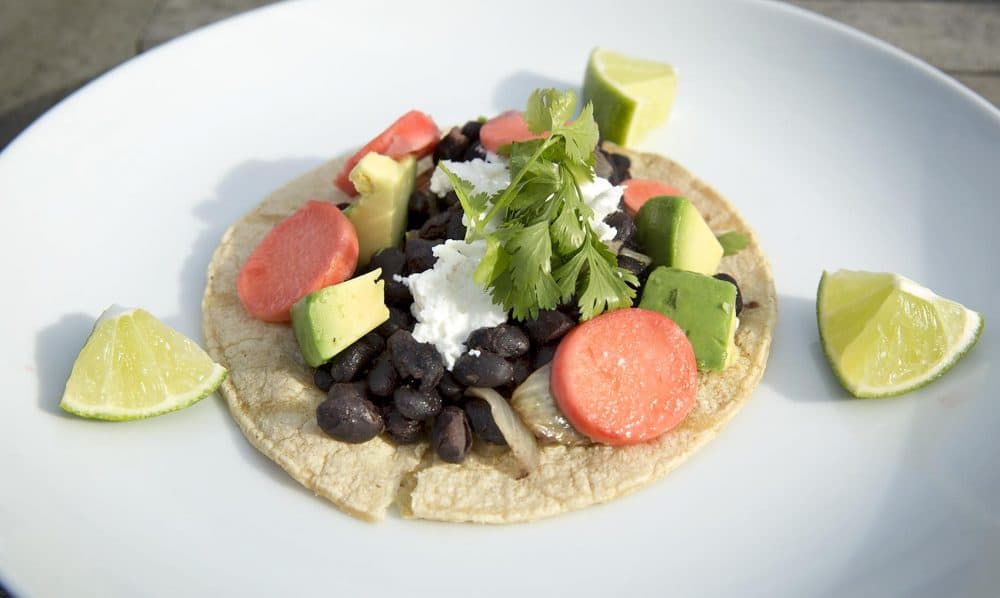 Black Bean Tacos With Quick-Pickled Radishes, Cilantro And Crumbled Feta
These bean-focused tacos have great colors, textures and flavors. If you cook the beans ahead of time (or use good-quality canned) and get all your ingredients ready, the tacos take no time at all. The radish pickle takes 10 minutes!
Serves 2 to 4.
Ingredients
8 to 10 small radishes, thinly sliced
About 1/2 cup apple cider vinegar
1/2 teaspoon sea salt
Pinch sugar
Generous amount of freshly ground black pepper
1 tablespoon canola oil
1 medium onion, chopped
1 clove finely chopped garlic
1/4 teaspoon ground cumin
Hot pepper sauce to taste
1 cup canned black beans, or 1/2 cup dried cooked beans (see tips for dried beans) or your bean of choice
1/2 cup fresh cilantro, coarsely chopped
4 corn tortillas
1/2 cup crumbled feta or a Mexican cheese, like cotija or queso fresco
1 ripe avocado, peeled and cut into thin slices
Instructions
Make the pickled radishes: Place the radishes in a small, nonreactive bowl or glass jar. Cover with the vinegar, salt, pepper and sugar and let sit for about 10 minutes.
Meanwhile, in a medium skillet heat the oil over low heat. Add the onion and garlic and cook, stirring, about 8 minutes. Add the cumin, a dash of hot pepper sauce, salt and pepper and the beans. Cook, stirring for 5 minutes. Add half the cilantro and taste for seasoning, adding more salt, pepper or hot sauce if needed.
In a skillet or griddle, heat the tortillas over moderate heat for about 1 to 2 minutes on each side, or until hot.
To assemble: Place a tortilla on a plate, spoon on some of the bean mixtures, a few slices of pickled radish, some feta or queso, a few avocado slices and a sprinkling of cilantro. Repeat with the remaining ingredients.
This article was originally published on February 27, 2018.
This segment aired on February 27, 2018.